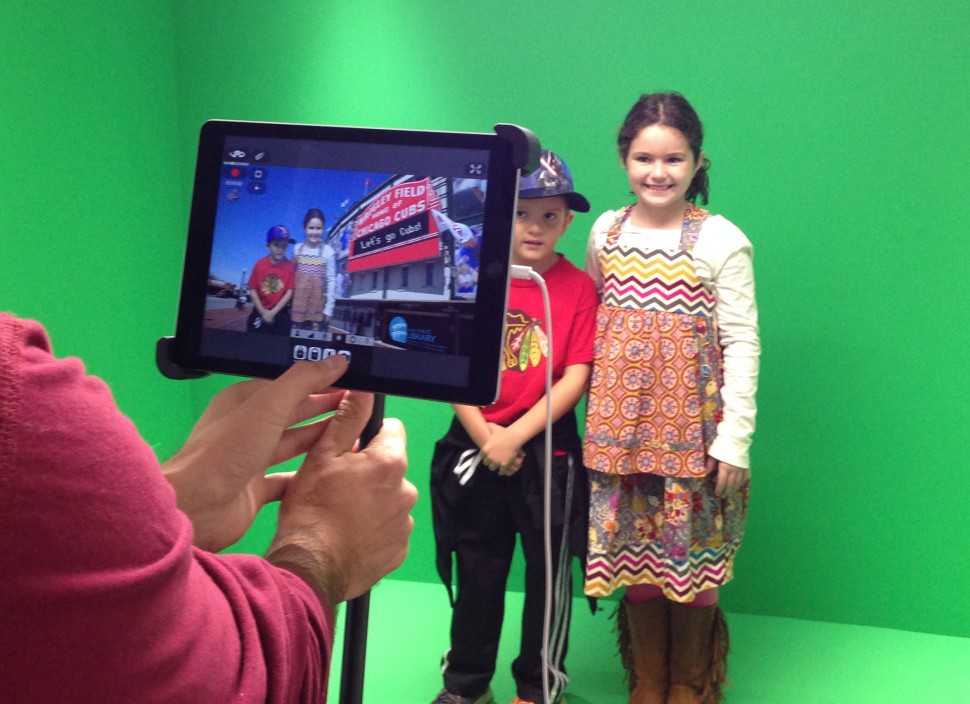 Chicago Cubs fans can now add Niles (Ill.) Public Library (NPL) to their list of places to celebrate. In honor of the team's appearance in the Major League Baseball playoffs, the library is featuring Wrigley Field on its new green screen and letting community members show their Cubs pride.
"There are a lot of Cubs fans here on the staff at Niles Public Library and also in the community," says Sasha Vasilic, NPL's public relations and marketing supervisor. "One of our staff members came up with the idea as he was noticing the Cubs were doing better and better last week. And we were trying to think of creative ideas to create some attention for the Creative Studio that opened not too long ago at the library."
So far, the library has had more than 90 Cubs photos taken since it debuted on October 9, and the number is growing every day, Vasilic says. Little kids to seniors have taken photos in front of the green screen, sporting Cubs attire, making poses like pointing to the marquee that reads "Let's go Cubs!" and holding props such as NPL's Summer Reading Club mascot Glummy. Each image includes NPL's logo in the lower right corner. The library prints the images for patrons and also posts them on its Facebook page.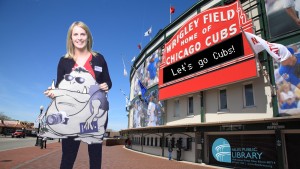 "It was really wonderful to get people in there. They were really amazed that we had all this cool stuff, and it's brand-new," says Library Director Susan Dove Lempke. "I think it makes people realize the library is not just an old-fashioned place. It's a place that's very much in touch with what's happening right now."
NPL's Creative Studio, which had its grand opening in late September, consists of two spaces: Studio A and Studio B. Studio A—where the Cubs green screen is displayed—serves as a sound and video station. It contains programs and equipment such as a Wolverine Film to Digital Converter, a Yamaha DD-65 digital drum kit, and Adobe Creative Cloud. Studio B acts as a makerspace studio, containing Janome sewing machines, a MakerBot Replicator Desktop 3D Printer, and more.
Other Illinois libraries also are taking part in Chicago Cubs festivities, such as Elk Grove Village (Ill.) Public Library, which is showing the postseason games on its flatscreen TV in the lobby.
Cubs enthusiasm can be seen not only among community members on the green screen but also among NPL staffers.
"People are really excited," Lempke says. "I had the staff asking last month if they could wear their Cubs gear on game days, and so of course I said yes."
As for how far they think the Cubs will go, staff members are optimistic. "The Cubs are going to go to the World Series," Vasilic says. "We're going to go all the way."