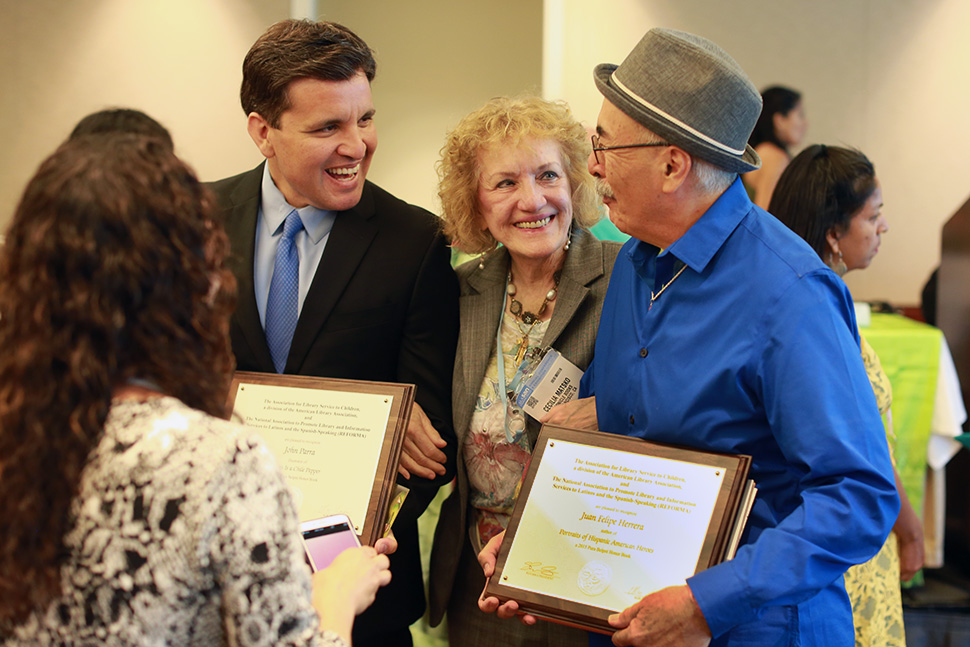 Born in Puerto Rico at the turn of the last century, Pura Belpré moved to New York in 1920 and became the first Latina librarian in the New York Public Library (NYPL) system in 1921. She engaged patrons with reading clubs, puppet theater, and bilingual story hours at various branches, including the 135th and 115th Street branches, as well as through talks at churches, community centers, and schools. Belpré also wrote eight children's books, such as Perez and Martina: A Portorican Folk Tale, and translated 15 books from English to Spanish, including The Legend of Our Lady of Guadalupe. Belpré retired from NYPL in 1968 but continued to work with the South Bronx Library Project, a community outreach program. She died in 1982.
In 1996, Oralia Garza de Cortes and Sandra Rios Balderrama, members of Reforma (the National Association to Promote Library and Information Services to Latinos and the Spanish-Speaking, an ALA affiliate) worked with Linda Perkins, former president of the Association for Library Service to Children (ALSC), to create the Pura Belpré Award, honoring Belpré's memory and celebrating the Latino cultural experience in children's literature. The award went from biennial to annual in 2009, a move that increased its profile.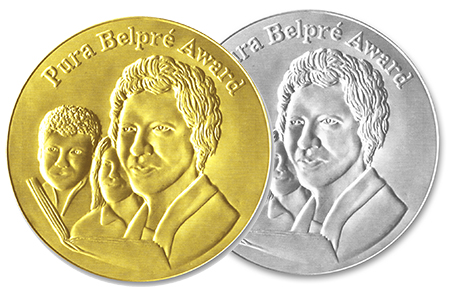 In June 2016, the award will celebrate its 20th year, a milestone being marked with a book—The Pura Belpré Award: 20 Years of Outstanding Latino Children's Literature—and a reception at the 2016 ALA Annual Conference in Orlando, Florida.
Receiving the award is like "winning a Grammy or an Oscar for Latino literature," says Ruth Tobar, cochair of the 20th anniversary task force for the award on behalf of Reforma.
"There are a few awards that are really important for Latinos—the Américas Award, the Tomás Rivera Mexican American Children's Book Award, among others—but the Pura Belpré Award is the only one that is sanctioned by the American Library Association," Tobar says. "Everybody knows in the library industry that it's the stamp of approval for literature."
Tim Wadham was the 2015 chair of the Pura Belpré Award committee. The preparation involved in choosing the winning books included thoroughly reading and rereading all of the suggested and nominated titles, as well as checking eligibility issues and the accuracy of the information in nonfiction books.
"An eligibility issue with which the entire committee had to grapple was whether a book 'portrays, affirms, and celebrates the Latino cultural experience.' The author may be Latino/a, but the content itself might not be related specifically to the Latino cultural experience," Wadham says.
In 2015, winners included Marjorie Agosín (for I Lived on Butterfly Hill), Yuyi Morales (for Viva Frida), and Juan Felipe Herrera (for Portraits of Hispanic American Heroes). For a complete list of winners, see the list of Pura Belpré Award Winners, 1996–Present.
Rita Auerbach, cochair of the 20th anniversary task force for the award on behalf of ALSC, says the award brings Latino books to the attention of wider readership.
"We need more of these books, so kids can see themselves in the books that they read and feel important and feel empowered and feel validated. There's no way to exaggerate the importance of the award, because it recognizes books by and large are not otherwise being recognized," Auerbach says.
Close to a quarter (23.5%) of US elementary and high school students are Latino, yet just a tiny fraction of books published each year are by Latino authors and illustrators, she says. For instance, the Cooperative Children's Book Center, which is part of the University of Wisconsin–Madison's School of Education, states that in 2014, it received about 3,500 books by and about people of color and First/Native Nations, and 59 were by Latino authors or illustrators, and 66 were about Latinos.
"I live in San Francisco, and there's so much talent," says Tobar, referencing the many murals, poetry slams, and community events in the area. She says that talent needs to be encouraged and developed, which publishing houses could do through workshops.
"A major key is having people of color in the editorial houses making editorial decisions; if that doesn't happen, we're going to continue with the lack of enough books for kids of color about kids of color," Tobar says.
An anniversary celebration
The Pura Belpré Award: 20 Years of Outstanding Latino Children's Literature (Rosen Publishing), edited by Teresa Mlawer and Nathalie Beullens-Maoui, will feature book images and synopses, along with essays by the winners and honorees on what the award has meant to them.
"We thought of it as a reference tool, something that will be in school libraries, public libraries, and the classroom and that teachers and librarians can share with all their students, Latino and non-Latino students, but also that the Latino students would feel proud to see so much talent reflected in one book," says Mlawer.
At the 2016 ALA Annual Conference, the Pura Belpré Award ceremony will feature a keynote address from award-winning children's book author and storyteller Carmen Agra Deedy, original art for auction, and the retrospective book for sale.
"This coming year will be particularly joyful, and I hope we will have a record turnout of conference attendees at the celebration," Auerbach says.
She notes the feeling of camaraderie at the annual event among both committee members who worked on the award and the authors and illustrators being honored.
"You can't help but be impressed by the impact of the award on the people who are there," Auerbach says. "At this past award ceremony, Sylvia Mendez herself came. She was eight years old when her family mounted the legal case that resulted in the integration of California schools, and there she was. There was Juan Felipe Herrera, the poet laureate of the United States, who came to receive his honor award for his book Portraits of Hispanic American Heroes. The good feeling of these winners together at the celebration was incredible."
Updated Oct. 16, 2015