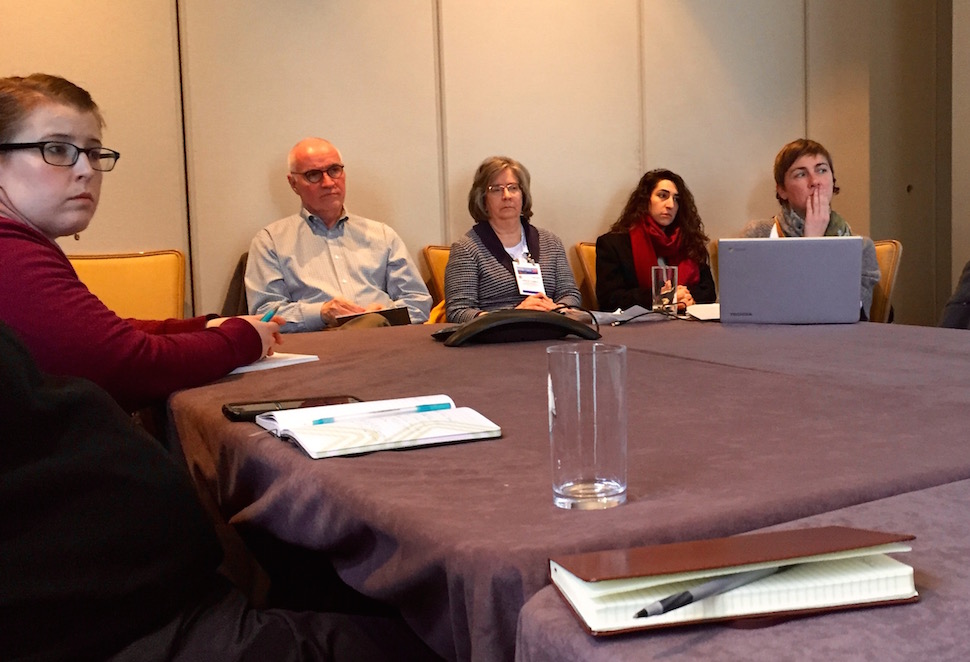 The Collection Development Discussion Group, part of ACRL's Rare Books and Manuscripts Section, held a well-attended discussion of collaboration and competition in collection development in rare books and special collections repositories. Charlotte Priddle, librarian for printed books at New York University's Fales Library & Special Collections, led the discussion in the stead of Chair Martin Stromberg, who was unable to attend.
To start the discussion, Priddle asked attendees to discuss any new or interesting collections, either at their own institutions or that they had heard about elsewhere. Lois Black, the special collections curator at Lehigh University in Bethlehem, Pennsylvania, mentioned a donation of 1,100 volumes from an alumnus to her institution. The donation was comprised largely of books from the golden age of British book illustration. Next, Priddle discussed a recent acquisition at the Fales Library of the archives of Triple Canopy magazine. The online magazine has been published online since 2008, and is of interest because of the online but in-depth nature of the material. Triple Canopy is still publishing, so Priddle and her colleagues must wrestle with issues of copyright and access.
Julie Grob discussed materials acquired by her institution, the University of Texas, that were collected by Peter Best and Scott Walker as part of an eight-year project to document rap in Houston. The collection includes 4,000 digitized images, plus digital recordings. Eventually, this collection will be entirely available online. Grob's example led to a discussion of how institutions make new acquisitions accessible to their users. Attendees mentioned that in some cases if a new acquisition is large enough, there will be a press release; however, with smaller acquisitions, social media, library website news stories, and gallery exhibits are important methods of promotion.
As the discussion progressed to competition and collaboration in collection development, attendees offered examples of collaborative efforts and initiatives at their own institutions. Several members gave examples of working with subject specialists or the general stacks. Priddle said she finds a collaborative collection that lives both in special collections and the general stacks mutually beneficial.
The conversation eventually turned to issues of competition. Most attendees indicated that when a dealer or donor approached them with items that would be a better fit for another institution, they recommended that the dealer or donor contact that institution instead. This is especially important because of the impact that multiple collectors of the same type of material could have on the market. Priddle believes that this is part of the ethics of collection development.
Attendees cited digitization and digital collaboration as a solution to sharing materials across institutions. But digitization priorities differ across institutions. At  Fales Library, the staff is not digitizing paper because they have so much media that needs to be digitized first. Priddle stated that she feels as if she is "collecting while building on the past, for the present, while thinking of the future, all at the same time."
Finally, Priddle solicited suggestions for the agenda of the next Collection Development Discussion Group meeting at Annual in June. These suggestions centered around collection development policies, including the following:
Writing and rewriting collection development policies.
Do you use collection development policies at your institution?
Is your institution's collection development policy posted publicly?
Do you know your institution's collection development policy?
If your budget isn't only for special collections materials, how do you decide how much to dedicate to special collections?