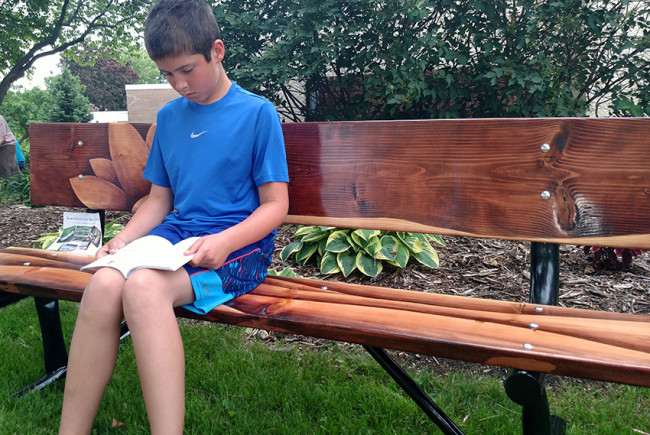 Almost a year after Columbus (Wis.) Public Library developed its "Root for Columbus" campaign in October 2014, the city is sitting on the bench—art benches, that is.
Stemming from a Libraries Transforming Communities (LTC) initiative, the library began a pilot art bench project, buying seven benches and distributing them to local artists, who painted them to either reflect Columbus in general or to reflect a bench's location (such as a pool-themed bench near a community pool).
The funding came from the remainder of the library's LTC grant, which amounted to $1,588 and covered the seven benches and their plaques. (Artists provided their own supplies.) That initial grant allowed the library to ask residents, "What kind of community do you want?" Participants used construction paper leaves and gift tags to affix suggestions onto two paper trees or a traveling physical tree, which visited schools, a bank, a hospital, a coffee shop, and other city venues.
Cindy Fesemyer, director at Columbus Public Library, said she and her team received about 400 answers, ranging from "Put a water slide in gym class" to "Get me ready for a job so I can stay in town."
"We just wanted to show people how easy it is to have an idea, find some partners, and just do it," Fesemyer says. "People—in this case it was the artist community—came together to partner with the library and put seven cool benches around town."
The majority of those benches debuted in June on the library lawn to kick off Columbus Public Library's summer library program.
They were then distributed to locations around town, such as the community pool, in front of city hall, at a park by the school, and at the library.
With the success of the pilot bench program, the "Root for Columbus" campaign held a "Root for Columbus Action Potluck" in June, which involved sharing prepared dishes, brainstorming ideas, and creating an action plan to help improve the city and unite its residents.
As a result of that meeting, participants created four summer projects: (1) a garden gnome scavenger hunt, (2) a community reminisce at the 100-year-old park pavilion, (3) a park clean up, and (4) a canoe launch.
"The goal is that it's not going to end, so our next [potluck] is set for the end of September, and then we're going to do it all again," Fesemyer says.