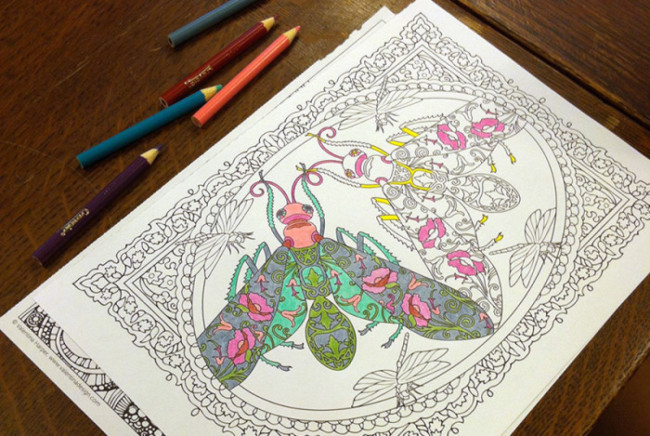 When a group of community members gather every month at Woods Hole (Mass.) Public Library, they try to stay within the lines—quite literally.
"We purchase a couple of coloring books and I print out some free coloring pages that are available online, and we just get together and color," says librarian Kellie Porter, who started the library's Coloring Club in May. The club has seen about 15–20 members a month, ranging from tweens to 70-year-olds.
"I really try to play up the whole relaxation aspect of it," she says, "so I put on relaxing bird songs and try to make a soothing environment."
Adult coloring books have become popular in recent years, with the release of Scottish illustrator Johanna Basford's 2013 Secret Garden: An Inky Treasure Hunt and Coloring Book and Dover Publications' 2012 Creative Haven coloring book series.
Porter started a coloring club at the library after reading about the stress-relieving benefits of the activity and seeing her friends get into the craze.
"Now with the age of constant information and everyone always being plugged in, I think people really like the low-fi aspect of it," Porter says. "You're just sitting with a piece of paper and you're coloring, and that's really relaxing when you're just inundated with screens all the time."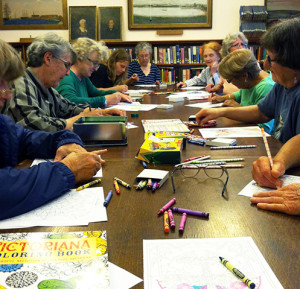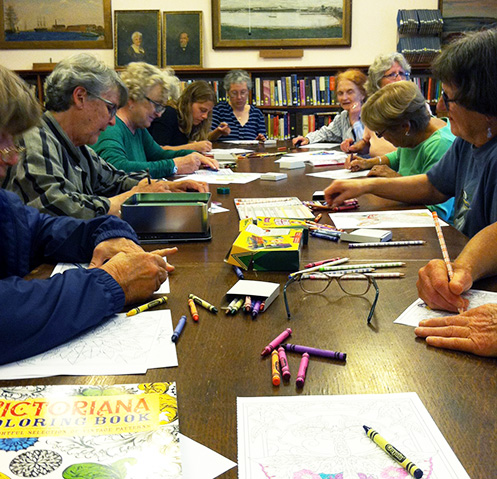 Participants don't have to know a specific skill or do any preparation to join in.
"You can meet with a group of people, but it's not like a book group where you have to have done the reading ahead of time," Porter says.
She says the Coloring Club is a low-cost, low-risk program that doesn't require much work or resources, and she encourages others to create coloring book groups at their own libraries. Among the coloring books used at Woods Hole Public Library are Creative Haven Incredible Insect Designs Coloring Book and Victoriana Coloring Book: A Delightful Selection of Vintage Patterns.
"We're definitely going to keep going through the winter," Porter says. "I don't know if it will wear off and [whether] it's a fad or not. A lot of people who are coming have said, 'Oh, I've been coloring for years,' so they haven't been doing it because of the craze."
While the program has helped members unwind, it initially took time for some people to return to their childhood carefreeness. For instance, at the very first meeting, many asked Porter what they needed to do to get started.
"They needed instruction," she says. "And it was like, 'We just color.' And I was thinking, if these were kids, they wouldn't be asking those questions. They don't know those inhibitions. And I think people were realizing that as they were doing it. They were letting down their guard and letting themselves enjoy coloring again."