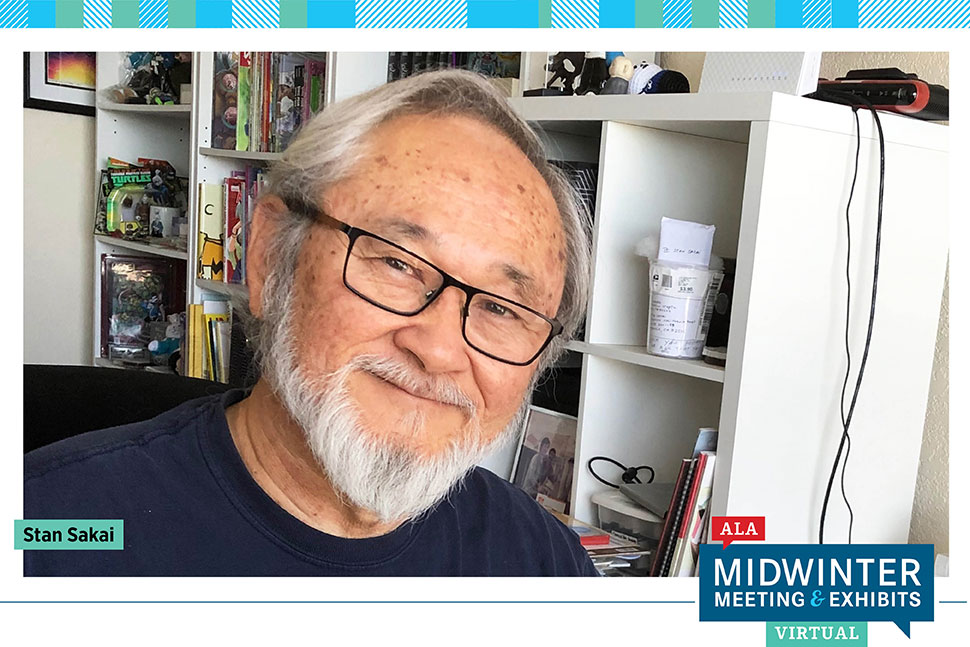 Award-winning cartoonist Stan Sakai has been telling the story of the same 17th-century fictional rabbit samurai, Miyamoto Usagi, for 35 years with just ink and paper—and he wouldn't have it any other way.
"Once I started drawing [the comic book series] Usagi Yojimbo, I fell in love with the character," he told viewers at the Gaming and Graphic Novel stage during the American Library Association's Midwinter Meeting & Exhibits Virtual on January 22. "I love what I do," the featured speaker said.
The franchise, which has won multiple Eisner and Harvey awards since its inception in 1984 and will be adapted into a forthcoming animated Netflix show, blends anthropomorphized animals with historical research to transport readers to the Edo period of Japan and tell narratives significant to Sakai's own background.
"What I do is very special to me because it's part of my culture and heritage," said Sakai, who was born in Kyoto, Japan, and grew up in Hawaii.
Because the saga of Miyamoto Usagi is rooted in past customs and events, Sakai will sometimes spend years investigating a storyline before writing and drawing it, to ensure accuracy. For instance, "[Usagi's] kimono is always folded left over right, and that's cultural," he said.
His penchant for detail has led him to fly cross-country to Salem, Massachusetts, to see the Peabody Essex Museum's exhibit on seaweed farms; visit a Christian mirrormaker in Japan who keeps up a tradition of creating relics that provide a secret way to worship (a craft dating back to when Christianity was outlawed in feudal Japan); and pore over the intricacies of Japanese kitemaking and puppetry. It took him five years to research the Usagi Yojimbo installment Grasscutter, which he said is considered his most acclaimed work.
"I do as much research as I can, within reason," Sakai said. "I like to educate my readers."
It comes as no surprise, then, that Sakai counts himself a bookworm. "Comics gave me my love of reading in general," he said. "If you want to be a writer, you have to be a good reader."
He recounted fond memories of going to the public library on Saturday mornings as a kid in Honolulu—"We'd get there just before they opened so we could drop our books through the slot"—and listed The Hobbit and The Lord of the Rings trilogy as books he reread every year when he was in college.
Sakai also credited film directors Akira Kurosawa, Alfred Hitchcock, and Taika Waititi for influencing his work. "I watch a lot of films [to see] how the craft is made, how actors are introduced, and for storytelling," he said.
When a fan asked Sakai what moral should be taken away from his enduring comic, he said he learned the answer to that question from another fan.
"I'm reminded of a conversation I had with a mother, that took place at a convention. Her son was reading Usagi Yojimbo," he remembered. "[The son] said, 'It's about honor,' and that I thought was the perfect answer."