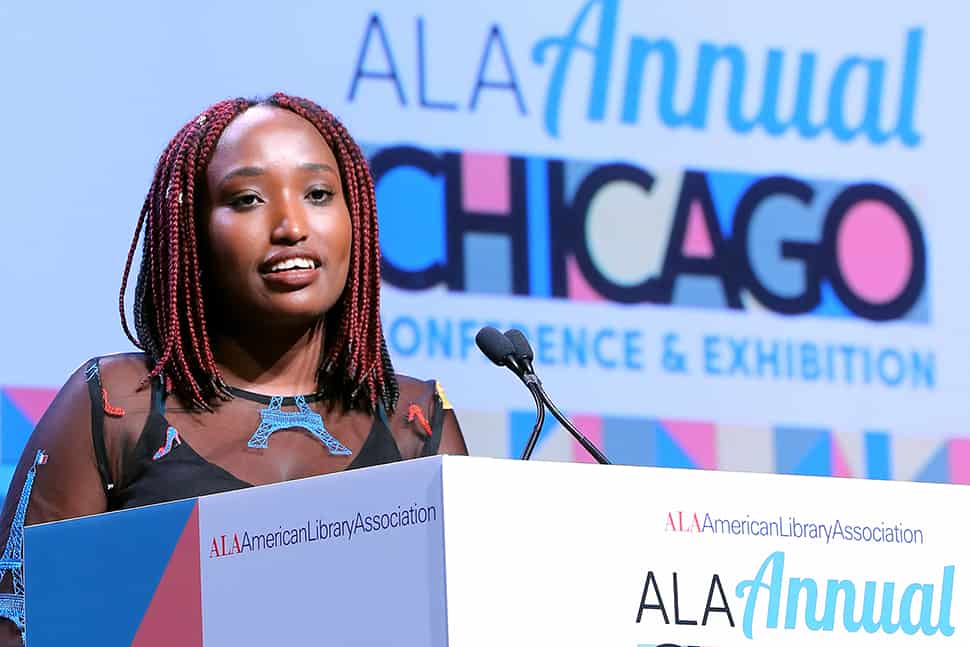 Auditorium Speaker Series speaker Sandra Uwiringiyimana smiles broadly and talks with an upbeat lilt. Many people are surprised by this, she says, considering the unthinkable atrocities she has experienced in her short life.
At age 10, Uwiringiyimana witnessed the murder of her younger sister, several family members, and scores of others at the hands of rebels who mercilessly slaughtered 166 refugees living in a camp in Gatumba, Burundi. Thirteen years later, she's chronicled that night and its continued effect on her life in the book How Dare the Sun Rise: Memoirs of War Child (HarperCollins, 2017). It's a harrowing story of loss and survival, but also of finding hope and meaning through tragedy.
Uwiringiyimana spared no details as she recounted how her family was forced to flee their idyllic life in the Democratic Republic of the Congo and resettle in a Burundi refugee camp, where gunmen shot her mother and killed her baby sister Deborah during an unprecedented attack one evening. She told of having a gun pointed at her head, only to have the attacker spare her life for some unknown reason; of hiding under a mattress and emerging amidst flames that had engulfed the camp. The story was difficult to hear, and Uwiringiyimana had difficulty retelling it, stopping herself mid-story to choke back tears. The emotional weight was felt throughout the room, with many in the listening audience wiping back tears.
The years following the attack saw Uwiringiyimana and her family immigrate to Rochester, New York, where they faced a new, unknown land and people that did not understand them and often openly hated them. It was a dehumanizing time, she says.
"Imagine surviving a massacre and coming to a place where people think you're the enemy or you want to take their jobs or you're a terrorist," she says.
The experience led Uwiringiyimana to become an advocate for refugee rights. "We are all so much more connected than we think," she says. "The refugee experience is not too far removed from anyone. It's not you now, but it could happen to your grandchildren or relatives in the future."
Uwiringiyimana's activism accounts for her positive demeanor. Today, she works with the Jimbere Fund to help people living in remote areas in the Congo.
"What kind of world do we want to live in?" she asks. The question drives her work and allows her to honor the memory of her sister and others affected by crisis, she says. "I believe that leading with love and compassion is the only way to save Deborah."
---
Sandra Uwiringiyimana on human connection
Sandra Uwiringiyimana on hate, war, and kindness