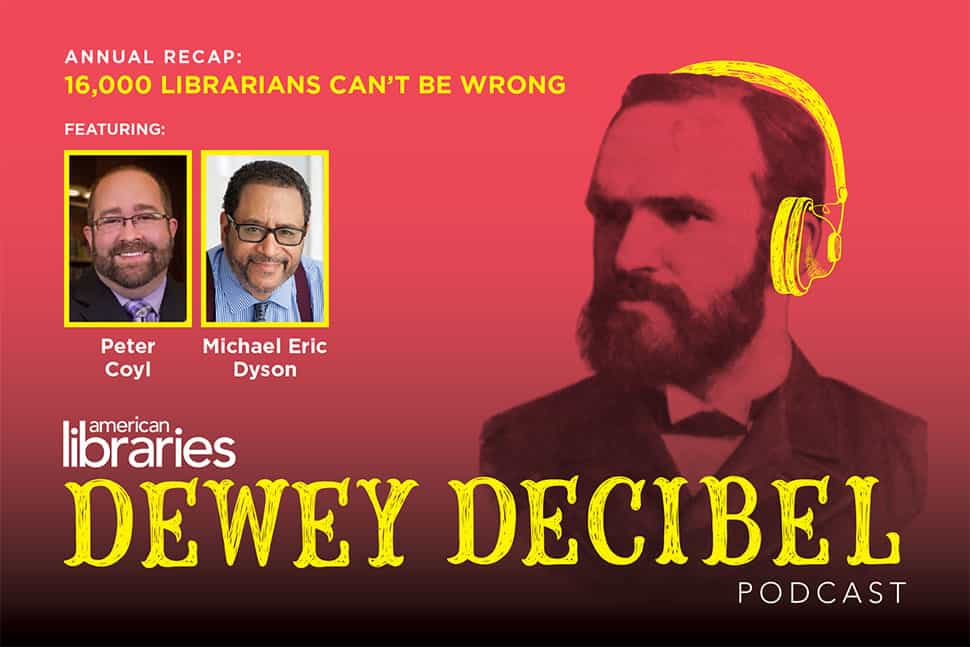 For Episode Four of the Dewey Decibel podcast, host Phil Morehart wanted to bring you the best possible recap of the American Library Association's (ALA) 2016 Annual Conference and Exhibition in Orlando, Florida. He wanted to bring those celebrity interviews, staff and member conversations, and exhibit hall sounds to life for those librarians who attended, those who could not, and any listeners who may have wondered what kinds of programming and people you'll find at Annual.
To fulfill such an ambition, Morehart brought more hands on deck—"It's a whole ALA family affair." In this very special installment of Dewey Decibel (well, they're all pretty special to us!) we bring you a variety of reporting from a variety of staffers.
– The Pulse nightclub shooting, which happened two weeks before Annual, was much on the minds of organizers and attendees. ALA's then-chair of the Gay, Lesbian, Bisexual, and Transgender Round Table Peter Coyl speaks to American Libraries Senior Editor Amy Carlton about how the Saturday morning memorial came together, the importance of remembering victims as individuals, and how civil rights pioneer US Rep. John Lewis (D-Ga.) came to participate.
– Sociology professor, author, and political analyst Michael Eric Dyson sat down with AL Senior Editor George Eberhart for an energetic, poetic interview about discovering literature, hip-hop, the Obama presidency, gun control, and "reaching young people where they are."
– ALA Editions Marketing Coordinator Rob Christopher reveals to Samantha Imburgia, ALA Publishing's associate editor for e-learning solutions, what really goes on at the ALA Store, from bestselling books to setup and tear-down to author signings.
– Plus, AL Associate Editor and "talker" Terra Dankowski provides roving dispatches from the convention center.
"This is a must-listen episode, people," Morehart says. It'll feel like you're there, minus the Orlando heat. Also, if you have any feedback for the Dewey Decibel team, send us an email at deweydecibel@ala.org. Tell us what you like, what you don't like, or what you'd like to see us cover. Follow us on Twitter or leave us a review on iTunes.
Be sure to come back for Episode Five, featuring library architecture and design, airing in August.