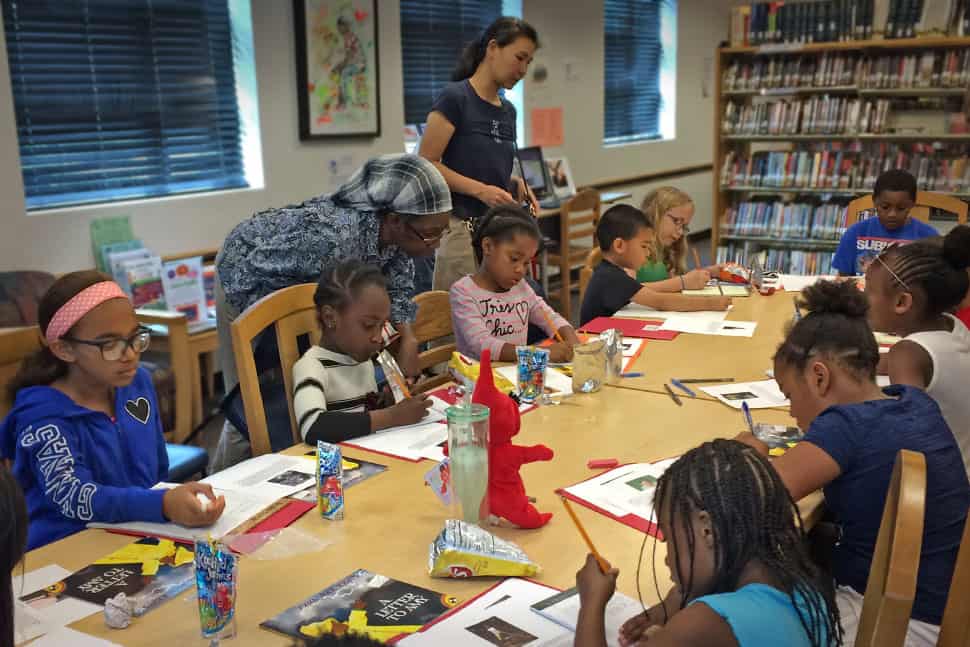 Many people dream of sending fan mail to someone they admire, but few could ever fathom the possibility of getting something in return. With the help of the Ezra Jack Keats Foundation and the Garfield Park Lending Library in New Castle, Delaware, a group of elementary school kids got to experience the sheer joy of just that.
Sophia Hanson, general manager of New Castle County Public Libraries, got the idea a few months back to start a letter-writing summer program for kids called "Letters to Amy," inspired by Ezra Jack Keats's 1968 picture book A Letter to Amy. Hanson decided to apply for a minigrant from the Ezra Jack Keats Foundation—which offers grants to libraries throughout the year to promote creative expression and to bring people together—to fund this project.
"I have so much respect for [Keats]," Hanson says. "My younger daughter loved A Letter to Amy. I think that is what made me think about that book in creating a program in honor [of] what would have been his 100th birthday," earlier in March.
Hanson says she researched famous people named Amy for the kids to write letters to, including Amy CEOs, Amy presidents, and Amys who head universities and organizations. "They would write to one Amy per class," Hanson explains. "We wrote to multiple Amys throughout the program because we didn't know who would respond."
Hanson secured a $460 minigrant from the foundation in May and the county covered an additional $400 to buy writing supplies, stationery, postage, and A Letter to Amy book for each Amy.
Between 10–16 kids from 1st through 5th grade met six times from June 3 to July 9. During that time the kids would learn about the different women named Amy by reading their biographies aloud to the group and write and rewrite their letters to Amy for that day.
When the first few responses started trickling in, the kids were ecstatic. "It was like Christmas in July," Hanson says. "The kids were overwhelmed. It made them feel special because they understand how important and busy these women [are]."
The first to respond was Amy Jordan, a professor at Hampshire College in Amherst, Massachusetts. Amy Hever, executive director of the Philadelphia 76ers' youth foundation, sent Sixers gifts and fall tickets. Amy Regan, contract manager for the Pittsburgh Steelers, wrote and said while she doesn't play on the team, she does have her name on two Super Bowl trophies.
Arguably, the most famous Amy to respond was singer-songwriter Amy Grant. In her response to program participant Aziza Prince, she advised the group to "be where your feet are," explaining, "that's a simple way of saying that in an age of technology that gives us instant access to anything in the world, the place where we can make the most difference is right where our feet are—our own families and communities."
"It was very organic," Hanson says. "I would show up and see where it goes. You can't structure it too much because the kids need room for creativity."
The letter writers also learned more about Ezra Jack Keats.
"We were teaching them without them knowing they were being taught," Hanson says. "We played bingo, but we would say, 'What city is Ezra Jack Keats from?' It was better than talking to them. The bingo game taught them the most."
Although the program was centered on writing letters, Hanson explained to the kids it wasn't just about getting a letter back.
"They had fact sheets on all the women and they learned about their careers," Hanson says.  "This was so different because it taught, especially, young girls about nontraditional careers."
Hanson believes programs like these encourage kids to come back to the library and to seek out more programs and books.
"It gave them such a positive [experience] and for the parents, valuable personal enrichment experience," Hanson says. "Some programs are a passive activity. For this program you really had to work."
Because the program was so rewarding, she plans to continue something similar in the future.
"People kept asking us, 'When are you going to do this again?'" Hanson says. "I want to try to find another unique and similar program and figure out what book we will base it on." She adds, "Women named Amy totally rock."