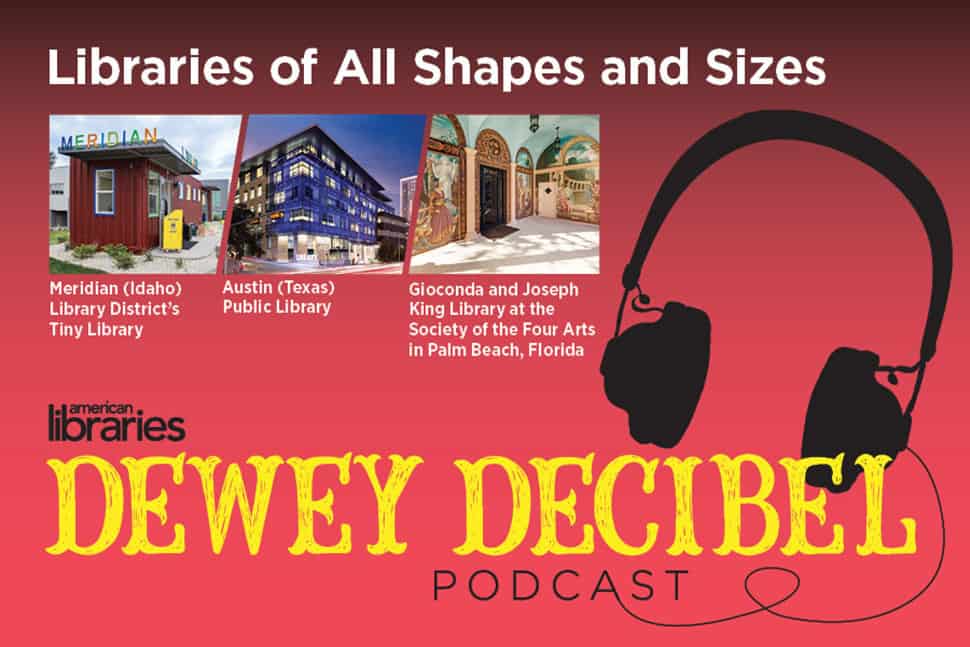 In Episode 42, Dewey Decibel looks at new and renovated libraries featured in American Libraries' September/October 2019 library design and architecture issue.
First, American Libraries Senior Editor and Dewey Decibel host Phil Morehart speaks with Gretchen Caserotti, director of Meridian (Idaho) Library District, about its 320-square-foot Tiny Library. Next, American Libraries Managing Editor Terra Dankowski discusses the construction of Austin (Texas) Public Library's $125 million Central Library with its project manager, Cynthia Jordan. Finally, Morehart speaks with Rachel Schipper, director of the Gioconda and Joseph King Library at the Society of the Four Arts in Palm Beach, Florida, about the artistic renovations completed on the library's 80-year-old exterior murals.
If you have feedback for the Dewey Decibel team, email deweydecibel@ala.org. Tell us what you like, what you don't like, or what you'd like to see us cover. Follow us on Twitter and leave us a review on iTunes.