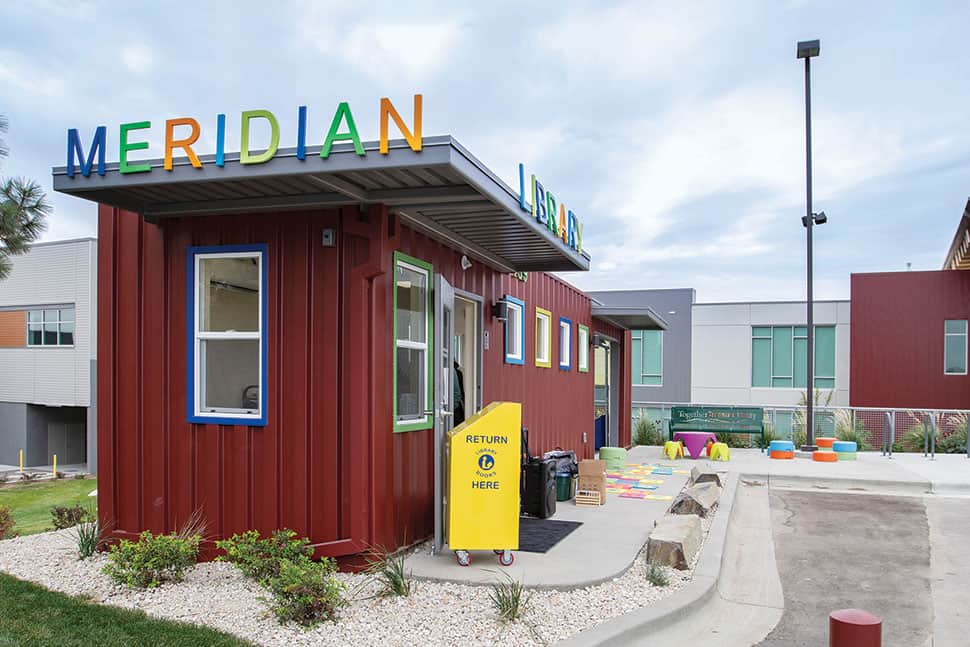 What do you do when your library wants to expand its space for young learners but doesn't have the money for a new building? You think small. Meridian (Idaho) Library District created the Tiny Library from a converted shipping container—and, with help from its partners, has seen indelible benefits in the community. The library is now developing a toolkit so that others can replicate its success.
Meridian Library District's (MLD) Tiny Library—a brick-red, 320-square-foot repurposed shipping container—stands out. As families cross the parking lot to the YMCA and spot the new building, we've heard kids ask "Can we go today?" and adults remark "This is so neat!"
The Tiny Library was born out of the desire partner with other community organizations on education, recreation, and health resources and to address the literacy needs of children newborn to age 5. Idaho is one of four states in the country that does not fund preschool; further, kindergarten attendance is not mandatory. While MLD's branches and full-service bookmobile were proactive about reaching patrons with early-literacy programs, we began to wonder: What would it be like if we were able to build a space that focused entirely on the needs of our tiniest citizens?
Funding wasn't available to build a full-service branch, so we had to get creative. (In Idaho, state law prohibits library districts from using operational savings for new construction.) In summer 2017, we saw a solution in the popular tiny-house movement. We discovered that we could build a small library out of a shipping container, with help from a Meridian Community Recycling Fund grant, that was within our budget and didn't depend on a levy or bond. After receiving the grant, the idea became a reality. Our four partners—the YMCA, Meridian Parks and Recreation Department, West Ada School District, and St. Luke's Medical Center—were excited about the project, and in January 2018 we began planning in earnest.
The library was designed to be truly adaptable and to fit the needs of its patrons each day.
Designing the Tiny Library required time and input from nearly every department at MLD. Originally, the idea was to fill the Tiny Library with as many books as possible. But why would someone want to come to the Tiny Library for books if they could go to a full-sized library a couple of miles away? During a planning meeting, we tried to envision how furniture, staff, and patrons would fit within compact confines. We quickly realized that we would need everything inside the library to be multipurpose, lightweight, and movable. We would need lots of natural light to make the room feel less cramped and a way to quickly reconfigure the floorplan in order to host certain programs or accommodate more visitors.
We decided to consult an architect to help us achieve this open and welcoming ambience. Windows line the sides of the Tiny Library, meeting at a wall that comprises one large window. A garage door retracts to invite curious members of the public inside. Benches double as storage for blocks and puppets, and bookshelves have wheels to allow for easy rearrangement. We ended up dedicating only one side of an interior wall to books, which we are able to move outside in good weather. The library space was designed to be truly adaptable and to fit the needs of its patrons each day.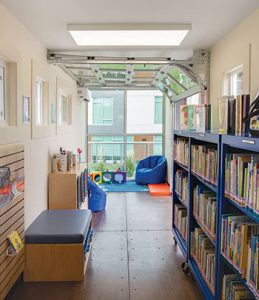 The Tiny Library opened in October 2018. We see about 500 people per month and hit nearly 1,000 visitors in June. Families come to read, interact, and seek information about early-literacy skills from our knowledgeable staff members. Storytime attendance often bursts at the seams, and programs are lively with music, dance, and play. Kids getting ready for kindergarten engage with books specifically chosen for their stage of learning, and parents say the bright, adaptable design of the space allows their children to better explore. Babies have taken their first steps within the Tiny Library's walls and grandparents have come to enjoy STEAM projects with their grandchildren.
Our partners have been exceptional about filling in the gaps. The YMCA, located 100 feet away, provides bathrooms for patrons since the Tiny Library can't support these facilities. Both the Y and Hillsdale Elementary School next door have hosted library programs that have been too big for our building. One of the biggest partner benefits has been Hillsdale offering space within an actual kindergarten classroom for a kindergarten-readiness course, which has helped many preschoolers feel prepared.
The Tiny Library may be small in size, but its impact has been huge. Shortly after opening, we were awarded the 2018 Future of Libraries Fellowship, administered by the American Library Association's Center for the Future of Libraries, to create a toolkit based on our project. The toolkit includes communication and design plans, a list of the lessons we learned, and technology and product suggestions, but is also designed as a workbook, so communities can develop their own ideas and think through the pieces we had to consider. The toolkit will be available this fall at mld.org/tiny-library.
Update, October 9: The Tiny Library Toolkit is now available.