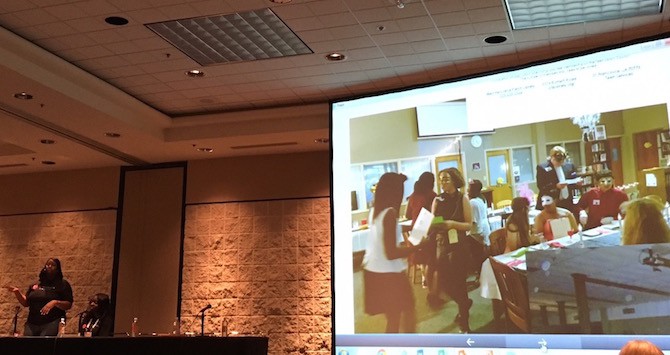 Librarians Desiree Alexander and Valerie Tagoe are the reason young people go to the library.
Their program, "You Did What? Programs For Diverse Teens," sponsored by the Young Adult Library Services Association, was so good it should have had a cover charge and two-drink minimum. Never has a morning meeting been more entertaining and made an audience of librarians wanting more.
Programming ideas included an urban lit club; a game night involving both students and teachers; and having a teen library council where the kids do everything for the program, from creating the logo to making T-shirts.
"It's good to give them a voice. Especially since most of the time they think [adults'] ideas are stupid, so I say let them be in control. And that includes the PR and promotion as well," said Alexander, who is instructional technology supervisor at Caddo Parish Public Schools in Shreveport, Louisiana. "I tell them, 'It is your job to bring people in—invite your friends. And if it's not cool enough for your friends to come to it, than maybe it's not cool enough to have it.'"
Then Alexander did just that. Brought in librarian friends Raquel Cummings and Deidra Ballard-Moore to share some of their programs with the audience—via video. Now that was cool.
When talking about planning a murder mystery program at the library, Alexander was quick to acknowledge the elephant in the room: budget.
"Oh, I know, nobody has any money for three-course dinners, [so] just serve up some goldfish crackers!" she said, followed by a roomful of laughter. "It's fun! The kids won't care!"
While Alexander was serving up the comedy, Tagoe, a media specialist at Woodrow Wilson High School in Dallas, was all business, explaining the importance of applying for grants, asking for donations, and stressing the importance of social media.
"Social media is key," Tagoe said. "I use Twitter to promote my events about a week or two before. It's a great way to inform the public, not just the people at your library," she explained just before a librarian in the audience shouted out about the importance of making sure to check on social media policies at your libraries first.
"Yes, always have a library account; don't use your personal account for library business," chimed in Alexander. "These kids live on their phones, so we have to meet them where they are or else we will lose them!"
With Alexander and Tagoe on the job? I highly doubt it.