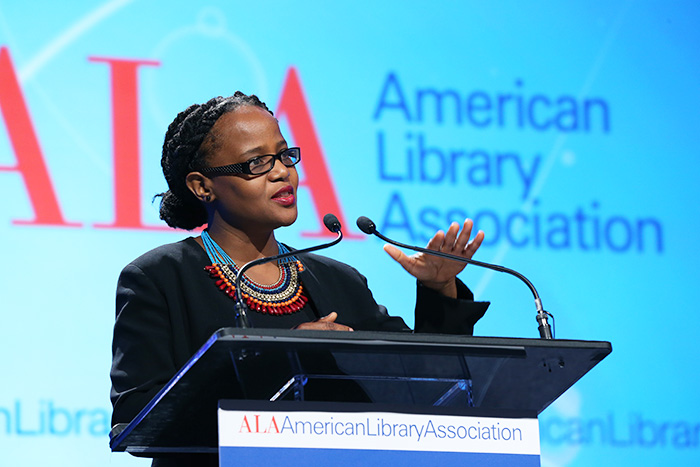 Acclaimed author Edwidge Danticat began her Monday Auditorium Speaker Series talk at the 2015 ALA Annual Conference by calling librarians "wonderful angels of the book." She said, "Librarians are some of the most democratic of guardians of the book. One kindhearted librarian can change the course of a child's life."
Whenever she's with librarians, she said she thinks of a Richard Wright essay titled "The Library Card," in which Wright gets a white coworker to lend him a library card and then forges notes to borrow a book. The notes say things like, "Will you let this boy borrow some books by H. L. Mencken?" In the process, Wright went from hungering for books to wanting to write books.
Danticat says she has a similar story when it comes to librarians and books. Having grown up in Haiti during the Jean-Claude Duvalier dictatorship, where certain kinds of reading or writing could be dangerous, many people buried their books in their backyard. Certain books were forbidden to Danticat, just as they were forbidden from Wright. "Illiteracy is certainly a failure of democracy," she said.
Her first encounter with a public library was soon after she moved to the United States from Haiti at age 12. She spoke no English, but her father took her to the public library in Brooklyn where they had a small section of books in French. She checked out 10 books—the limit—and told her dad, "I can't believe they're going to let me take these books home!" Now when she goes back to that library, her photo hangs inside.
"Books let us into other realities," Danticat said. "They let us learn things beyond our immediate surroundings. They let us live other people's lives, if even for a little while."
At age 4, the book that changed her perspective about being a little girl was Madeline by Ludwig Bemelmans, because "as Toni Morrison says about Tolstoy, 'I don't think he knew that he was writing for a little black girl in Lorain, Ohio.'" That, she said, "is the power of books. Madeline created a picture for me of what my life was and what it could be."
Now, as a writer herself, Danticat said she tries "to tell very hard truths in plain ways." Such hard truths are the focus of her new picture book, Mama's Nightingale, about immigration and separation.
She said the little girl in her new book, Saya—who sees her undocumented mother detained and then deported—could be any little girl, "including me." Danticat's hope for the book, she said, is that it will "stress these realities" of the immigrant experience, which can include triumph, hope, trauma, despair, opportunity, and sacrifice.
"It is not Saya's or my story alone," she said, noting that more than 72,000 parents of US-born children are detained or deported every year. The children who are left behind and have no one to look after them often end up in foster care or incarcerated, or are themselves deported.
Danticat read from Mama's Nightingale, which she said was "still steaming off the presses." (In fact, she was holding the hardcover book for the first time.) She said she wanted to tell the story of one of those 72,000 US-born kids, but not from a poor, helpless point of view. "I wanted it to be about a child who takes matters into her own hands. A child who has the power to direct her own narrative and discovers through the process that there is liberation, there are great possibilities."
She said she hopes people remember that "ultimately immigration is about bodies and souls looking for safe harbor. The most vulnerable are looking for this safe harbor, and they have the same dreams we have."