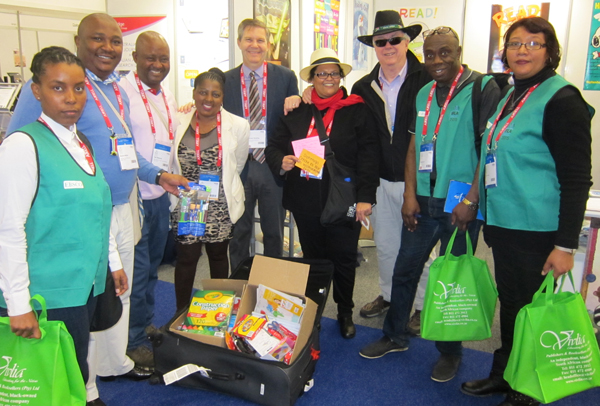 A suitcase full of 50 pounds of books is on its way to a preschool in the North West Province of South Africa. And it's all thanks to kids at a daycare center in Virginia, a Virginia Tech academic librarian, a South African academic librarian, a team of public librarians from the North West Provincial Library Services (NWPLS), and a chance hat exchange in Lyon, France, in 2014.
Paul Hover, assistant director for international outreach initiatives at Virginia Tech's Newman Library, told American Libraries the story:
At the end of May 2015, the Rainbow Riders Childcare Center in Blacksburg, Virginia, was visited by a longtime teaching friend, Andrea Dixon, who was getting ready to travel to South Africa to visit a new school. The school has 150 children and five teachers, but only one toy shelf and one soccer ball to share among all the children.  When the children in Virginia heard that, they decided to set up a lemonade stand and bake sale, which they did for three days in July. They wanted to buy supplies for the children in South Africa, and at the end of the third day they had raised almost $300.
The kids took a field trip to Walmart, where they purchased toys, puzzles, books, paper, and writing utensils for their new friends in South Africa. This project was not just about helping the children in South Africa, it was also about helping the children in Blacksburg understand how lucky they are.  This was an inspiring experience that allowed them to reach out to another community and make a positive impact on the children there by doing something to assist them to learn, grow, and play.
Two librarian colleagues who knew I was traveling to Cape Town to attend the IFLA World Library and Information Congress asked me if I would be able to take the suitcase to South Africa. The cost of shipping the toys and books is very expensive, but I never travel with more than a carry-on and I had one free check-in bag on the international flight. So I was easily able to take the suitcase free of charge all the way to the Cape.
But how do you get a 50-pound suitcase from Cape Town to a school in the North West Province 1,188 kilometers (738 miles) away? Paul continues:
I had met Senovia Welman, theology faculty librarian at the Bloemfontein campus of the University of the Free State, at the 2014 IFLA conference in Lyon. Senovia had beamed a warm South African smile at me and said she had puzzled over the right souvenir to remind her of IFLA's 80th Congress, but now realized that she would "loooooove" to have my dapper hat. I took it off and placed it on her head. As everyone stood admiring Senovia in my favorite hat, I made a deal with her: "Next year let us meet again in Cape Town, where you may replace it with a cool hat made in South Africa if you wish." And so she did!
In Cape Town, Senovia and I met to continue our tradition of exchanging hats. The fact that she is a librarian IFLA volunteer gave us the idea she might put out a call for help in getting the suitcase from Cape Town to the school, which is still quite far away even after a 15-hour flight. She then arranged for a team of public librarians from the North West Provincial Library Services to deliver the books and toys to the preschool after the IFLA conference.
The suitcase changed hands in front of the American Library Association booth in the exhibits hall in Cape Town, where it will travel next week to the preschool in Wolmaransstad, North West Province. It was a long journey that involved lots of lemonade, at least two hats, and the good will of librarians in two distant countries.