Don't think of San Diego Comic-Con, which ran July 21–24, as just another comic book convention. Since its inception in the early 1970s, it has grown into one of the largest annual celebrations of all things pop culture. The size alone makes you feel like you've stepped outside the real world and into a small village of costumed crusaders and oddities in the San Diego heat. If you think an American Library Association (ALA) conference is a wild ride, strap on your seat belt for the top five things every librarian needs to do at Comic-Con.
Visit the San Diego Library
Visiting a library while you are at a comic book convention seems crazy, but trust me, it is more than worth it.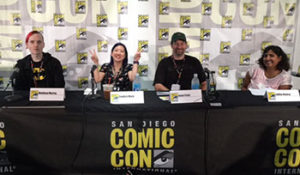 Over the past 10 years I've been attending Comic-Con, I have seen the San Diego Public Library's presence at the con grow from a booth with bookmarks and buttons to a 3D printer to a full-fledged partnership with San Diego Comic-Con. This year, the library hosted a four-day set of panels for educators and librarians. No need for a badge—simply registering ahead allowed access. Panels focused on a variety of topics: Free Comic Book Day in the library, graphic novel development and trends, how to host a library comic con, censorship of kids comics, teaching STEM with comics, and expanding diversity in kids comics. The library also featured more than 20 programs, including presentations from librarians and comic book publishers like Boom! Studios, IDW Publishing, and Scholastic, and comic book creators like Gene Luen Yang, Stuart Moore, and Nathan Hale. You could even sign up for your own limited-edition Comic-Con library card—a must-have for any librarian.
Build relationships
Authors and publishers at the ALA Annual Conference and Exhibition are always popular with librarians, but at Comic-Con the hordes of collectors and attendees seem to mostly leave authors and publishers alone. Make your mark and have a conversation to learn about upcoming books or trends. Trust me, they'll be happy someone is talking to them about their books because everyone loves a librarian. No really. Everyone loves a librarian.
This year librarians got all the love, from exhibitors who wanted to talk about the state of school libraries to celebrities like Iwan Rheon (Ramsay Bolton on Game of Thrones), who exclaimed that it was a "great thing" when he learned that a colleague and I were librarians. Every person I encountered had only ravishingly wonderful things to say about librarians and the work we do in putting great books on shelves and creating safe spaces. As one person told me, libraries are like candy shops for nerds.
Programs, programs, programs
There are more than 700 programs at Comic-Con. Sadly you can't make it to all of them, but the ones you do attend can greatly enhance your experience. Comic-Con has increasingly added panels that focus on ethnicity, youth, women, censorship, and LGBT issues in comics and media. Boom! Studios, Scholastic, Image, Marvel, DC, and other publishers all have panels showcasing their new comic lines. Be prepared to take notes. Every year I fall in love with titles and add them to my library's collection. Two years ago, Noelle Stevenson mentioned a little book called Lumberjanes at an LGBT panel, and Matt Fraction talked about his new book Sex Criminals at an Image panel. A year before that, Brian K. Vaughn talked about his now must-read book, Saga. The Eisner Awards are also handed out at Comic-Con, so grab a seat and watch them announce the winners.
Embrace the pop culture explosion
Some people complain that Comic-Con isn't about comics anymore. That is true to an extent, but the additions only complement the comic offerings. Immerse yourself in what's new and trendy in pop culture and bring it back to your library. You might not think that the 40-foot-tall Powerpuff Girls float relates to your library, but remember it is a giant announcement that the Powerpuff Girls are back and better than ever. Does your library stock their DVDs? The 36 cosplayers dressed as Harley Quinn probably means people are super excited about the new Suicide Squad movie. Do you have the graphic novels? Pop culture references can be here today and gone tomorrow, but at least your library will not have missed them.
Have fun
Comic-Con can be an intense place as there is always something to see or do. Take a few seconds for yourself. Go to a panel, pick up a piece of art, or just sit on a bench and people watch. There are so many benefits to gain from being a librarian at Comic-Con: Soak it up, take a breath, then get back out there. The world is depending on you, caped crusaders.