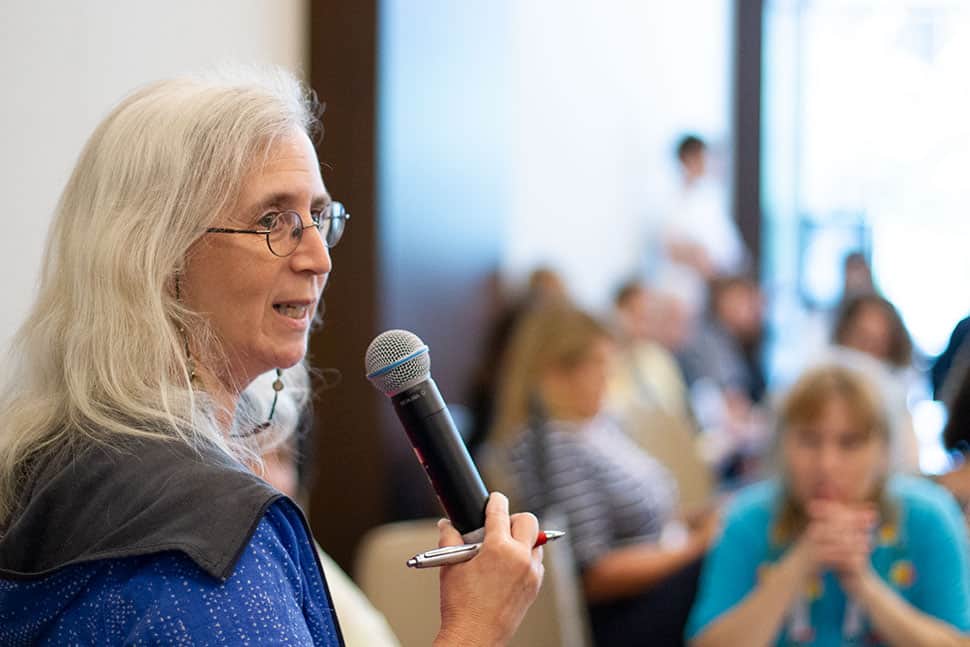 A pair of leading lawyer-librarians led a forum on legal issues in public libraries on June 23. Tom Lipinski and Mary Minow, co-authors of three books on legal issues in public libraries, fielded questions from several dozen librarians and library workers representing public libraries and library systems across the country. They didn't offer specific legal prescriptions, but rather addressed broader legal principles and relevant case law around public library issues.
Queries addressed topics ranging from privacy issues to unruly teens, from how to respond to police warrants to dealing with people experiencing homelessness. The topic of patron behavior—and attendant issues of penalty policy and compassion—struck a chord, as the session's format evolved from question-and-answer to open exchange among librarians raising questions and weighing in to share experiences from their libraries.
"When thinking about penalties, you want a policy that's written, that patrons are aware of," Lipinski said. In the event that someone brings suit against a public library, he said, "the courts will look at both intent and practice. What was the written policy, what notice was given, and how was it enforced?" He also recommended libraries keep written accounts of incidents that spurred policy changes, which could form an evidence trail and public record in the event of a legal challenge. The panel also recommended establishing a proactive relationship with local police, rather than waiting for an issue to arise with law enforcement.
Another hot-button topic involved public accommodation of service animals. Emotional support animals and other pet therapies have grown in popularity but are not addressed under the 1990 Americans with Disabilities Act (ADA). Marti Goddard, access services manager and ADA coordinator for San Francisco Public Library, shared compliance insights: "We have a no-pets policy, but library staff are legally able to ask two questions: is this dog required because of a disability? And what has this dog been trained to do for you?" These questions can help clarify who depends on a service dog and who's attempting to sneak a disruptive pet onto library grounds.
For more information, visit the ALA Connect group on legal issues in public libraries, where Lipinski, Minow, and Public Library Association staff regularly weigh in.
This year marked the fourth convening of the Public Library Association's Annual Conference forum on legal issues in public libraries.