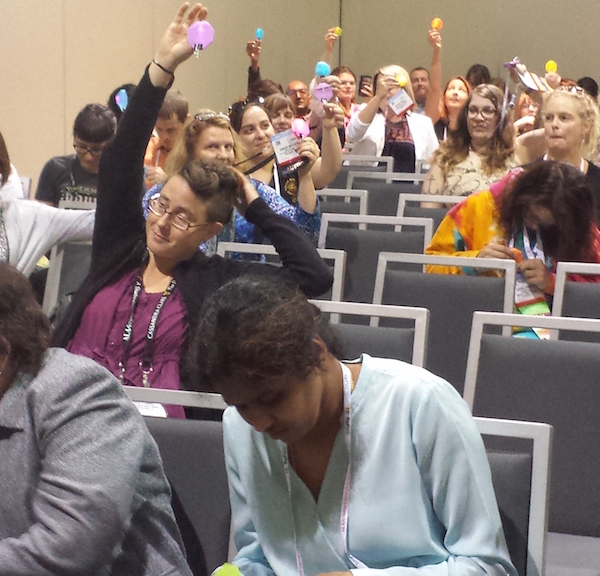 Sunnyvale (Calif.) Library draws about 2.5 million visitors each year. The town is near Silicon Valley, so the library attracts a lot of tech workers, but it still sees a big gender gap in its programming. A recent coding program filled its 20 spots instantly, but with 17 boys; the three girls who signed up didn't last until the end.
Nancy Andrus, youth services librarian at Sunnyvale, found a way to reverse this trend: #LadyMakers. She described her experiences in a Sunday Conversation Starter session.
Andrus recruited five ladymakers to help lead the library's Make-HER program from nearby museum and education programs and told them that it was as much about them as individuals as it was about projects. She wanted the ladymakers to be role models for the girls and asked them, "With $500 and two hours, what would you do?"
The Make-HER workshops are open to girls ages 8-12. "That's the time girls start to lose interest and confidence in STEM," Andrus said. The workshops also engaged moms or other adult women as mentors so they would have the skills to understand what the girls were talking about. While the program was capped at 20 teams, Andrus also set up a blog with profiles, links to resources, and a try-at-home section to reach people who couldn't attend the workshops.
The appeal of the maker movement, Andrus said, is that it is process-based more than project-based. It provides a different environment than school, allowing failure, exploration, and struggle without discouragement.
Andrus says the program did three things unusual for the library:
Engaged moms and adult female mentors that girls could rely on after the workshop ended.
Highlighted the women running the program as individuals.
Tapped into the playful energy of the maker movement.
Making at Moscone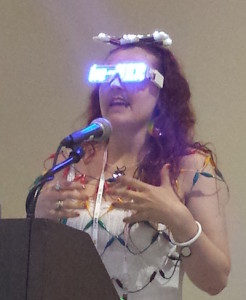 Andrus brought two of the program's #LadyMakers to the Moscone Center classroom to lead a mini-maker workshop similar to those at Sunnyvale. Lindsay Balfour works at Children's Creativity Museum in San Francisco and teaches coding and robotics as well as lower-tech skills like pop-up books, origami, and papercraft. Tenaya Hurst calls herself a "rogue maker" and teaches workshops in sewing, wearable technology, and soldering.
Each attendee received a kit containing about a dollar's worth of supplies—copper tape, an adhesive pinback, a three-volt battery, an LED light, and a paper circuit template. The copper tape acts as low-tech soldering, the battery powers the LED, and the paper houses the glowing light in a colorful brooch that can be attached to clothing with the pinback. Balfour talked the new makers through the steps with slides but reassured those who couldn't work out the instructions right away. "We like to encourage healthy struggles," she said. "A little frustration is good for the soul."
After about 20 minutes of trial and error, the room lit up with bright little paper gems.