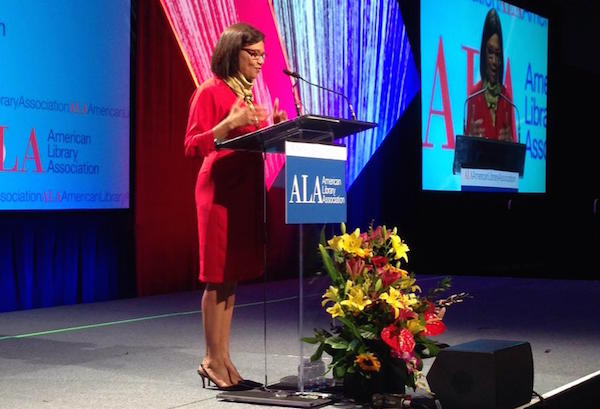 On Monday afternoon, Sonia Manzano delighted the crowd with a reel of highlights from her 44 years on Sesame Street—the marriage of Maria and Luis; working with Oscar the Grouch, Grover, Big Bird, and Elmo; having a baby; plus lots of dancing, singing, and lessons. Sighs of nostalgic recognition and bursts of laughter accompanied the three-minute video, followed by sadness when she announced she was retiring from the show. Everyone in the room grew up with Maria.
Manzano said the character of Maria has paralleled her life—her pregnancy was written into the show, and her daughter played Maria's daughter, for example—so she thinks of Sesame Street as the "first reality show." But as a writer on the show, she had a little more control over Maria's reality than she did over her own.
But how did she get, did she get to Sesame Street in the first place? Little about her early life in the Bronx—growing up poor in a household torn by alcoholism and violence—would indicate a career in the arts, much less as part of one of the most beloved cultural institutions, where she won 15 Emmy awards for writing.
Manzano looked to television for comfort, even though the popular shows of the era—Leave It to Beaver and Father Knows Best—had no characters of color. She saw a glimpse of her future when her fourth grade teacher took her to see West Side Story and she saw Latin characters—specifically Puerto Rican characters—in a neighborhood just like hers made beautiful, colorful, and sexy on screen. The experience, she says, taught her the meaning of art—turning the everyday into something glorious—and she used that knowledge to separate herself from the turmoil of her life.
Maria's first job on Sesame Street was working in the library, which Manzano said in an interview with American Libraries was created to give the show a community space and encourage sharing. Manzano herself didn't have much experience with libraries as a child. The library in her school was small and underfunded, but her fifth grade teacher regularly read to the class and helped instill in her a love of books. "I remember every expression on his face when he read Charlotte's Web to us. The teachers who showed us books are memorable to me."
Although she has been praised over the years for overcoming her difficult childhood, Manzano says she succeeded not in spite of her childhood but because of it. "You can make something out of any life," she said.
She used those experiences to inform the character of Maria and also when writing for other characters on the show. She imagined a little girl in a disruptive household watching her on TV and felt responsible to her, even when writing sketches between Bert and Ernie.
Showing kids a reflection of their own lives was one of the goals of Sesame Street, Manzano told AL. The show's set resembles an inner-city stoop, and the multicultural cast appealed to underserved urban kids who needed to learn educational basics but couldn't relate as well to the barnyard-based stories that dominated children's literature before the 1970s.
Manzano lamented that children now are often assessed and tested before they are able to discover the joy of using their imagination and thinking for themselves. "The last place to imagine is in the books that librarians give them. Reading books is the only time right answers are not required," she said.
So much children's television just tells kids to "be nice," which she says is meaningless if it is not coupled with empathy. Expose kids to all kinds of stories and experiences, and don't be afraid to let them read sad books, Manzano asserted. She mentioned a young reader she knows who loved The One and Only Ivan—he admitted it was sad, but he appreciated the funny parts of it, too.
When asked what she thought was the greatest contribution of Sesame Street, Manzano responded, "That you don't have to show everything. You don't have to have to have all the answers for kids; they have their own answers. Just point them in a direction and let them fly."
Sonia Manzano on her memoir, Becoming Maria
Sonia Manzano on Sesame Street and libraries
Updated July 2, 2015