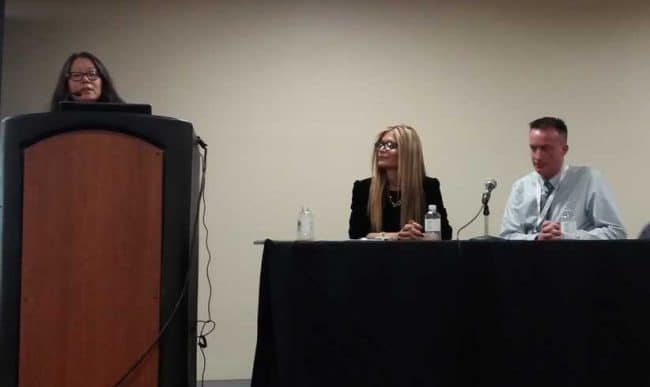 How does your library help make your community stronger? What does your library do to bring the community together? What are your patrons' favorite things to do at the library?
American Library Association (ALA) President Loida Garcia-Febo hopes these prompts and others can be leveraged to create better advocates and visibility for libraries on the local, national, and international level.
"This is a time for action. We're living in challenging times," she said. "We need a seat at the table."
At "My Library, My Story," a September 28 session at the third National Joint Conference of Librarians of Color in Albuquerque, New Mexico, Garcia-Febo introduced her #mylibrarymystory video and social media initiative, set to formally launch in 2019 as part of her Libraries = Strong Communities focus and ALA's broader Libraries Transform campaign.
The aim of the initiative is to mobilize library advocates and get them creating and sharing digital content about their libraries, while in the process engaging new stakeholders such as city leaders, nonprofits, trustees, school principals, and community members.
"We need to reach out and partner with like-minded associations," said Garcia-Febo. "We are uniquely positioned to empower our communities."
Garcia-Febo hopes to show some of the ways that Libraries = Strong Communities on her six-city tour of libraries, which kicks off in October with visits to Pikes Peak (Colo.) Library District (PPLD) and Cambridge (Mass.) Public Library (CPL), and culminates in Washington, D.C., at the 2019 ALA Annual Conference.
To paint a picture of what Garcia-Febo would be seeing, PPLD Chief Librarian and CEO John Spears described for attendees the unique service populations and challenges of his library—as well as the marketable attributes that could translate to advocacy.
"We are the most militarized county in the country. We have five bases," said Spears. "[Colorado Springs] is known as the most conservative city in the US. We're the headquarters of 64 evangelical organizations. We have to tread a very fine line with how we do things."
To show what he's up against, Spears pointed to commentary in the Colorado Springs Gazette, where the editorial board suggested defunding PPLD, taking the tack of "who needs microfiche because it's all on Google?" He also noted that local organizations protested a drag queen storytime that was recently held by a patron in a PPLD meeting room.
"I think you're seeing a need for advocacy," he said.
But Spears was also quick to shine a light on the library's popular and beloved services, such as the performance space that PPLD converted from a Knights of Columbus hall that has hosted punk rock shows, poetry slams, cooking classes, and the Air Force Academy Band, as well as an adult education department that staffs eight people with master's degrees in adult education.
When Garcia-Febo visits, Spears plans to take her to the Harvest Festival in Falcon, Colorado, which is served by PPLD's "most rural branch." He said that patrons at the festival will ask questions about their relationship with PPLD as part of the #mylibrarymystory initiative.
Maria Taesil Hudson McCauley, director of CPL, described a different experience in her community.
"What makes CPL special in some ways is that we lean into social justice issues, we encourage civic engagement, we are not afraid to explore issues today," she said. "It's a very progressive city. We are also proudly a sanctuary city."
For instance, last year CPL hosted Supreme Court Justice Stephen Breyer on Democracy Day, a program that celebrated the Constitution.
When Garcia-Febo visits CPL, she will also tour Harvard, MIT, and Cambridge Public Schools to see how the library works with its partners in a holistic environment.
"Libraries change lives, and I know everyone is a part of that narrative," said McCauley.