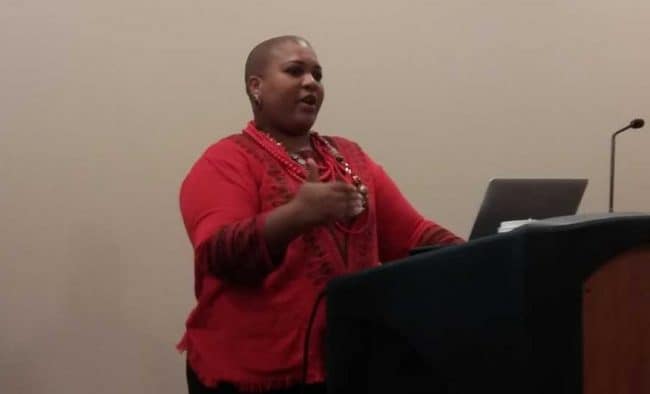 Black immigrants enter the US with strong English-language skills and college degrees. They are 74% English-language proficient—as compared with the overall immigrant population at 51%—and 44% hold a college degree, on par with the US national average. So why do only 7% of black immigrants use the public library?
At "Engaging and Serving Black Immigrant Communities," a September 28 session at the third National Joint Conference of Librarians of Color in Albuquerque, New Mexico, Ana Ndumu, PhD postdoctoral researcher at University of Maryland iSchool, presented her findings on the obstacles black immigrants face in accessing information and what libraries can better do to reach this diverse population.
For Ndumu, a black immigrant from Nicaragua who grew up in Miami, her dissertation was "a passion project."
"This group is far from homogenous," she said, noting that the 3.8 million black immigrants in the US who predominantly come from Central and South America, the Caribbean, and Africa are extremely disparate in terms of culture, language, religion, regional differences, and experiences.
"Because of the social dynamics and the limitations of entering a race-centric society, they still have some limitations," said Ndumu. She pointed out that black immigrants have the highest unemployment rate, lowest home ownership rate, and highest deportation rate among immigrant groups.
Further, 51% of the people that she surveyed indicated that they are overwhelmed by US libraries. A big part of this is the culture of libraries in their home countries, Ndumu said. For example, in Jamaica, formal dress is required to enter a library. The libraries that black immigrants may be familiar with tend to be academic, affiliation-based, and print-oriented.
Yet the biggest information challenge facing black immigrants, Ndumu learned, is information overload.
"It's overwhelming to go through the whole ecosystem," she said. "The US is on steroids when it comes to being hypernetworked."
Ndumu set to examining the behavioral, qualitative, quantitative, and cognitive dissonance factors related to this information overload. She discovered that many respondents were concerned with propaganda and information literacy (said one: "CNN is the Bible back in Kenya, but here you can't trust anything") and confused by the decentralized nature of applying for government services and benefits (which tends to be more centralized in other countries).
She was also quick to dispel the myth that black immigrants aren't connected. "The idea that there is information darkness is just not accurate," she said, pointing to the fact that smartphone usage is higher among black immigrants than the national average.
What advice does Ndumu have for librarians looking to reach black immigrant populations?
"Really see and probe where they are and who they are," she said. "Remember that personal narratives matter. Think strengths, not deficits. Our profession has had this narrative of the poor, needy immigrant."
Ndumu pointed to Pima County (Ariz.) Public Library and its efforts to help immigrants get reciprocity for their internationally-obtained college degrees as an example of listening to what the population needs."I think librarians can do a better job at embedding in communities," she said. "Black immigrants, for whatever reason, love festivals," noting that many groups link festivals to Carnival. "Libraries should have a booth at a festival," she suggested. Posting library announcements and publicizing resources at local churches, mosques, and temples, and finding what is being used as the neighborhood "information grounds" is also key. Growing up, Ndumu says her information grounds were the tienda—the stores where people would play dominoes, drink tea, and gossip.
Ultimately Ndumu thinks marketing library apps and digital services to black immigrants will be successful. "They are very smartphone dependent. Take the library to them."
For more information on reaching black immigrant communities, check out Ndumu's toolkit at blackimmigrantsinlibraries.com.