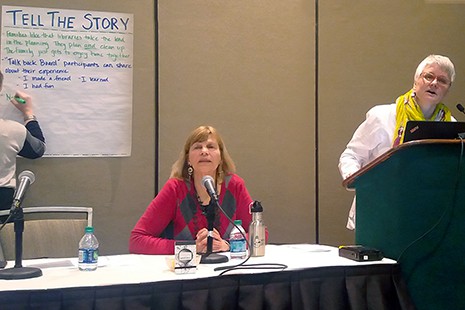 Pen and paper, film cameras, board games, vinyl records: All are examples of tangible objects making a comeback among younger generations.
"These are the new shiny things for [teens and 20-somethings]," Betha Gutsche, WebJunction program manager at OCLC, told attendees at "Return to the Real: The Library As Social Connector," a Symposium on the Future of Libraries session at the American Library Association's 2019 Midwinter Meeting & Exhibits in Seattle on January 26.
Analog objects give people "the joy of creating and possessing," said Gutsche, quoting Canadian journalist David Sax. As throwback technologies gain traction with audiences eager to take a break from the individualization of social media and leisure time, libraries have a special role in the real-things movement—as a catalyst for connection and a location where participatory learning happens.
"This desire for human interaction—and a sense of community and place—is one of the magnets that draw people to neighborhood libraries," Gutsche said.
"Librarians are tired of being asked 'Do we really need libraries?'" added Jennifer Peterson, WebJunction community manager at OCLC. "Libraries are ready to move beyond 'staying relevant.'"
Because libraries are open and inclusive safe spaces that nurture civility, said Peterson, they are ideal for creating social cohesion, rebuilding bonds, and healing fractured communities. One way to foster this cohesion is by hosting programming that is hands-on and increases opportunities to learn together.
Peterson and the audience listed examples of programs that foster participatory learning, including silent reading parties, Nerf war events, STEAM-centered cardboard-building challenges, memory cafes for those with early-stage dementia, and Bob Ross-themed painting nights.
Gutsche reminded library staffers to promote their programs, set up their spaces in a way that welcomes people ("think like a party host"), and to "tell the story" of their efforts to stakeholders.
The benefits to interaction are invaluable: "Social connections have a really positive impact on the health and well-being in humans," Gutsche said, noting that socializing is associated with lower levels of anxiety and depression, stronger immunities, and increased lifespans.
She added, "It doesn't really matter what the program is; what matters is how we're going to be really intentional about creating that social connection."