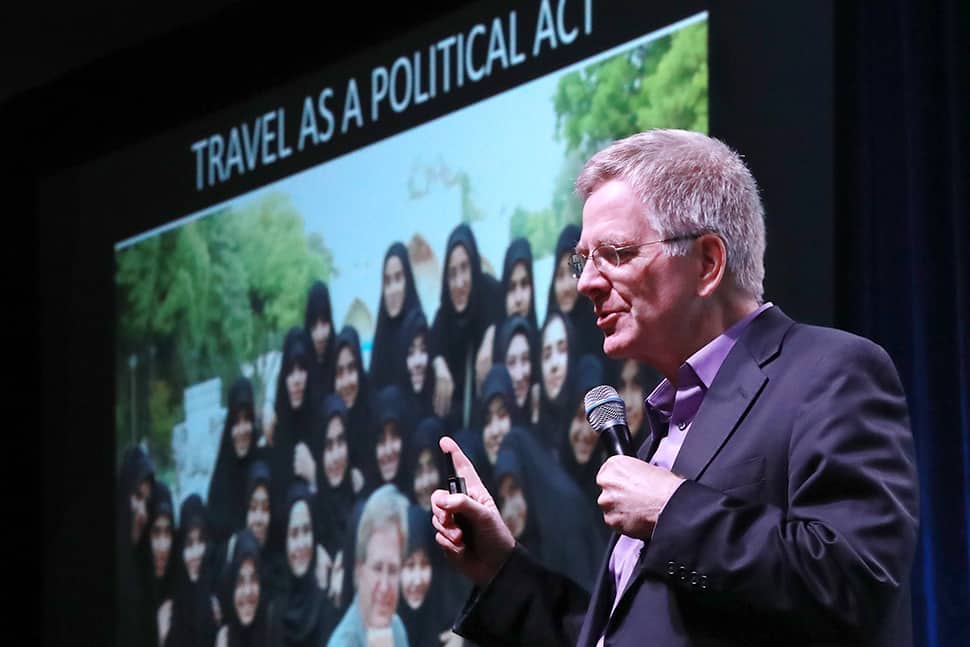 Rick Steves is on a mission. The author, television host, and travel guide behind Rick Steves' Europe wants to inspire and equip Americans to venture beyond Orlando.
"The book that beats mine [in sales] all the time is the guidebook to Disney World," Steves told attendees of his Auditorium Speaker Series talk at the American Library Association's 2019 Midwinter Meeting & Exhibits in Seattle on January 27. "That's la la land—I'm into gaining a better understanding of humanity."
Steves, who recently released a third edition of his book Travel as a Political Act (Hachette Book Group, 2018) and the Rick Steves Classroom Europe online resource, recognized that fear keeps people from seeing the world.
"When someone tells me to have a safe trip, I'm inclined to say 'Well, have a safe trip at home,'" said Steves. Statistically, he noted, Europe is much safer than the US. "Our country has never been more fearful," he said. "Fear is for people who don't get out very much. The flip side of fear is understanding, and we gain understanding when we travel."
Steves maintained that meeting people along your travels—and discovering their interests—fosters this understanding and "carbonates" the experience.
"You go to France and step into a cheese shop, and it's a festival of mold. The cheesemonger is evangelical," he said. "In Ireland, I enjoy the sensation that I'm understanding a foreign language. Forget your schedule, this is why you're there. Get into a conversation."
For decades, Steves has been honing and designing European tour experiences for American visitors—he estimates he's spent one-third of his adult life living out of a 9-by-22-by-14-inch carry-on—but it was the aftermath of 9/11 that caused him to personally view politics as inextricable from travel.
"When we travel, we can see other societies' priorities," Steves said. For instance, "The British Library is typical of great new museums in Europe that prioritize this opportunity for people to come together and be inspired by information."
Another example that Steves addressed is the "pragmatic harm reduction" and decriminalization approach that countries like Germany and Switzerland apply to drug use or the Netherlands applies to sex work. "Society has to make a choice: tolerate alternative lifestyles or build more prisons," he said.
"Americans who are offended by Europe's social sensibilities will put down the European economic systems," said Steves. "They choose to work 25% fewer hours and willingly make 25% less stuff so they can spend more time with their families."
He added, "You travel and realize the American dream is great, but it's not unpatriotic to recognize there are other dreams."
Steves told a story of how we was due for a family vacation in Mazatlan, looking forward to drinking margaritas with his "rich white friends on the beach," when another friend asked if he wanted to march alongside peasants in El Salvador to observe the 25th anniversary of Archbishop Oscar Romero's death. "It's a choice we have," Steves remarked. "When I do it, I'm always impressed by what a beautiful experience it is."
Steves ended his speech with a note of praise for librarians and a piece of advice: "The best souvenir is a broader perspective."
Rick Steves on dictators, tyrants, and control of information.
Rick Steves on learning from a dervish.
Rick Steves on travel providing perspective.
Rick Steves on being afraid to travel.