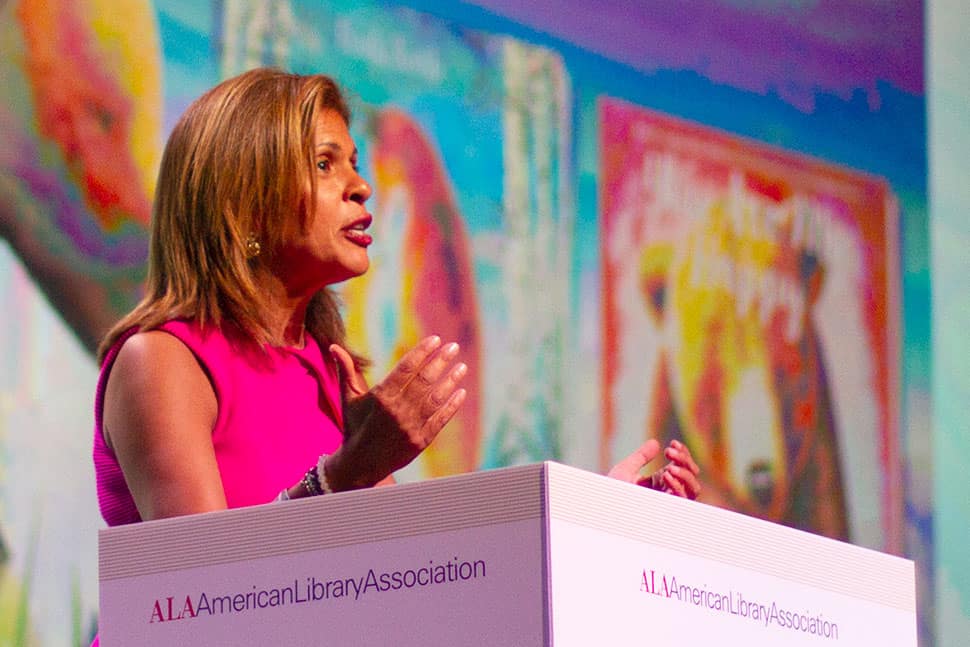 Hoda Kotb confessed that she didn't know how to start her Auditorium Speaker Series session at the American Library Association Annual Conference and Exhibition June 22. So she started with the words she's been saying repeatedly since recently going on maternity leave:
"Do you like green eggs and ham? Do you like them, Sam-I-Am?"
Kotb, the Peabody Award­-winning journalist and cohost of NBC's Today Show, adopted baby Hope in April and also has a 2-year-old daughter, Haley Joy. Kotb told the crowd that her elder daughter pleads with her to read a story "just one more time," which led Kotb to the realization that even with nonstop access to the internet and electronic images, kids still crave books.
She showered praise on librarians at multiple points during her talk, saying that lately she's been thinking about librarians and how incredible they are. "I can't tell you how much you matter and how much you mean to your communities, to your states, and to this country," she said.
Kotb said she knows firsthand how great librarians can be—her mother worked as a descriptive cataloger for the Library of Congress (LC) for 32 years. "I remember just walking in the doors of this place and thinking: Wow!" Kotb told American Libraries before the session. Her mother has degrees in law and library science. "She chose library science, and I understood why as we were kids growing up. We got the opportunity to see her in action—stacks of books, her hands on them. You couldn't believe we were that close to all of that magic."
Now with several books of her own under her belt, Kotb shared her inspirational wisdom with attendees. She related a story from her 2010 autobiography, Hoda: How I Survived War Zones, Bad Hair, Cancer, and Kathie Lee, about driving for 10 days through the South following job leads that didn't pan out, enduring 27 rejections before a producer in Greenville, Mississippi, was willing to take a chance on her. "You just need one person to love you," she said. "You don't need everybody."
She also talked about how her perspectives have shifted after surviving breast cancer. She learned to stop wasting time, hold onto the things she loved, and get rid of everything else. ("I'm divorced," she cracked.)
She spoke of the inspiration for her two latest books—the picture books I've Loved You Since Forever, based on the phrase she wrote in her journal while waiting for the adoption of Haley Joy to go through, and You Are My Happy, based on their nighttime routine.
In the end, she celebrated librarians: "I don't know if people tell you enough, but what you do really matters. It matters to all of us. So keep up the good fight."