Fifty years ago, illustrator Ekua Holmes couldn't find any books featuring children of color.
"I didn't see any reflections of girls like me," she told attendees at "50 Years of the Coretta Scott King (CSK) Book Awards," a live taping of the Dewey Decibel podcast at the American Library Association's 2019 Annual Conference in Washington, D.C., June 22. "I think the first book that I read about an African-American girl was one that I wrote myself. It had a binder and a cardboard cover," she said. "To come full circle to this time and have a rich library of sources that I can share with my granddaughter feels like we've done something really powerful."
Holmes and fellow panelists Christopher Myers (illustrator of Firebird), Jason Reynolds (author of As Brave as You), Angie Thomas (author of The Hate U Give), and Jacqueline Woodson (author of Brown Girl Dreaming)—all past CSK Award winners and honorees—delivered emotional reflections on the influence the awards have had on representation in children's literature and their own careers.
"What the CSK Awards did was completely change the narrative" at a time when the Caldecott and Newbery committees didn't see people of color, said Woodson. "Eventually publishers caught on."
Woodson cited authors John Steptoe and Mildred Taylor as heroes of hers, but also described the indelible and problematic impression that Newbery Medal-winning book Sounder—a story by a white author about black characters who don't have names—made on her. "How can they be Southern and never hug each other?" Woodson exclaimed. "We're all here because of what we read and what we didn't have to read."
Myers and Thomas echoed Woodson's sentiment. "We're all making books for the kids that we were," Myers said. "I want to do right by us."
For Thomas, it was the narratives created by hip-hop artists that reflected her experiences growing up. "Rappers were telling the stories when books didn't," she said. "I didn't read your dad [Walter Dean Myers]'s books until I got to college," she said turning to Myers. "Gatekeepers," she told librarians in the crowd, "learn from the mistakes of my gatekeepers."
Getting "the call"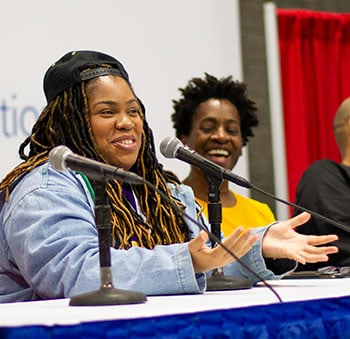 Thomas said she was completely surprised when her book The Hate U Give was awarded a CSK honor. "Knowing how many curse words were in that book, that the book was banned by school districts," she thought, "there's no way they're going to put an esteemed Coretta Scott King sticker on that book."
Reynolds didn't anticipate his John Steptoe Award for New Talent either. "I was in bed chilling," he said, when he received a text from Woodson letting him know he had won. "What that shiny medal did was put my book closer to the front of the store. These simple things that can make a career."
Woodson describes the CSK Awards Breakfast as a "spiritual, magical, healing, unifying morning," and Myers likened the experience to a family reunion. "So many aunts and uncles [commenting on what you're wearing] in the same room," he joked.
"Javaka [Steptoe] came with flip-flops on last year," recalled Reynolds, laughing.
"You can't sing 'Lift Every Voice and Sing' in flip-flops," Myers teased.
Hearing from fans
Beyond the gravitas of the CSK Awards, the panelists agreed that they are regularly moved and driven by their audiences.
"I've gotten so much love in the form of the questions they ask, the comments they make, the letters I receive," said Holmes.
Reynolds recalled an 11-year-old boy asking him why he doesn't write white characters in his books. "It's okay for black children to have uninterrupted time, to exist in uninterrupted space," he responded. "I answer the questions honestly because young people can handle honesty."
After Black Cat was published, Myers received letters from kids in Nebraska, Puerto Rico, and Sudan. "Books for young people are often taken in communally," he said. "It's a tool for [them] to understand their locality."
Though, Thomas confirmed, it's not just young people who read the works of CSK winners and honorees.
"I met a 90-year-old black woman who loved The Hate U Give," she said. "If she sees a kid on the bus wearing Jordans, she goes over to him and says, "Young man, I have a book you might enjoy.'"