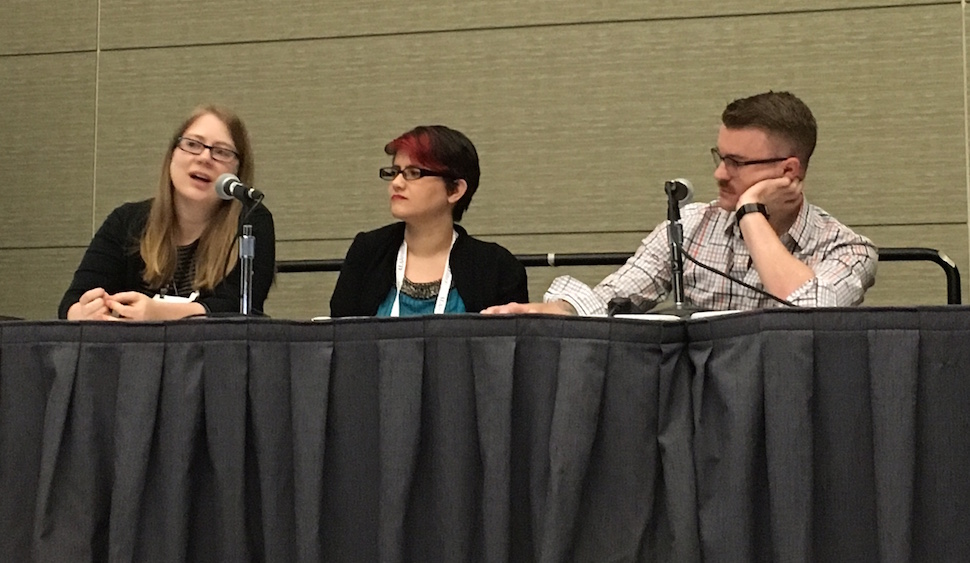 For librarian Colleen Theisen, creating videos to promote special collections and rare books at University of Iowa was born out of two problems: People either didn't know they exist or they found the collections too intimidating to explore. "By making anything, we're starting to meet those goals," she said at the 2016 ALA Midwinter Meeting session titled "How Do You YouTube?"
Theisen's online video series, Staxpedition, tries to break down these barriers. "We have a will and an enthusiasm, but none of us knows anything about video, and we just really wanted to make them," she said.
Joining Theisen on the panel were Susie Kirk of Henderson State University in Arkadelphia, Arkansas, and Richert Schnorr of New York Public Library, both of whom also spoke about their enthusiasm with video projects.
For Schnorr, the goal is to post one video per week on NYPL.org/stories. He said that the videos themselves don't have to be super high quality, but they do need to be fast, light, and inexpensive. "It's really fun for me to go out on shoots and meet people," he said. He added that the videos are goodwill branding as well as educational, and YouTube serves as an effective "push-out communications tool."
Kirk agreed, saying that successful videos are ones in which viewers can respond. "With the BookTube community, it's about being conversational," she said. Her video series "Read Susie Read" is geared toward book lovers on YouTube.
Editing their work is the biggest challenge, said Theisen and Kirk. For Schnorr, it's the technical aspect, as well as narrowing the focus of the videos. But all three said they are constantly learning and evolving their skills. At NYPL, for instance, Schnorr said they used to have long, branded introductions to their videos, and now they just flash the logo and move on to the content.
They offered advice to session attendees who are interested in creating their own videos. "Just do it," said Theisen. "We didn't know what we were doing—we still don't—but we do it anyway. Be bold and make it."
"Don't let not having fancy equipment stop you," offered Kirk, who said she initially started with a webcam. Similarly, she knows many who have successful YouTube channels who shoot and edit their videos on their smartphones.
Schnorr's advice was to forge relationships within your institution. "There are different types of people. Some say yes and some say no. Find the yes people, get them in a room, and make something together."