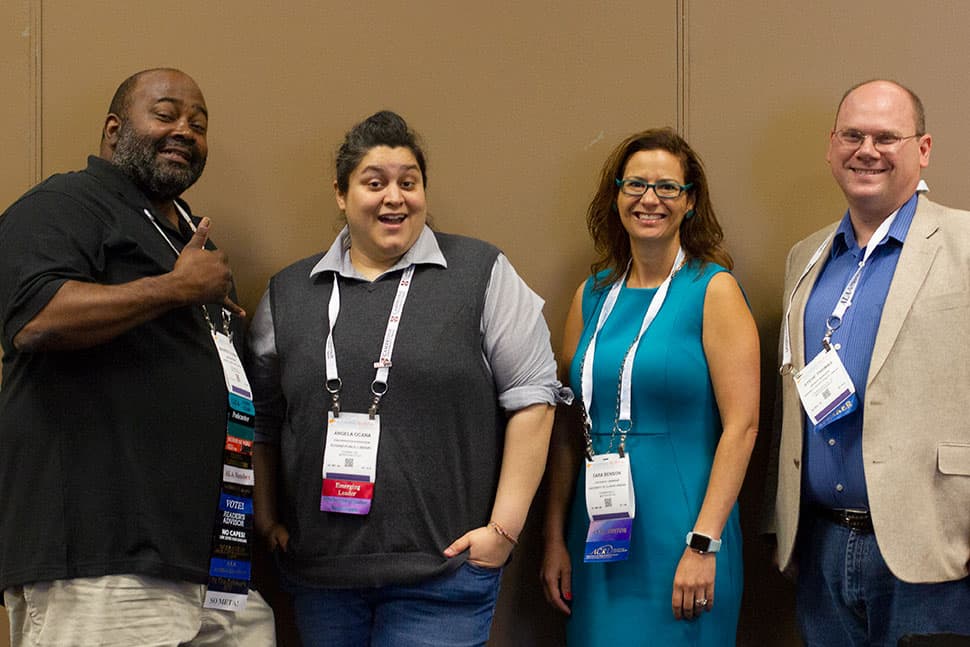 Where does one get ideas for a library-themed podcast? What equipment is needed? How does one get administrative buy-in? And how does one get someone to listen? These were some of the questions asked of panelists at "So You Want to Podcast…," a session sponsored by American Libraries and the Dewey Decibel podcast at the American Library Association's 2018 Annual Conference and Exhibition in New Orleans on June 24.
Panel moderator Phil Morehart, associate editor of American Libraries, picked the brains of prolific Libraryland podcasters from wildly different professional backgrounds to help attendees understand what kind of content, show formats, gear, marketing, branding, and partnerships have made their shows successful—and how they got started. (Full disclosure: Terra works on the Dewey Decibel podcast.)
Finding their niche
For Sara Benson, copyright librarian at the University of Illinois at Urbana-Champaign and creator of Copyright Chat, it was about sharing her expertise: "I love copyright, and I find it very accessible, but a lot of people don't. I try to aim [Copyright Chat] at librarians, or really anyone."

Angela Ocana, who cohosts her almost-one-year-old graphic novel- and manga-themed podcast One Panel Later with fellow teen librarian Kelly Quinn Chiu, says "it's just a labor of love for us." The two now collaborate across state lines since Ocana took a library job in Oregon.
Steve Thomas, branch manager with Gwinnett County (Ga.) Public Library, has been producing the Circulating Ideas podcast for about seven years. He had been listening to a lot of podcasts when he decided enter the arena, with a premise of "if Terry Gross talked to librarians."
T is for Training, the invention of Harford County (Md.) Public Library Technical Trainer Maurice Coleman, has been in existence for 10 years. "Sitting on the floor and talking to people, that's where I got my education," says Coleman. "I wanted to replicate that."
Formats and content
Coleman, Ocana, and Thomas say their podcasts are created on a biweekly schedule, while Benson says hers runs about monthly.
T is for Training, which is recorded as a conference call, plans content on a tight turnaround. Coleman says his "associate producer comes up with ideas about 24 hours before the show." Ocana and Chiu also take a thematic approach. "We basically put together a list of 20 to 30 topics we wanted to talk about," says Ocana. They also scour Twitter for ideas and "try and stay topical."
On the flipside, Benson and Thomas have more guest-driven podcasts. "Whoever the guest is, that's what we talk about," says Benson. Thomas has a similar ethos: "It really does depend on who the guest is." He says he tries not to come up with exact questions in advance so it sounds like an authentic conversation.
Administrative support
Benson and Coleman are lucky, in that their institutions seem to be incredibly receptive and back their shows.
Coleman marketed T is for Training as both "giving back to the Maryland and larger library community" and helping him "provide a service to our 400 staff members." As such, the library leaves time for him on Fridays to record his episodes.

Benson said she received support from UIUC's marketing department and Friends group, as well as technical assistance editing, transcribing, and setting up the feed. "I'm really fortunate," she says.

Circulating Ideas is done "with the blessing of my library," says Thomas, but he admits "I don't really do it on work time."
Equipment
Panelists stressed the importance of audio quality. "A big part that goes beyond what you purchase is your space," observes Ocana.

As far as gear, podcasters raved about microphones and recording devices from Blue (Yeti and Snowball models), Audio-Technica, and Zoom, that range in price from about $50–$300. Some panelists also noted the usefulness of Skype and Google Voice for recording calls.

For editing software, the standards seem to be Audacity, a free open source platform, and GarageBand, free with Mac products.
Building an audience
Panelists said that social media is the best way to promote new episodes. "We try and tie the publisher [of featured material] in our tweets, and we try and contact the authors," says Ocana. This tactic often gets One Panel Later in front of a wider audience when authors with larger fan bases engage.
Word of mouth is another way to directly market your work. "I talk about [Copyright Chat] at conferences a lot," says Benson.
Regardless of whether you're attracting an audience, panelists agreed you have to love what you're talking about. "Who cares if no one listens to it!" jokes Coleman. "If you're passionate about something, start a podcast," he concludes.