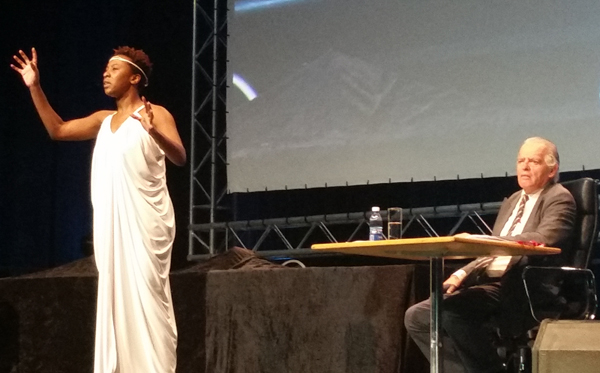 Delegates to IFLA's 81st World Library and Information Congress in Cape Town were treated on August 19 to a dynamic performance of a one-act play written by Richard Higgs, a guest lecturer at the Library and Information Studies Centre at the University of Cape Town who has considerable acting experience. The Hypatiad was written for and first performed at the 2014 Annual Conference of the Library and Information Association of South Africa (LIASA) in Boksburg.
The play centers on the life of Hypatia, a Greek mathematician, astronomer, and philosopher who lived and taught in Alexandria, Egypt, and was killed by a Christian mob in AD 415. In introducing the play, former LIASA President Naomi Haasbroek said that after its first performance it resulted in many provocative discussions "about access to information, knowledge, politics, philosophy, and the role of myths and legends" in society.
"Hypatia led an extraordinary life," she said. "She was way ahead of her time as a prominent woman philosopher and was vociferous about sharing her knowledge and teaching others." She was accused of "being a magician or witch and spreading paganism," and this led to her being tortured to death by Christians. Hypatia is also linked to the preservation of manuscripts in the Alexandrian library.
The play was performed by the actors Chi Mhende as Hypatia and David Muller as a journalist who summons Hypatia up from the shadows to shed light on a fictional post-revolutionary world in which rebel librarians race against time to digitize and preserve literary works that have been proclaimed "degenerate." The journalist intersperses Hypatia's insights on the past and the future with news bulletins, such as "Seven librarians have been subjected to public execution for digitally copying degenerate materials."
After the performance, playwright Higgs was on hand to answer questions. He said he had always been fascinated by the Hypatia story as well as the Library of Alexandria, but his real inspiration was the burning of a number of South African public libraries during civil demonstrations in the past 10 years and how the "concept of burning libraries" enters into the "collective consciousness." He said another theme was that "truth is self-consuming," just like the ancient symbol of the Ouroboros, the snake eating its own tail, and that "ultimate truth is unknowable."
"The play," Haasbroek said, "looks back to the past and a possible future. It is thought-provoking, multilayered, and complex."