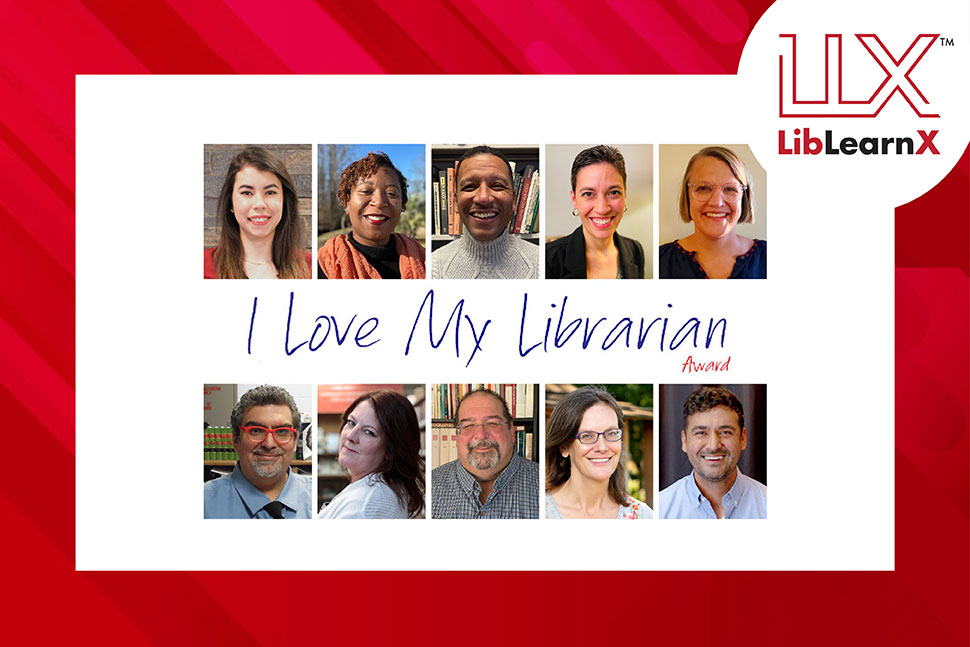 The American Library Association (ALA) presented the annual I Love My Librarian Awards in a livestreamed ceremony at the inaugural LibLearnX event on January 22. The awards honor 10 librarians per year for outstanding service.
This year's recipients include three academic librarians, three school librarians, and four public librarians, including one prison librarian.
"These 10 honorees are inspiring examples of what is possible in our profession," said ALA President Patricia "Patty" M. Wong during the ceremony's opening remarks. "Their stories are a testament to the profound leadership, compassion, and expertise of our nation's librarians."
Julius C. Jefferson Jr., past ALA president and chair of this year's I Love My Librarian Award selection committee, reflected on the recipients' accomplishments. "Our winners are innovators, creatively transforming their libraries' spaces, resources, and services to better serve their communities' changing needs," he said. "They've worked to make their libraries spaces where people of all backgrounds feel they belong."
Caryl Matute, senior director of branch libraries and patron services at New York Public Library and a member of the selection committee, spoke about the core values of ALA and librarianship. "Librarians and library workers have long valued supporting access to information across all age groups, and can be found anywhere we have communities of need: in neighborhood branches, schools, academic institutions, and more," she said. "You can also find them conducting programs in community parks or laundromats, driving around the neighborhoods in bookmobiles, distributing materials to incarcerated populations, and giving books away to children and families."
School libraries
Kathy Carroll, past president of the American Association of School Librarians, introduced the three winners from school libraries. "To their students, school librarians are mentors and friends. They are leading change in their libraries and classrooms, all the while changing their students' loves for the better outside the walls of their schools," she said. "To their teacher colleagues, these librarians are partners, collaborators, and, as one nominator put it, 'co-conspirators' on all levels."
Shannon Horton, teacher librarian at Decorah (Iowa) Middle School and High School, reflected on growing up within walking distance of her local public library and making regular visits to the bookmobile parked in her neighborhood, and how those experiences allowed her "to discover the power there is in making your own choices as a kid." Now, as a school librarian, Horton is guided by two principles, "the development of empathy and the power of truth," which are reflected in her students' work. Her high school students recently read Dear Martin by Nic Stone to "think outside their own experiences," while her 6th grade students have learned to determine the credibility of online information and distinguish forms of misinformation "with a great deal of proficiency."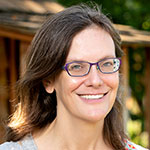 Melissa Pillot, librarian and media specialist at Forsyth School in St. Louis, spoke about the "above and beyond" service that school librarians provide and their necessity for quality school learning. "We can be the invisible thread that pulls the pieces of a school together," she said. "But we are not a luxury. We are not expendable. Every child deserves a library stocked with a collection containing accurate facts and inclusive fiction. Every school deserves a qualified school librarian to lead and serve the students, teachers, and families." She expressed hope that other communities can recognize the value of school librarians as hers does.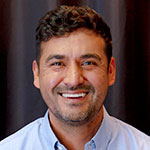 Arnulfo Talamantes, librarian at Sul Ross Middle School in San Antonio, shared how his mother taught him the importance of serving others. She was a nurse in south Texas for over 30 years and "never shied away from what needed to be done, and doing it in a way that would always benefit those in need," he said. He thanked his school colleagues who have made him "a better librarian because of their influence," and his community for "giving me the chance to build what I thought a library could be and believing in our vision."
Academic libraries
Jon E. Cawthorne, past president of the Association of College and Research Libraries (ACRL), introduced this year's three winners from academic libraries. "These winners exemplify how college and university librarians are active partners in research, and demonstrate the potential of that research to effect change on campus and beyond. Their work is transforming their campuses, unveiling and tackling hidden histories, and contributing to the creation of new scholarship through close collaboration with faculty and students."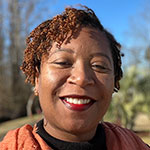 Shamella Cromartie, associate dean of library services at Western Carolina University in Cullowhee, North Carolina, quoted late author bell hooks: "'One of the most vital ways that we sustain ourselves is by building communities of resistance, places that we know we are not alone,' and I'm so grateful for this community that has let me know that I am not alone." She thanked the community of colleagues who have "taught me about equity, equality, and justice, and given me a set of tools" to make the library more inclusive, as well as her library's interlibrary loan staff "who help me fulfill the missions that my colleagues are so often grateful for."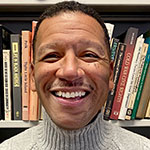 William C. Gibbons, associate professor and curator of archives and special collections at City College of New York, thanked those who played a role in his early career development and reflected on his many years helping patrons "become knowledgeable library users and utilize libraries to their fullest potential." He said he enjoys going into work every day because it "doesn't feel like work," and that he looks forward to continuing to do what he loves in the coming years. "Long live print books," he said.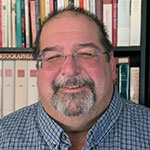 George D. Oberle, who is history librarian, assistant term professor, and director of the Center for Mason Legacies at George Mason University in Fairfax, Virginia, never thought he would become a librarian. He later came to realize "there could be no more noble profession for me to spend my life working in. To me, that was like becoming a magician," he said. Oberle talked about his experience contributing to the development of a memorial to the people enslaved by his university's namesake. "In the end, we sought to find hidden voices, to tell uncomfortable truths, and to work hard to recover lost stories which we believe will help promote healing through our scholarship."
Public libraries
Melanie Huggins, president of the Public Library Association, introduced this year's four winners from public libraries, including one prison librarian. "With determination and compassion, these librarians created innovative programs and built a culture of inclusion to ensure that everyone they serve can access information. They have empowered so many people in their communities, and their impact will be felt long into the future."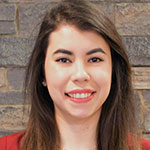 Yuliana Aceves, community programming librarian at Arlington (Tex.) Public Library, thanked her library team, without whom "I truly couldn't have done anything." She shared her experience growing up and sneaking to the library on her way home from school behind her parents' backs. "Libraries have always been part of my life, and that is something that I want for every kid," she said. "I want libraries to be part of [kids'] lives because we offer so much. This is a place where they can come and read whatever book they want and pick anything up off the shelf and ask us questions."
Renee Greenlee, who recently became director of Vinton (Iowa) Public Library, thought this award was a prank when she first got the notification call. She expressed gratitude to her colleagues and community members in neighboring Marion, Iowa, who nominated her for her work at Marion Public Library. Greenlee shared the purpose she sees behind her work. "It is the connection with patrons that fuels my energy for librarianship. The patron that wasn't going to come to the program but surrendered after I invited them with a megawatt smile, the one who now comes week after week. It's the children who hug my knees and scream for parachute play at the end of storytime. It's the people who keep me coming back day after day. This is my purpose."
John Paul Mahofski (or "Mr. M," as most of his patrons know him) is in his eleventh year as correctional librarian at Eastern Correctional Institution in Westover, Maryland. He said he "never imagined such an honor" as winning this award, and expressed gratitude to the patrons who nominated him. He shared a story one of his patrons had shared with him to him "You know, Mr. M., let me tell you what I like about the library. My mom used to pack us up in the car and we would go to the expensive neighborhoods and look at the Christmas lights. In the midst of a prison, the library is sort of those lights. It brings light and happiness in a very dismal dark."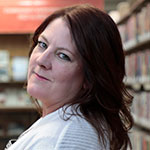 Tammi Moe, director of Octavia Fellin Public Library in Gallup, New Mexico, spoke of her mission as an ally to America's Indigenous people, which involves "decolonizing history and restoring truthful narratives to the preservation of primary sources." She shared her journey of becoming a librarian and feeling called to assist in the repatriation of objects stolen from Indigenous communities. Moe also talked of her library's transformation through investment in library staff. "Investing in them is my highest priority, and the results are remarkable. With ongoing opportunities for professional development, involvement in our strategic planning, and freedom to explore their own passions, they have changed the impact of this library within our community."
Since 2008, library supporters have shared more than 20,000 nominations detailing how librarians and library workers have gone above and beyond to promote literacy, expand access to technology, and support diversity and inclusion in their communities. ALA received more than 1,300 nominations for this year's awards, showcasing the achievements of librarians and library workers across the country—particularly their efforts in equity, inclusion, and social justice.
Carnegie Corporation of New York sponsors the I Love My Librarian Award. New York Public Library also supports the award. ALA administers the award through its Communications and Marketing Office, which promotes the value of libraries and librarians.
Information regarding previous award winners can be found on the I Love My Librarian website.