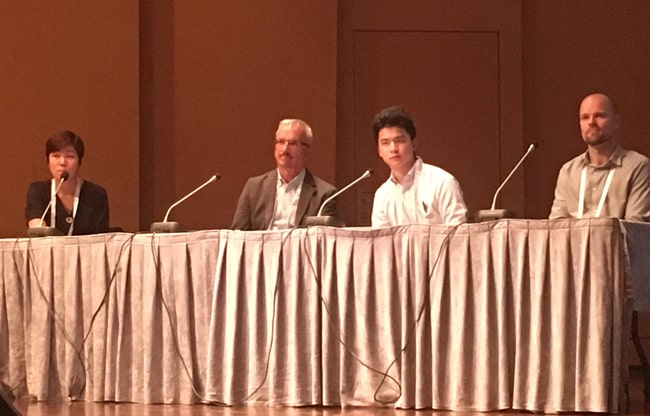 The roles of artificial intelligence (AI) and data mining in libraries are expanding globally and transforming knowledge management in access, discovery, and research. A session at the International Federation of Library Associations and Institutions (IFLA) 2019 World Library and Information Congress in Athens, Greece, on August 26 explored these trends from four perspectives.
The session was sponsored by the Knowledge Management and Information Technology sections with the Big Data special interest group. Frank Cervone, director of information technology for the University of Illinois at Chicago's School of Public Health, kicked off the program by asking, "Is AI real?" AI has been actively embedded in public and personal spaces, but Cervone cautioned that the visions and realities of AI are inconsistent and problematic, particularly on ethics and regulations. He covered important concepts and processes of data and text mining, machine learning, and how they have affected research and access in many fields. Cervone concluded by exclaiming what AI is not doing and argued that we need to be moving with it. "AI is never going to be perfect," he said.
Philip Schreur, associate university librarian for technical and access services at Stanford University, presented the role of AI in the discovery of unstructured full text. As opposed to traditional cataloging with discovery rooted in metadata surrogates captured in the MARC formats or linked data, AI-based discovery services such as Yewno reach into digital text to promote discovery via concepts generated from the full texts themselves.
Eero Hammais, communications manager for Finland-based technology company Headai, presented an app project that uses virtual information assistants to support book recommendations to visitors at Helsinki Central Library Oodi, which opened last year. Patrons can download the app with virtual information assistants to help discover new books either by voice search, by proximity and location of the books, or by popular uses. The app does not require login nor does it collect personal data, and it can be operated in Finnish, Swedish, and English.
Ee Min Hoon, senior librarian at National Library Board (NLB) in Singapore, compared text mining to treasure hunting and explained how NLB used text mining and entity extraction from its special collections and archives to create a knowledge management database. This innovation has transformed its information services by generating access to its rich collection of cultural heritage.
Toru Aoike, a researcher from the National Diet Library of Japan (NDL), introduced NDL's Digital Collection and Lab that created the Next Digital Library. This database uses machine-learning technology to access more than 30,000 industry-related materials. Aoike presented NDL's strategy in improving searchability and readability of digital content and spoke about its efforts to cultivate relationships with library patrons that can lead to new functions to improve discoveries and search results.
During the Q&A portion, a question was raised about IFLA's position on AI, especially regarding ethics. Eva Semertzaki, chair of the Knowledge Management section, announced that IFLA is working on a statement that will be released soon.