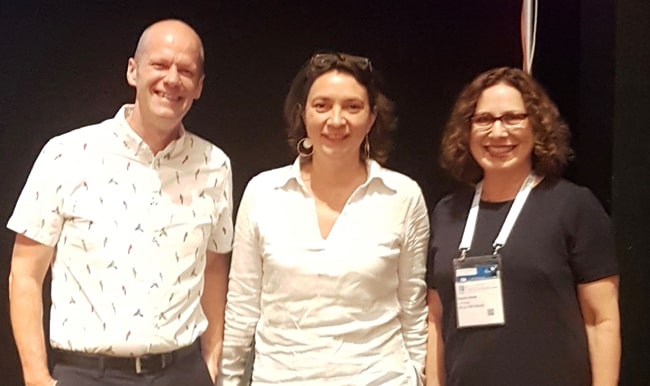 According to the United Nations report The World's Cities in 2018, 55% of the world's population lives in urban areas, a proportion that is expected to increase to 68% by 2050. In the 2019 World Library and Information Congress session "Emerging Technologies for Libraries: Smart Cities and Blockchain," the Information Technology and Metropolitan Libraries sections of the International Federation of Library Associations and Institutions asked, "What is the impact of urbanization for libraries, and where can they leverage their community and professional roles to meet the potential and challenges in the development of smart cities?"
According to the session's moderator, May Chang, chief technology officer for University of Cincinnati (Ohio) Library, urbanization and population growth continue to put pressure on local and federal governments to ensure a sustainable living environment. Supported by technology and data, many cities are deploying smart and connected applications in transportation and mobility, public safety, public utilities, and healthcare. Smart city components include manufacturing, government, mobility/Wi-Fi, open data, buildings, energy, and transportation.
Doreen Appiah, program officer of the African Library and Information Associations and Institutions in Accra, Ghana, addressed the expected roles of libraries in developing smart cities. She described current efforts by the government to digitize services such as passports, national health insurance, land registration, retirement and pension plans, and drivers licenses. Business innovations related to smart cities include mobile wallets. Government smart solutions in development include transport, traffic management, waste management, and education systems. Appiah said libraries in smart cities can identify technologically innovative information, repackage information for citizens, and provide access to technology, a safe space, and skills development programs. Libraries must have a seat at the table and contribute to city discussions, she said.
Carme Galve-Montore, director of Biblioteca Jaume Fuster in Barcelona, Spain, discussed smart cities as opportunities for libraries. The evolution of cities and economic development calls for a model in which libraries can be part of the future of urban planning. Smart cities mean that urban growth and planning must be forward-thinking on sustainability, recruit people trained in technology, plan growth in the knowledge economy, provide open data, and practice transparent decision making. Libraries are trusted anchor institutions in cities, deeply invested in their relationships with citizens, Galve-Montore said. Libraries are well poised to be urban partners as they have dispersed buildings, offer public technology, invest in lifelong learning, and provide social cohesion. She introduced a smart library model focused on smart services, buildings, and citizen training. Public libraries especially should be working with urban managers and planners and participate in  local political activities.
Blockchain and libraries
Many smart cities are also looking into and adopting blockchain technology to ensure the stability of data collected by sensors and devices. The second part of this session featured a panel discussion on the uses and impact of blockchain technology on libraries and education. Moderator Sandy Hirsh, director of San José (Calif.) State University iSchool, was joined by Perrine de Coëtlogon, project manager on blockchain and education at University of Lille, France, and host of the Blockchain Education France working group, a part of the European Blockchain Partnership; and Peter D. Collins, director of public services at Van Pelt–Dietrich Library, University of Pennsylvania.
According to de Coëtlogon, a simplified way to think of blockchain is as a digital ledger of legal transactions, that is transparent and trusted as a record. It is a new way to notarize and register without using humans because the system does it itself in a distributed infrastructure. One well-known use of blockchain started with bitcoin in 2009; there are now 500 different cryptocurrencies.
Hirsh has been investigating blockchain and libraries since 2017, along with her colleague Sue Alman, after they received an Institute of Museum and Library Services grant. They have developed a website for the library community called Blockchains for the Information Profession. Their findings will be published in a forthcoming book on blockchain published by the American Library Association.
Collins has been investigating the Ethereum platform for resource sharing. He is applying blockchain to international lending and transacting with libraries across borders. Current systems that use mail and vouchers to exchange materials are cumbersome. The immutability of blockchain is a large advantage, and it can only be used once, using computer cryptography. Collins has been experimenting with Bookcoin to use as a transaction method for resource sharing and interlibrary loan. Increased privacy and credibility are positive reasons to adopt blockchain for use in libraries, he noted. However, there are challenges with managing transactions, complications with cryptocurrency wallets, and uncertainties with the still-evolving technology.
Another instance of a blockchain application in libraries is the universal library card, which could potentially be used across library systems. Libraries could also hold credentials for users, such as those who have lost paper identification documents or verify skill-based learning achievements. Another use is to verify archival records by setting up an individual blockchain identifier for an item. EduCoin is a platform that recognizes educational attainment, such as an online course, learning at different institutions, or professional development, to track outcomes over a person's lifespan, he said.