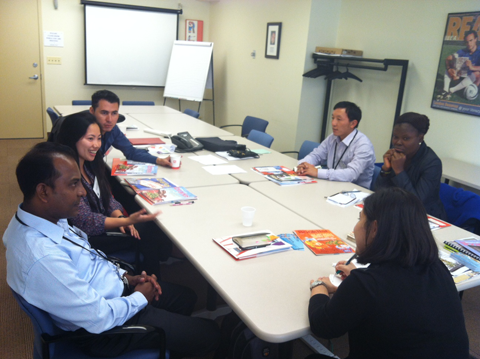 Five librarians from developing countries visited ALA headquarters on May 30 as part of the annual Jay Jordan IFLA/OCLC Early Career Development Fellowship program, and spoke with American Libraries about their experiences.
Up to five individuals are selected to participate in the intensive four-week program to help provide early career development and continuing education for library and information science professionals from countries with developing economies. The 2014 class of fellows are:
Olufunmilayo Fati, systems programmer, University of Jos Library, Jos, Nigeria
Franklin Flores Urrutia, librarian, Consortium of University Libraries of El Salvador, San Salvador, El Salvador
W. M. Tharanga Dilruk Ranasinghe, assistant librarian, University of Kelaniya, Sri Lanka
Leonila Reyes, section head librarian, Saint Louis University, Baguio City, Philippines
Sonam Wangdi, librarian, Ugyen Wangchuck Institute for Conservation and Environment, Bumthang, Bhutan
The 2014 fellows visited libraries in Ohio and Washington, D.C., and met with staff and library leaders at various institutions. They also spent two days at the University of Illinois Urbana-Champaign before coming to Chicago at the tail end of their trip. When asked what inspired them to become librarians, they each expressed a desire to participate in public service and a passion for helping people. Most of them were unaware that there was such a thing as being a professional librarian before encountering LIS programs while pursuing graduate degrees or applying for a job.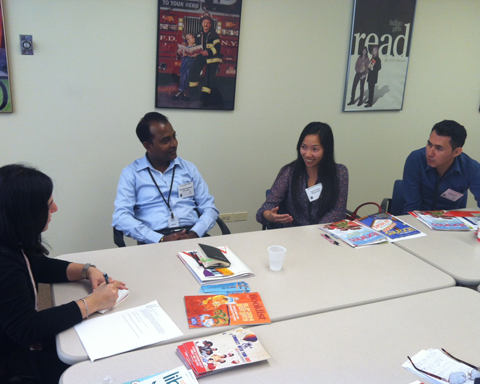 "My parents couldn't afford to send me to graduate school because my sister was doing an internship and that's where their resources went, so I applied to be a working student at my university, and they sent me to the library to get the information I needed," said Reyes. "That's where I first learned about library school programs. Now, I work at that library. So there's a lot of giving back to the institution that allowed me to further my education."
Service inspired Wangdi, who has a background in the life sciences. He never thought it was possible to be a librarian, because in his native Bhutan, there is no library school. One day while looking for resources for his life sciences work, he noticed that the books were unorganized and hard to sift through, so he rearranged them just to be physically appealing to the eye. "That's when I decided to pursue a master's in electronics and digital library management," he said. He acquired his graduate degree in England, though misconceptions about librarianship were prevalent among his family and friends when he made this announcement. "Many people thought that librarians just organize books and thought of it as kind of a lowly career, but it allows me to merge my passion for helping people and my educational background."
"I had planned to get my master's in computer science, but my boss encouraged me to go to library school," says Fati. "I thought about the fulfillment I had in interacting with students who would come up to me on campus and thank me for helping them. That convinced me to go to library school."
"In this world, and the way we live in it, it's hard to keep people constantly inspired in their work, because sometimes you just want to fall down," said Wangdi. "But this program is an inspiration for young librarians like us. We don't have the same opportunities in our countries."
He said he and the other fellows are seeing things they never could have imagined. These experiences are "raising our horizons," he says. "The library isn't just a house for books, it's the public's home. It's where anyone can come regardless of social status and get service. This is a great professional platform. If I'm a frog in a small pond, I'll never imagine how big the ocean is. It really inspires me to go to the next level of my career."
Ranasinghe said that meeting with library staff around the US also proved that librarians from around the world share the same core beliefs, and also many of the same problems. "The most inspirational thing has been learning how to address those challenges. Wherever we visited, they understood the changing needs of their communities, so we're learning how to take those things and apply them when we get back home," he said. "We gain so many things in this field. We learn so much by being a librarian, like this fellowship, but you can also give back."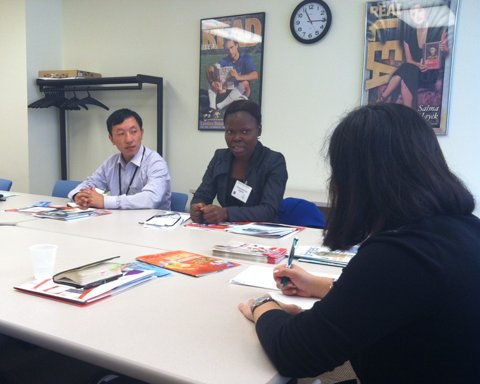 Some ideas they want to carry home include practical things—like organizing time and adhering to schedules—as well as building leadership skills to be better staff managers and strengthen relationships with their communities.
"The biggest thing I'm taking back with me is the level of collaboration and cooperation that exists here. There's so much sharing of information among different institutions," Wangdi said.
Fati echoed this sentiment, explaining that in Nigeria there is a stark difference between public and academic libraries, especially when it comes to resources. "Here, there is so much partnership and coordination. There is a bridge connecting academic and public libraries," she said. Reyes found inspiration in the dedication, determination, and drive of all the people she met, and their expectation that they would find new ways to meet challenges.
Ranasinghe referenced Darwin, saying "It isn't the strongest that survives, but the most adaptable. My message is to be prepared for change. In our countries, sometimes we think our users should think as we do, but it should be the other way around."
"If we want to make change, we have to be a part of it," Urrutia said. "We have to be ready for these challenges and ready to make a difference. And we have to inspire others to be as passionate as we are."
Wangdi added that international networking has also been very important. "Obviously we don't know everything, but we can make relationships with others who have expertise; if we stand on their shoulders, we'll see further. But if you don't have leadership skills, your voice will not be heard."