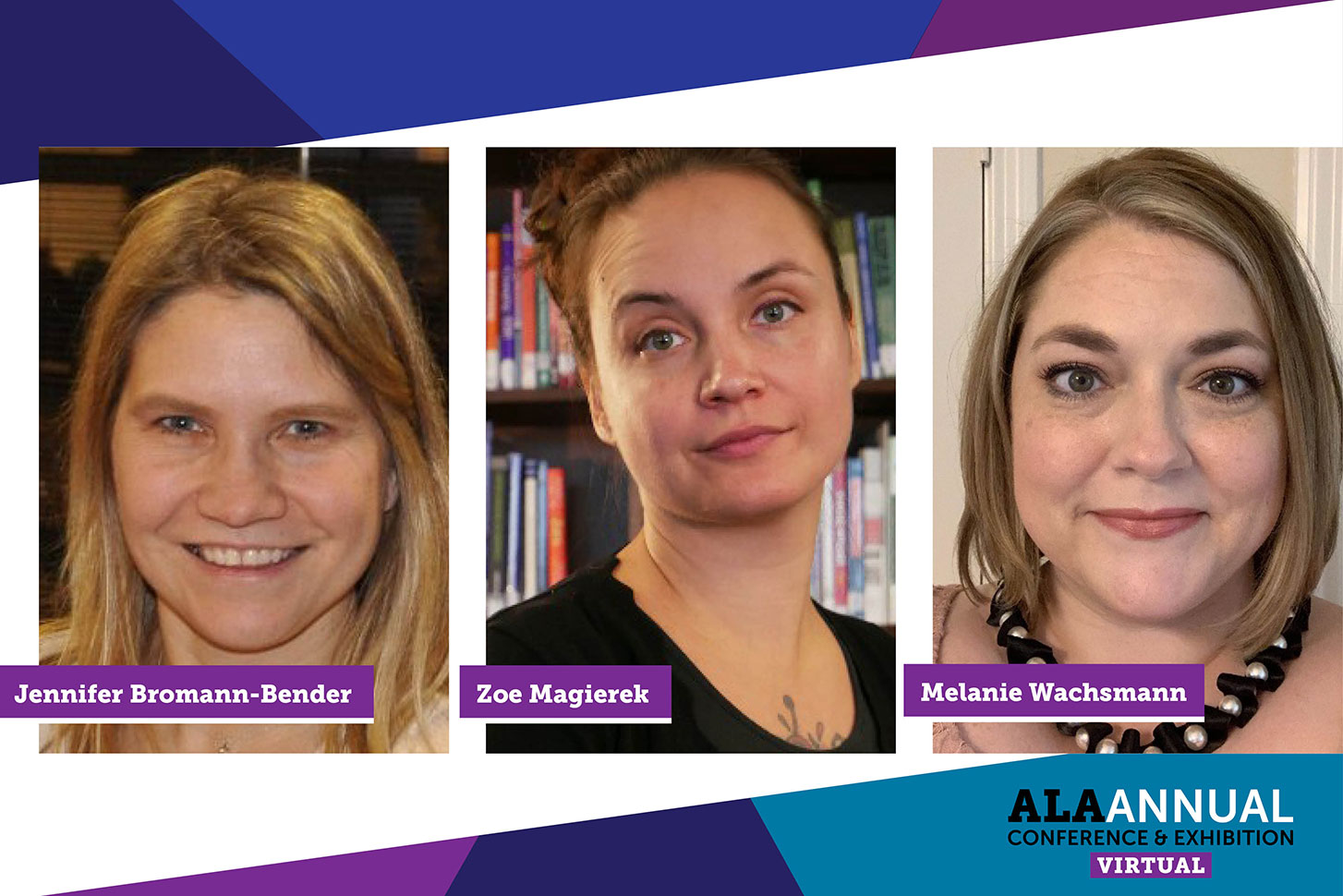 Big life changes—moving from high school to college, for example—are often the focus when it comes to information literacy education and preparation. But a lot of learning happens in the times in between life's big changes. Opportunities in these spaces were the focus of "Smooth Transitions: Developing Information Literacy in the In-Between Places," the Library Instruction Round Table's president's program on June 24 at the American Library Association's 2021 Annual Conference and Exhibition Virtual.
As manager of knowledge services for a special library that is also open to the public, Zoe Magierek found herself in "a really in-between place." Forefront, an association for Illinois grant makers and nonprofits, has a library that provides services to nonprofit professionals and volunteers. Magierek has found herself helping patrons learn skills from saving a PDF to creating an organizational budget. Because the library serves both professionals and volunteers, Magierek noted that it's at an intersection between work and personal time for its patrons. "A lot of nonprofits are mostly staffed by volunteers, and so people will come in on their own time to try to use our resources to better themselves," she added.
The library's small size makes one-on-one instruction easy and "allows for an opportunity for more intimate things to happen and a place for people who may be intimidated by a larger [space] to get the help that they need," Magierek said.
The library at Lone Star College–CyFair in Cypress, Texas, physically occupies an in-between, serving as both a public and community college library. Melanie Wachsmann, its assistant director for adult services, observed that the unique placement allows the library to be at the center of a cycle for patrons, serving different people at different stages in their life. Kids come in for storytime, go into the school system, and sometimes attend the community college. "We've been open long enough where we're able to see that complete cycle," she added.
Because its mission includes a wide range of community members, the library's outreach takes many forms, including pop-ups at farmer's markets and grocery stores and in local schools. Wachsmann's passion project as a former high school librarian is a series of monthly book clubs in different high schools and middle schools. These have become a space for discussion beyond books, addressing topics like what college looks like for first-generation students and how to conduct research. "I was a friendly face who they knew, and they could ask me questions about whatever they wanted," Wachsmann said. Meeting people where they are and "providing a safe space, a friendly face to say, 'We know you have questions and we want to answer your questions'" is key when it comes to information literacy instruction.
Information literacy instructors face their own in-betweens. Jennifer Bromann-Bender, librarian at Lincoln-Way West High School in New Lenox, Illinois, spoke about spanning those in-betweens by creating a vertical library team that connected public and school librarians across grade levels. The team coordinates on curriculum, builds relationships, and shares experiences. "The benefits of this kind of group were that we were able to build on the skills learned from each grade level, and that the public libraries would also be more aware of what type of topics and skills that the kids would have," Bromann-Bender said.
Partnerships between the school and public libraries also grew from the group. Bromann-Bender counts a poetry slam as the group's biggest accomplishment. These partnerships have also become a two-way street for student engagement. "We help them by getting them students who are willing to volunteer in the public library and help them get more participation in their events," she said, and the public libraries also help with reading programs. Being able to divide work has made large programs less overwhelming.
Beyond the partnerships and professional development, having a vertical team brought connection. "Sometimes it was the only place that people would have to share what was going on in their in their schools and libraries with other people who understood them," Bromann-Bender said.