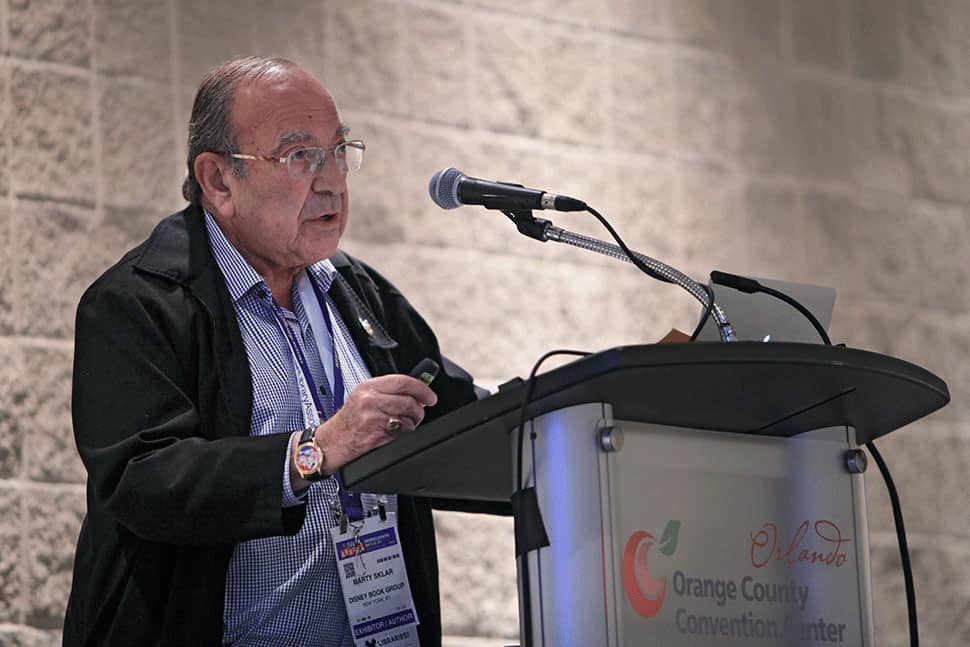 "This program is something I've been thinking about and dreaming about for a long, long time," said Association for Library Service to Children (ALSC) President Andrew Medlar at the outset of "Libraries: The Space to Be" at the 2016 Annual Conference and Exhibition on Monday.
Medlar wanted his Charlemae Rollins President's Program to celebrate the places the organization chooses for conferences and what's special about them. "Among the special things here [in Orlando, Florida] are these theme-park spaces," he said. With that, he turned the program over to Marty Sklar, former president of Walt Disney Imagineering, who spoke about his book One Little Spark! (Disney Editions, 2015), a collection of "commandments" Disney's Imagineering Team has used to much inspiration and success.
Sklar shared stories with attendees about "how Disney does it": slides of new and classic theme-park designs and spaces; wisdom he's gleaned over the years from colleagues and visionaries such as Richard Sherman ("Richard would tell people, 'You either love me or you hate me,'" he said of his songwriter friend responsible for the earworm "It's a Small World [After All]") and Glen Keane (known for designing Disney characters Ariel, Beast, Aladdin, and Tarzan); and even Disney's encounters with failure. "If you don't fail from time to time, you're probably not doing anything new," said Sklar.
Sklar also extended appreciation for librarians. "Even if you have a space called a library, if you don't have a person qualified to run that space, you probably have a store," he said.
Following his talk, American Libraries Associate Editor and Dewey Decibel podcast host Phil Morehart invited speakers to share experiences, and moderated a panel following their presentations. He suggested that what was being shared reflected ways to "introduce kids to grown-up technologies without sacrificing the whimsy and wonder."
Erica Fortescue, associate director of program development for the Center for Childhood Creativity at the Bay Area Discovery Museum in Sausalito, California, told the audience that every child has the potential for creativity—"it's one of the least heritable traits," she said—and suggested to librarians that offering new experiences, asking open-ended questions, and using choices to motivate are ways to tap that potential.
Brian Lee, design partner at Skidmore, Owings, and Merrill, showed how space, light, and other design principles converge to create a community hub at the newly constructed Chinatown branch of the Chicago Public Library. "We had to pay attention to the culture of the neighborhood," said Lee, whose firm enlisted a feng shui master for construction concepts. He remarked, "Children have no problem at all figuring out how [the space] should be used."
Tony Tallent, director of partnerships and learning at Richland Library in Columbia, South Carolina, and George Schafer, architect and lecturer at Clemson (S.C.) University's School of Architecture, described the LIT Room at Richland Library's main branch. Its four robotic multimedia walls merge technology and texts, combining the "perfect and practical magic of a picture book," said Tallent. While performance and literacy-based outcomes are forthcoming, initial findings suggest the LIT Room increases motivations for read-alouds and may increase recall and comprehension among children.
ALSC members concluded the program by blowing bubbles in appreciation of Medlar—the perfect Disney ending to his year-long presidency.