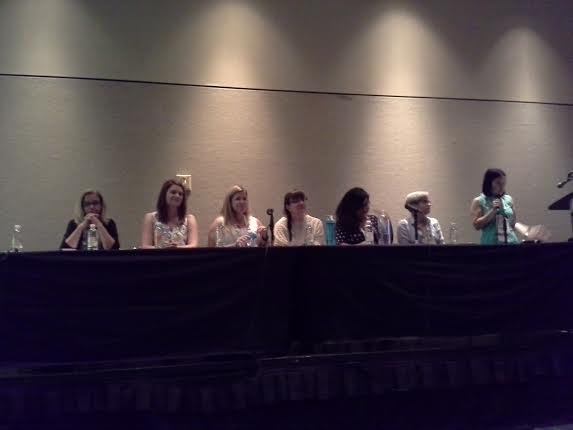 How do we as librarians effectively serve today's teens? That question was at the center of "3-2-1 Impact!: Inclusive and Impactful Teen Services," Young Adult Library Services Association President Candice Mack's President's Program. Six speakers presented their programming successes at the American Library Association's 2016 Annual Conference and Exhibition on Monday, in hopes that their stories would inspire colleagues and enable them to have similar impact in their communities.
Marian Mays, youth services librarian at the Washington Talking Book and Braille Library in Seattle, discussed her library's accessible gaming programs for teens who are blind or visually impaired. Using a Teen Tech Week grant, the library purchased Braille board games and playing cards, tactile games (such as puzzles and giant Jenga), and audio games (such as Simon and Bop It).
Mays recommended making apps and online games accessible with screen-reading technology VoiceOver, and suggested adaptations such as instructions in multiple formats (such as Braille, large print, and audio), accessible fonts, and accessible room setup.
Ady Huertas, manager at the Logan Heights branch of the San Diego Public Library, talked about her involvement with the Spectrum LGBTQ and Teen Club. Open to all, the group was started at her library by students who were having a hard time organizing at a local high school.
Huertas described some of the group events that went into creating a safe space, such as the club's participation in San Diego's Trans Pride 2015, a potluck inviting community gay-straight alliances of all types, and a clothing swap designed to reach those who may be transitioning. She also described some of the key tenets and messages of the group, such as "don't yuck my yum"—the idea that club members are allowed to disagree but they can't denigrate something someone else likes.
Nicole Pasini, deputy director of the San Mateo County (Calif.) Library, spoke about the Incarcerated Youth Book Club started at her system. In light of the fact that 85% of youth who face trial are functionally illiterate, Pasini and her colleagues designed a program to connect incarcerated kids with "books they're going to be excited about," she said.
The program relies on a $7,500 annual budget and the critical partnership of juvenile probation staff. The program has brought in-unit libraries, summer learning, author visits, and even 3D printing to the kids.
Courtney Saldana, youth services supervising librarian at the Ovitt Family Community Library in Ontario, California, shared the Skills for Teen Parents (STeP) program she created in 2012. The program was inspired by a teen patron who confided her pregnancy with Saldana, but the need is borne out  by statistics—nearly 70% of California teen moms drop out of high school, for instance. The instruction focuses on practical life skills new moms need, such as how to evaluate a day care, perform CPR, install a car seat, or get the money that is legally owed to them.
STeP has grown across the state, and Saldana's favorite part is the empowering Dress for Success segment, where she shows the girls how to dress for job interviews and takes them shopping. "They can be something different than what they've always been told," said Saldana.
Rebecca Webb, teacher librarian at Tanana Middle School in Fairbanks, Alaska, used a Teen Tech Week grant to start her "Coding Camp in the Frozen North." She purchased Finch robots, Sphero 2.0, a license for the Never Alone game, Ozobots, and more to create a traveling coding kit.
Webb shared the challenge chart and tasks she used to spur youth learning, and recommended that anyone starting a similar program take care to market it. Above all, "be flexible," Webb advised.
Renee McGrath, manager of youth services at the Nassau County Library in Uniondale, New York, started autism-friendly and sensory-friendly performances at her branch. With 1 in 68 children affected by Autism Spectrum Disorder—including McGrath's own son—she worked with local theater groups to modify The Lion King so the play could be enjoyed by those on the autism spectrum.
"Adapt the environment, not the story," was McGrath's advice. She suggested any library that wants to do these types of performances should keep the lights on, not oversell tickets, provide resources so that families can look at the performance area online or in-person before attending, train staff, and advertise. Modifying performances to meet the needs of a certain group "takes a lot of anxiety out of that experience for them," McGrath said.