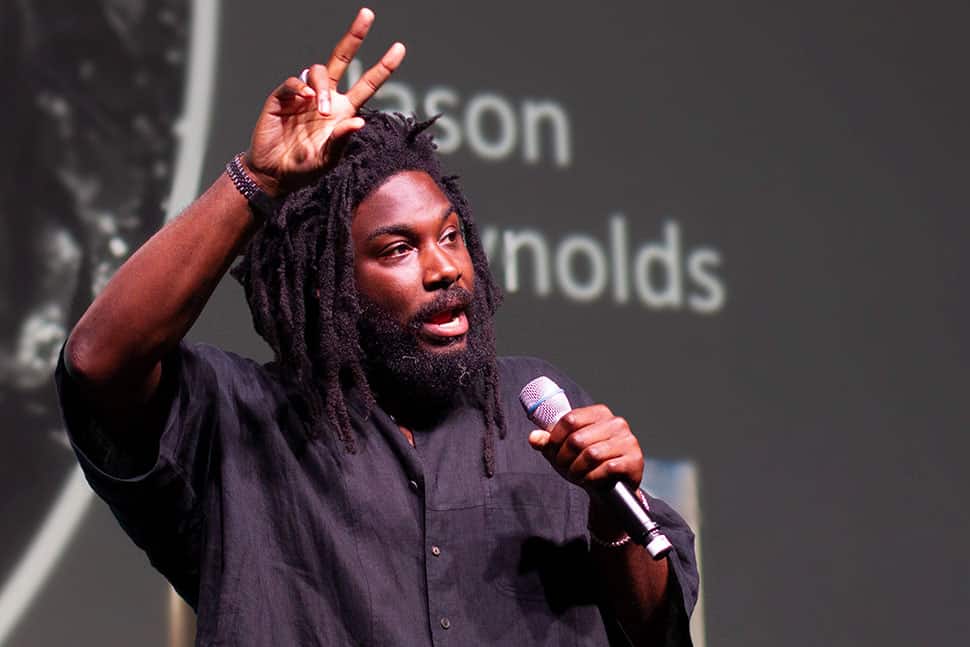 Author Jason Reynolds challenged thousands of librarians and library workers to be architects of understanding and guardians of challenged narratives in their communities at Annual's Opening General Session June 21.
Reynolds's talk—by turns musical, comical, and richly lyrical—echoed the style and structure of Look Both Ways: A Tale Told in Ten Blocks (forthcoming in October), drawn from his experience growing up in Washington, D.C. He also touches on lessons from ancient history, renaissance architecture, and his mother's first family funeral in Jim Crow-era South Carolina, which set her on a course of spiritual inquiry that would shape his worldview.
"Anything that makes you feel bigger than your burden is sacred," he said, recalling his mother's guidance. "Anything that reminds you of our human connectivity and the connectivity of everything around us, anything that pushes you toward service, is sacred."
He drew parallels between churches and libraries as sacred spaces and as historical targets of persecution, invoking myths surrounding the Great Library of Alexandria in Egypt: "The Roman Empire ushered in monotheism and a specific political regime, and everything that went against it—everything that might have challenged it, everything that might have fortified a person intellectually to push back—they got rid of it. They started to burn the books."
Libraries are not defined by the physical spaces they occupy, he suggested, but rather the knowledge, narratives, and communities contained therein.
"If my body is a temple, like my mama said, then it's possible my body could be a library," he said. "Maybe what librarians really are is architects, and your libraries are warehouses where we build human libraries. Imagine a generation of walking, talking libraries, with reference desks here and here," he said, gesturing to his head and heart. He challenged conference attendees to spend the following days drawing up blueprints for a new generation of information systems, unbound by physical or ideological barriers.
He punctuated his talk with refrains from a gospel hymn, introduced in his mother's youth and recast as a call to arms for library workers: "We are soldiers in the army, we got to fight, although we have to cry, we got to hold up the blood-stained banner, we got to hold it up so they can live."