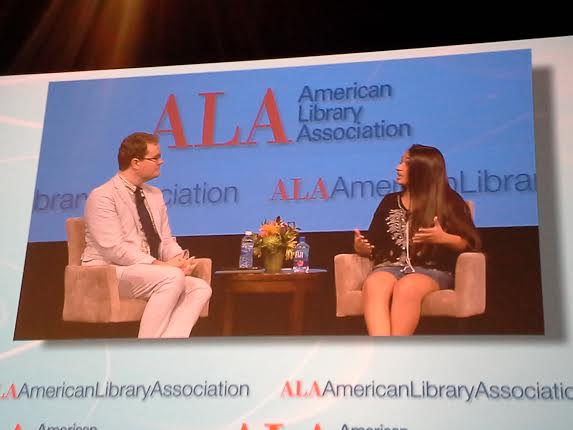 Find your tribe. That's what teen author, speaker, and trans rights activist Jazz Jennings, at the onset of her Auditorium Speaker Series session at the American Library Association's Annual Conference and Exhibition on Monday, encouraged those in the LGBTQ community who do not have the support of their families to do.
Jennings, whose session in Orlando, Florida, was styled as a conversation with Chris Shoemaker, library director at the Rye (N.Y.) Free Reading Room and past president of the Young Adult Library Services Association, transitioned from a boy to a girl as a young child. She said that her family has always been accepting of her gender identity and transition—"we're a TMI family, so we're open about everything," said Jennings—but for those who struggle to find this, there are people who can help.
"I look for those educators who are open and accepting," said Jennings. "I think one of the most important resources is the love and support of a person."
Jennings was on hand to talk about her new memoir, Being Jazz (Crown Books for Young Readers, 2016), the importance of personal stories, and the lessons and messages she's brought to the national conversation since being propelled into the spotlight by a 20/20 interview she did with Barbara Walters as a 6-year-old.
"I tell myself, in sharing my story, it's not about me, it's about the message," said Jennings. "It's not just about changing lives, it's about saving lives."
Jennings's book, she says, is not geared just to transgender teens, but anyone who feels different. "There are still so many people out there who feel alone," Jennings said.
She spoke to the current climate of ignorance and intolerance in this country; talked about obstacles such as bullying, dating, and the social aspects of high school; explained how she avoids burnout with something called "Jazz Time"; and agreed that the national conversation about being transgender should not fixate on a person's anatomy.
"It's not about what's between your legs, but what's between your ears and in your heart," said Jennings. "It's not a medical journey. It's about the process of learning to love yourself."
Following the conversation with Shoemaker, attendees asked questions about what book or film characters have inspired her (Belle from Beauty in the Beast, for not caring what other people think and not judging a book by its cover), where she sees herself in 10 or 20 years ("I'm not psychic!"), what she'd like to study in college (she enjoys writing fiction and film), and her favorite foods (chocolate, French fries, and macaroni and cheese).
Jennings copped to being a typical teenager, even if she shows no signs of slowing down.
"Education and visibility are the most important things," Jennings said. "I'm not going to stop sharing my story until it's no longer needed because we've come to a place when everyone is accepting."