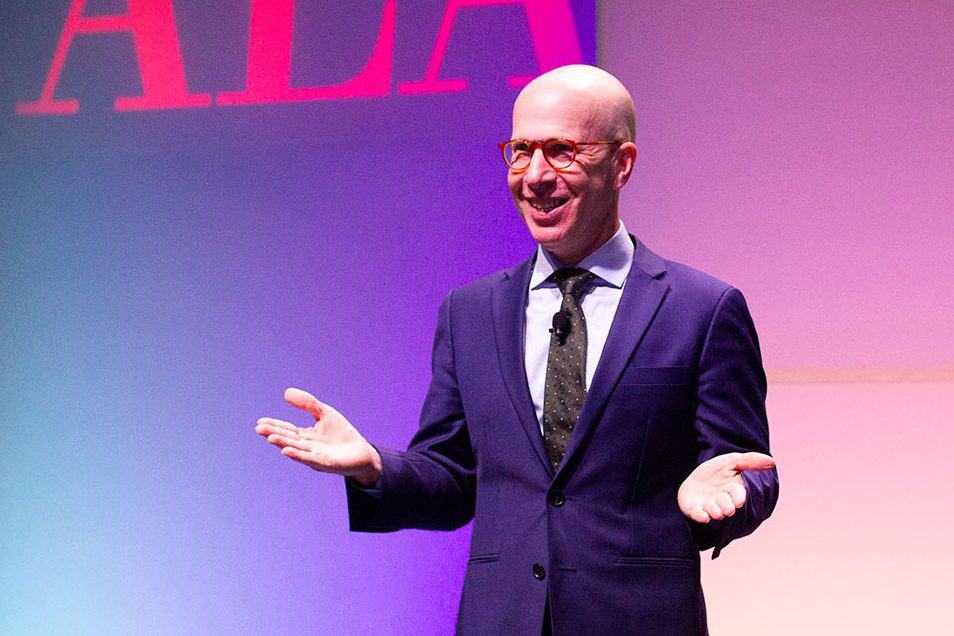 As journalist and biographer Jonathan Eig tells it, comedian and civil rights activist Dick Gregory had some cautionary advice for him: "White boy, if you think you're going to write a book about Muhammad Ali, you've got to do something really important. You've got explain what made a black boy growing up in the Jim Crow South think he could be special."
Eig was up for the task. What culminated was Ali: A Life—a 640-page, multiple-award-winning exploration cobbled from more than 600 interviews with 200 sources (including religious leader Louis Farrakhan, fight promoter Don King, and boxer George Foreman) over five years. He shared with Auditorium Speaker Series attendees at the American Library Association's 2018 Annual Conference in New Orleans on June 24 what he learned from writing this book, which, he says, he "would have worked on forever."
"I think he wanted to be loved—he wanted attention—more than he wanted respect," said Eig, who recalled hyperbolized accounts of Ali racing the bus when he was a kid. Except, in his research, Eig realized that it was a city bus making stops every block, and Ali would rest with his friends while they were waiting to make a bus transfer before picking up the sprinting gag again. "He was hilarious," Eig said.
Ali's sense of humor has been underreported in depictions of his life (notably, in the film Ali starring Will Smith), Eig maintains, as the boxer spent much of his career being either hailed as "the greatest of all time" or reviled as a draft-dodger.
"If you think Colin Kaepernick is getting a hard time these days for taking a knee against the National Anthem, Muhammad Ali became the most hated man in America," he said.
Eig promised that he "pulled no punches" in reporting what he found: Ali's name change and conversion to the Nation of Islam (at the time considered a cult by the FBI); cheating on his wives; losing 26% of his speech from the "extraordinary amount of punishment" his body underwent (Eig's team calculated that Ali suffered 200,000 hits in his career); his "rebirth" after lighting the torch at the 1996 Summer Olympics in Atlanta.
"Most boxers came out of poverty; Ali did not," Eig said, adding that that fact may account for Ali's comfort in speaking his mind. "Black athletes at this time were supposed to be sportsmanlike, supposed to appreciate that the white society has given them this opportunity. He was unafraid to challenge us … unafraid to be hated."
Eig also ruminated on his role in bringing these stories to life, and on the way in which biographies can cultivate empathy.
"It's important to note that a biographer doesn't necessarily have anything in common with his subject," he said. "The job of the biographer isn't to write a definitive life story—that can't be done. The job of the biographer is to try our best."