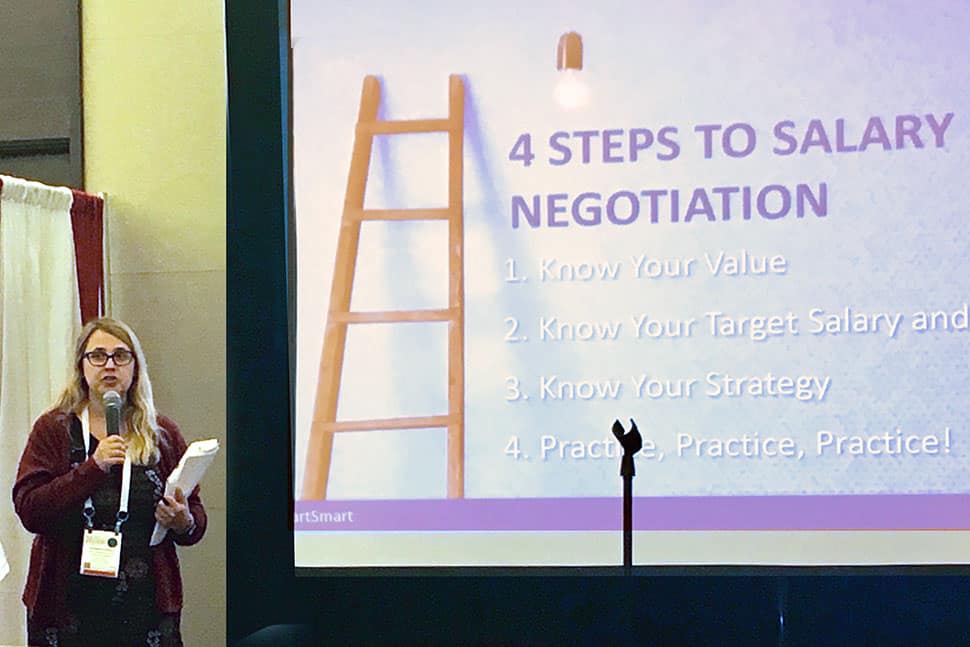 Are you afraid that your offer of employment will be rescinded if you try to negotiate? Are you nervous about negotiating because there may be negative repercussions? If so, read on.
Aliqae Geraci, assistant director of Catherwood Research and Learning Services at Cornell University in Ithaca, New York, and Shannon Farrell, natural resources librarian at the University of Minnesota in Minneapolis, provided attendees with four key steps to smart salary negotiations during the American Association of University Women (AAUW) Start Smart Salary Negotiations Workshop. The workshop was held as part of the American Library Association's 2019 Annual Conference in Washington, D.C. June 23.
Here are the four steps they shared:
Know your value. Reflect on and document your unique skill sets, abilities, past experiences, education, etc. When you apply for position or ask for a promotion, identify these, and be prepared to communicate all that you bring to the organization with confidence.
Know your target salary and benefits. Having a set salary in mind is essential. Research the market value for the position(s) you are seeking. Create a realistic budget that includes your fixed and variable expenses. Identify benefits that you cannot live without and rank these in order of importance. Doing so will provide you with a clearer sense of your non-negotiables, which can help you respectfully decline a position if it does not align with the salary you had in mind.
Know your strategy. There are key periods when you will have an opportunity to negotiate: when you receive a promotion, when your title changes, and when you are offered a new job. When you have an opportunity to negotiate, resist the urge to state your desired salary first. Do not feel pressured to accept a position/title change without taking time to reflect.
Before entering into any type of negotiation, practice. Engage in role play with someone you trust and polish your pitch.
Want to learn more? Take advantage of free online salary negotiation workshops offered through the AAUW.