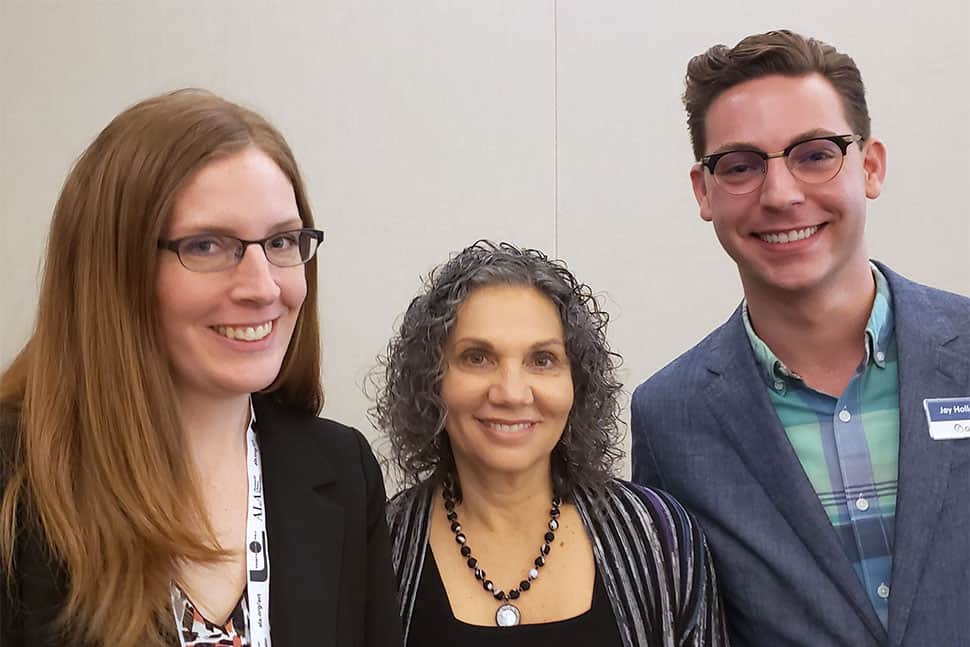 At the American Library Association's 2019 Annual Conference in Washington, D.C., June 23, three OCLC staffers gave a preview of the directions in which the nonprofit library cooperative's discovery and delivery services are heading as it responds to user demands for a more intuitive and informative system.
Cathy King, executive director of OCLC Delivery Services, said that with the rise of virtual assistants like Alexa, library users now expect technology to respond immediately to simple commands. "Take Jill, for example," she said. "Jill is a real university undergraduate English major who does not use the library. It's Friday, and she needs to find a copy of Of Mice and Men to read and write a report on by Monday. How does she go about it? She asks Alexa to find a copy. One click, and it's on her Kindle. She sees a related book on Amazon in print that she needs and orders it. She'll need coffee and food for the weekend read. She calls up Uber Eats, and the food is delivered in 30 minutes. How can the library match that service?"
Lynn Silipigni Connaway, OCLC director of library trends and user research, said that the real question is, "How do libraries become a part of individuals' lives, without requiring them to change their lifestyles, and make them come to us?" The answer, as provided by several OCLC member surveys, is to "examine real-world user services, proactively consider user needs, pay attention to why people don't use the library, and anticipate what we will need before we need it." With current library discovery systems, Connaway said, users are surprised and delighted with finding anything useful in an effortless way: "Users want to be delighted, and we're not guaranteeing that."
Jay Holloway, OCLC product manager for delivery services, said that more automation could help transparency for users who request a book through interlibrary loan (ILL). Just as UPS or FedEx allows users to track their shipments, libraries should be able to install an app that would tell them how likely they are to get specific materials through ILL and how long it will take.
King said that OCLC is working on three areas that will improve the user experience. "We can make discovery more intuitive by updating the WorldCat design," she said. In May, OCLC added Shelf Browse to WorldCat Discovery, which allows the user to look at books that are adjacent to the one they want on the library shelf. "Also, through our partnership networks Google Books, Wikipedia, and GoodReads," King said, "search results often display a 'find in libraries' button that links to a WorldCat search."
King added that OCLC is working on smart fulfillment, which will enhance WorldCat Discovery to show print book availability when an ebook turns up in a search, and making available an API that will allow users to access WorldCat from a non-OCLC interface.