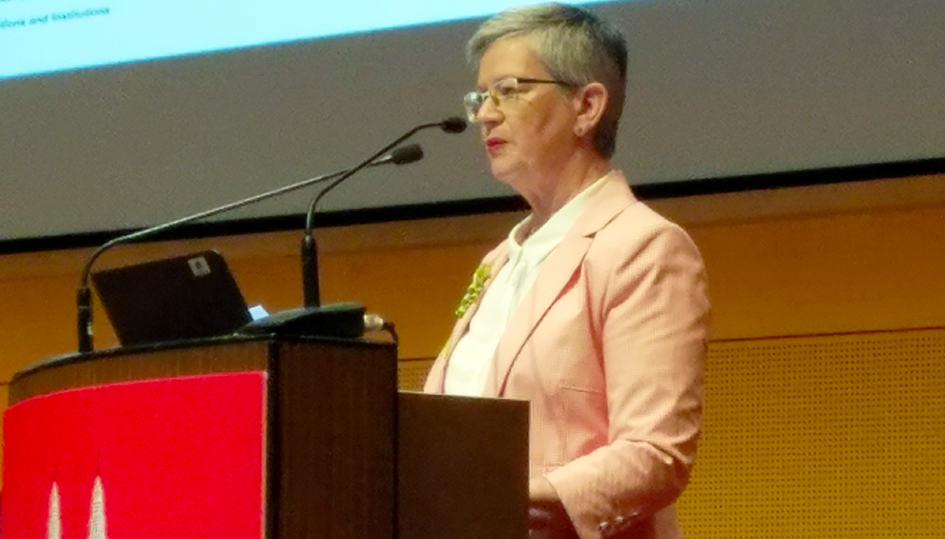 International Federation of Library Associations and Institutions (IFLA) President-Elect Christine Mackenzie's theme for her presidency is "Let's Work Together." At her World Library and Information Congress session August 29, she got attendees excited not only with the promise of global collaboration for the future of libraries, but also by playing a snippet of Canned Heat's classic jam of the same name.
Five speakers each focused on one of the 10 different opportunities listed in the IFLA Global Vision Report through the lens of collaboration.
Allison Dobbie, principal development advisor for the Auckland (N.Z.) Council, addressed Opportunity 10: "We must give young professionals effective opportunities to learn, develop, and lead." Dobbie and Mackenzie cofounded the International Network of Library Innovators (INELI) Oceania, which includes members from 18 different Pacific countries in a territory that covers 30% of the world's surface but includes only 1% of its population.
The group faced several challenges, including finding the right partners, the difficulties of meeting face to face, and not getting discouraged when people drop out of the program. However, members said they felt more self-confidence, received invitations to present at conferences, and received new and more senior roles in their libraries. "Remember, we are talking about tiny islands, tiny populations, and vast distances," Dobbie said. Many of these librarians would have fewer opportunities without collaboration.
INELI also crowdsourced funding for five new IFLA memberships for librarians in countries that have not been represented in the organization before. The organization's next steps include a long-range action plan and a new leadership group to move into the future.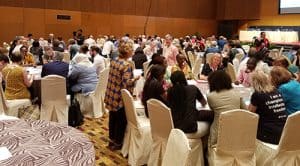 Buhle Mbambo-Thata, director of resource development for the African Library and Information Associations and Institutions (AfLIA), took on Opportunity 5: "We need more and better advocates at all levels." In collaboration with South Africa's Department of Arts and Culture, the National Library of South Africa, and the Library and Information Association of South Africa, AfLIA convened the Third African Public Libraries Summit in July and held a round table of African ministers responsible for libraries. Forty of the 54 African nations were represented. Mbambo-Thata compared it to eating an elephant in small bites, everyone focusing on a different part but working on the same issue.
The two objectives of the summit were to evaluate progress since the 2015 Cape Town Declaration and to strategize on how libraries can assist with the United Nations Agenda 2030 Sustainable Development Goals. These outcomes overlapped in many ways with what the IFLA Global Vision Report produced. "It says we are well on our way to working together," Mbambo-Thata said.
The National Digital Library of India (NDLI) was devised as an educational and cultural portal to benefit India as its population expands rapidly and physical libraries can't be built fast enough to meet user needs. Partha Pratim Das, NDLI joint principal investigator, addressed Opportunity 7: "We need to develop a spirit of collaboration."
The sheer complexity of such a project in a country as large and diverse as India—more than 1 billion citizens and 22 national languages, which means 22 metadata sets—requires collaboration. More than 100 libraries and institutions from around the country have worked on the digital library so far, contributing materials, standardizing metadata, and finding open access surrogate resources, especially for scholarly works. Das said NDLI is constantly innovating to ensure all its users can learn and grow.
Kristian Jensen, head of collections and curation at the British Library, spoke to Opportunity 9: "We need to maximize access to the world's documentary heritage." He said the library digitizes some of its materials because of physical imperative—sound recordings that are decaying, for example—but there is also a philosophical imperative to share this information with others around the world.
The library can digitize only a small part of the global cultural heritage, so Jensen said its best approach is to be transparent about the library's business model and how it affects what resources are made available. The library works in collaboration with commercial companies, such as Google, and with non-UK national partners, such as institutions in Qatar and France.
Ana María Talavera, chair of IFLA's Latin America and the Caribbean Section, related three examples from Peru to illustrate Opportunity 2: "We must update our traditional roles in the digital age":
a partnership between a public library and local employers to increase literacy by giving workers reading materials and access to cultural events
a collaboration between libraries and an NGO preventing drug abuse for a program promoting internet and entrepreneurship skills for women
a storytelling program for children organized by Colegio de Bibliotecólogos del Perú and the Embassy of Finland in Lima
Deborah Jacobs, director of global libraries for the Bill and Melinda Gates Foundation, also led a workshop at the session on bold ideas for librarians to improve collaboration at their own libraries and organizations based on topics covered by the speakers.