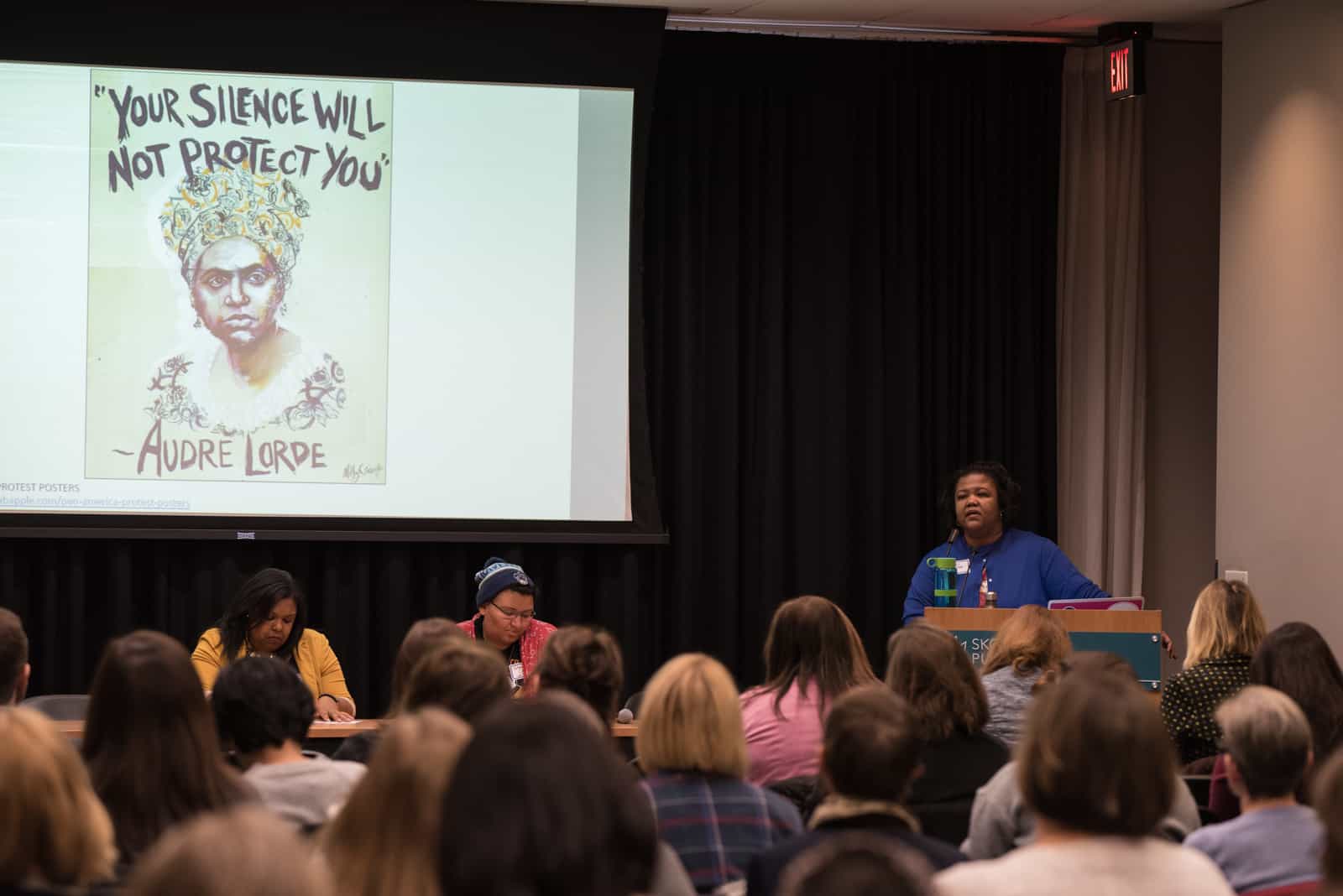 Nicole A. Cooke, associate professor and MS/LIS program director at University of Illinois at Urbana-Champaign (UIUC), opened "Defeating Bullies and Trolls in the Library: Developing Strategies to Protect our Rights and Personhood," a daylong conference held March 8 at Skokie (Ill.) Public Library (SPL) by recounting her experiences being harassed and bullied by conservative groups because of her research project. Cooke said the harassment began before the results of her project, "Minority Student Experiences with Racial Microaggressions in the Academic Library," which received a 2017 Diversity Research Grant from ALA's Office for Diversity, Literacy, and Outreach Services, had even been made public.
"All hell broke loose when just the title of the grant was discovered" she said.
In the weeks that followed the report's release, Cooke's email address and phone number were disseminated by hate groups and their online followers, leading to harassing phone calls and emails. When she asked for her contact information to be removed from the university's website, Cooke said she received pushback from both administration and campus police. Cooke said her university's lack of resources are a reason why she decided to organize the March 8 event, along with Amy Koester, learning experiences manager at SPL and a member of the editorial board for online open access journal In the Library with the Lead Pipe.
"We need to be proactive, not reactive," Cooke said. "If our profession is asking us to do this work, we need to be protected."
The day's sessions provided first-hand testimony from librarians on incidents of bullying, doxxing, and harassment as well as ways that libraries can prepare for it and, hopefully, prevent it altogether.
Stacy Collins, research and instruction librarian at Simmons University in Boston, discussed the harassment she received after publishing an anti-oppression LibGuide on the college's website—harassment that was exacerbated when right-wing website Campus Reform and Fox News profiled her work. And Kristin Lansdown, library associate for adult fiction at Oak Lawn (Ill.) Public Library, recounted a traumatic incident in which she witnessed a white security guard following and harassing an African-American patron and his child. Collins and Lansdown said that they received support from their administrators following the incidents, but they still experience repercussions.
"Victims are often seen as troublemakers," Collins said.
Institutional response
The day's second panel featured a discussion of association and professional responses to bullying and harassment, with Diane Foote, executive director of the Illinois Library Association; Aimee Strittmatter, executive director of the Association for Library Service to Children (ALSC); Jamie Naidoo, ALSC president; Emily Knox, assistant professor at the Graduate School of Library and Information Science at UIUC; and Koester.
Foote, who shared that she was bullied as a child, detailed ways for associations to produce policies that can both preempt and respond to incidents, from creating code-of-conduct policies for conferences and social media to creating a tactical team that can respond to harassment claims. Positive change implemented from the top down can have ripple effects through an association, she said.
Knox explained the differences between freedom of expression and intellectual freedom and how understanding each can help associations create effective policy.
"Freedom of expression, intellectual freedom, and censorship are in the eye of the beholder. It's been a long discussion in this country," Knox said. "It's so difficult to write policy because there is a difference between speech and action that's not part of our legal milieu."
Strittmatter and Naidoo recounted the public uproar created when the ALSC board voted at the 2018 American Library Association Annual Conference to change the name of its Laura Ingalls Wilder Award to the Children's Literature Legacy Award. The change was recommended by an ALSC task force that found the name to be disrespectful to the different constituencies represented by the Association, given the racist language Wilder used in her books. Strittmatter recounted the abusive voicemails and messages she and her staff received following the announcement.
"'We know where you are, and we will find you,'" said one of the threatening messages, according to Strittmatter.
Koester described the pragmatic way that In the Library with the Lead Pipe deals with abuse and harassment in its online discussions. Its editorial board created a code-of-conduct that discourages nonconstructive discourse and abusive behavior. Anything that deviates from that standpoint isn't tolerated by the journal and can lead to offending comments being deleted or the perpetrator being expelled from the community.
"Scholarly criticism isn't personal," she said. "And personal criticism isn't scholarly."
After a break for lunch, attendees reconvened at the library for two interactive sessions led by Kellee Warren, assistant professor and special collections librarian at University of Illinois, Chicago, and Jarrett Dapier, young adult librarian at SPL. Divided into six groups, participants were asked how they and their institutions should react to a variety of scenarios based on what was learned from the day's discussions.
The situations ranged from what to do if they witnessed coworkers being harassed by patrons on the library floor or by a colleague at an association function to how to handle online bullying and doxxing and how to support a coworker experiencing microaggressions on the job. These group discussions on how to apply the day's lessons revealed that hate will only be eradicated only if everyone gets works together and gets organized.
"We have to come together to create opportunities for justice within our communities," Warren said.