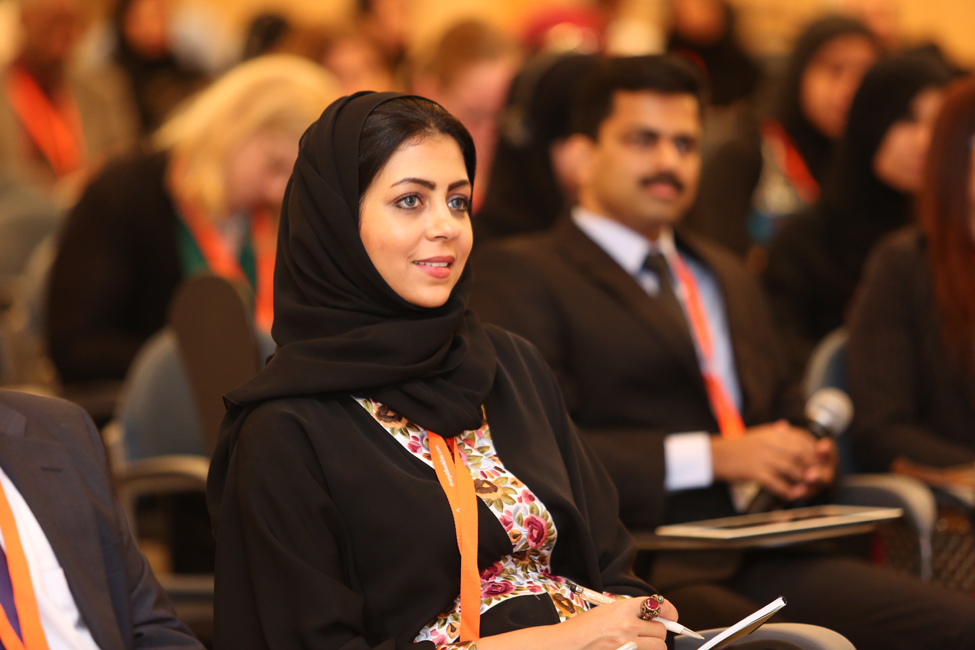 Around 300 librarians gathered at the Sharjah International Book Fair (SIBF) in the United Arab Emirates (UAE) on November 10–12 for the second annual SIBF/ALA Library Conference, ALA's most ambitious international professional development event. Librarians from Afghanistan, Bahrain, Egypt, India, Iraq, Jordan, Mauritania, Oman, Qatar, Saudi Arabia, Sudan, UAE, and other countries participated in the three days of programs, training, and lively networking, in both Arabic and English with translation provided.
SIBF Director and Chairman of the Sharjah Book Authority Ahmed Al-Ameri said he was thrilled to welcome this second conference, which he sees growing in the future. "I am confident this mutual cooperation between the SIBF and ALA will be helpful in skill development of the industry's professionals," he said.
ALA President Sari Feldman's opening keynote on the Libraries Transform campaign and why it's so necessary was followed by 17 concurrent sessions and a poster session on a wide range of topics for all types of libraries. Former ALA Treasurer James (Jim) Neal addressed the future of academic libraries as the keynote speaker the second day of the conference. Magda El-Sherbini led a preconference on Resource Description and Access (RDA) that attracted almost 100 registrants. The international roster of expert presenters addressed topics including trends, new technologies, mobile strategies, applying data and statistics, teacher librarians, the library as cultural and family hub, digital scholarship and literacy, collection development, visual literacy, e-resources, implementing RDA, and proving the value of the library. (The full program and the list of presenters are at ala.org/sibf.)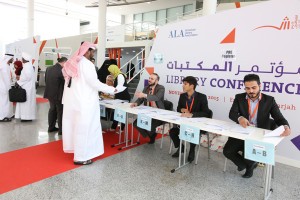 Groups gathered throughout the conference in the comfortable Librarians' Lounge (now expanded to include a second floor), while the newly added Library Solutions exhibits area offered an extra meeting point. Attendee Khalid Ismail, chief librarian at Al Khawarizmi International College in the capital city Abu Dhabi, said that he came by himself last year; this year he brought five specialist librarians from his staff, and next year he hopes to attend with 10. "We need to get new ideas and develop our skills with practices from other areas," he said. School librarian Mona Alsheikh said that she came "to find out what's new in school libraries that I didn't know before."
First-time exhibitor Mokhtar Mohyeldeen, an account manager with Wiley, said he already looks forward to participating in 2016. "It was a great medium to enhance our relationship with all the key librarians who attended, a great opportunity to exchange updates and developments." The conference was managed by ALA International Relations Office and ALA marketing, the Sharjah International Book Fair, and Combined Book Exhibit.
Tony Mulliken, chairman of Midas Public Relations (UK) and actively involved in getting the SIBF/ALA Library Conference off the ground, commented that "[This partnership] has proved not only a great success but also very necessary. Sharjah, as the cultural capital of the UAE, is proud of its passion for books and has some of the most beautiful libraries in the world, but it needs to modernize, professionalize, and make these libraries important destinations for learning and entertainment. This second ALA/SIBF conference is going from strength to strength."
During its 10-day run, the 34th SIBF drew 1.27 million visitors to review and buy books and other materials from 1,547 publishing houses that featured 1.5 million titles and represented 64 countries. The hashtag for the conference was #SIBFALA15.
Updated Nov. 17, 2015.