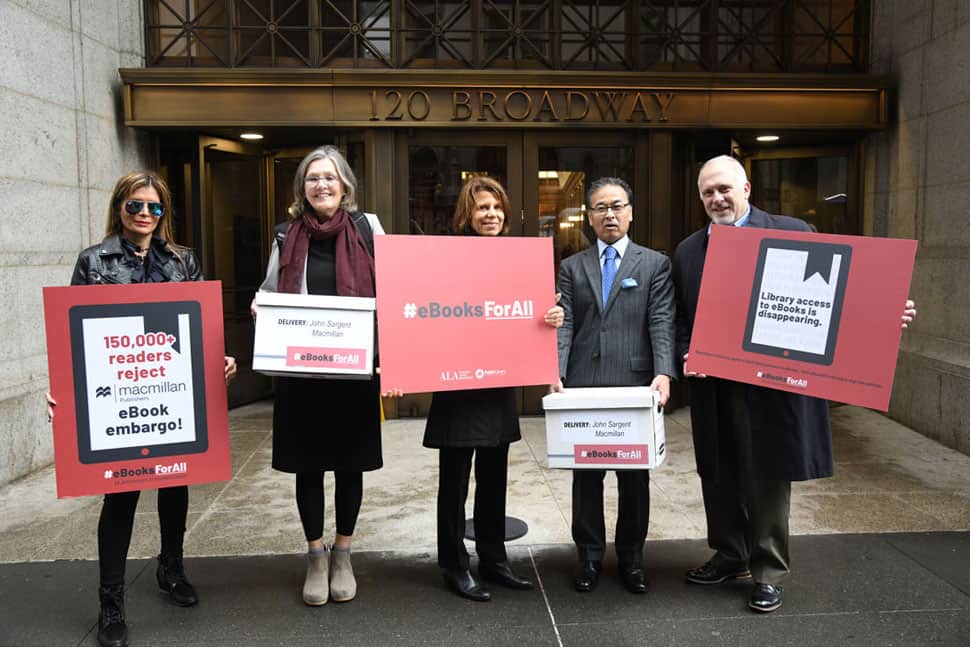 On October 30 a group of library advocates carried posters and bankers' boxes full of petitions through the crowded streets of Lower Manhattan to the Equitable Building at 120 Broadway, the home of Macmillan Publishers. Their goal: deliver the signatures of the nearly 160,000 people who have visited ebooksforall.org over the past seven weeks to demand that the publisher reverse its intended ebooks embargo, scheduled to take effect November 1.
"I traveled from the nation's capital to New York City, the publishing capital, to stand for the vast number of readers who will be impacted by this discriminatory embargo," said Alan S. Inouye, the American Library Association's (ALA) senior director of public policy and government relations.
He was joined by past ALA Presidents Loida Garcia-Febo and Sari Feldman; Tim Cherubini, executive director of the Chief Officers of State Library Agencies; Angie Miraflor, director of customer experience at Brooklyn (N.Y.) Public Library; and Caroline Ashby, director of Nassau (N.Y.) Library System.
Launched on September 11, the #eBooksForAll petition has attracted signatories from across the US and Canada, with the most signatures coming from Ohio, Oregon, Texas, New York, and California.
The petition delivery took place less than 24 hours after Macmillan CEO John Sargent issued a letter to the library community in response to the groundswell of "frank (and occasionally brutal) feedback." In the letter, he stated, "We are trying to balance the needs of the system in a new and complex world. We believe windowing for eight weeks is the best way to do that. I am the first to admit we may be wrong. But we need to try to address this issue."
ALA President Wanda Brown responded in an October 30 statement, "Libraries, publishers, and authors should be allies—not adversaries—in expanding the number of readers and encouraging the exploration of new titles and subjects."
A smaller group of ALA representatives, including Inouye, Feldman, and Barb Macikas, executive director of the Public Library Association (PLA), personally delivered the petitions to Sargent and Macmillan Executive Vice President Jennifer Gonzalez and President Don Weisberg. Inouye reported they engaged in an extended, substantive discussion about the threat the embargo poses to libraries.
"In our meeting with Sargent this morning," Inouye said, "ALA and PLA reiterated what our member libraries have said all along: We oppose any effort to delay or deny library access to digital content. Macmillan remains the sole Big Five publisher that perceives a business need to limit libraries' ability to purchase and lend ebooks. As for next steps, we will continue this fight in Congress."
For more on the issue, visit ebooksforall.org and follow #eBooksForAll on social media.