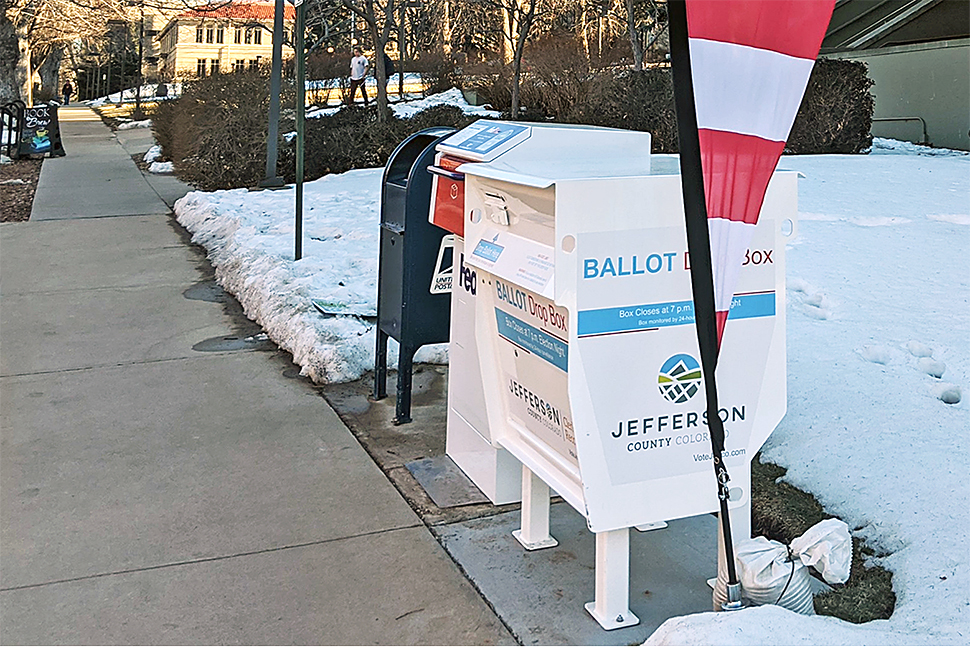 Many states have increased the opportunities for voters to cast their ballots by mail this year as an alternative to gathering at a polling place during a pandemic. But in an environment where some politicians are trying to raise doubts about the security of voting by mail and the ability of the United States Postal Service to deliver mail-in ballots, many libraries are using their unimpeachable reputations to offer stability as ballot drop-off sites.
"I think people miss the environment of the polling place, and going to a drop box helps them re-create that," says Oregon Library Association Vice President Arlene Weible. Oregon has conducted all elections by mail since 2000, but Weible says libraries hosting ballot drop boxes is a common practice in the state.
The benefits of hosting drop boxes go beyond mere nostalgia. Drop boxes can offer a safe and secure way to vote as the nation continues to face COVID-19, wildfires, and policy changes affecting the stability of the postal system.
Arthur Lakes Library at the Colorado School of Mines in Golden has had a ballot box in front of the library for two years. "Students have been very enthusiastic about the opportunity, and it's been well received," says University Librarian Carol Smith. "They take their voting rights seriously, but the convenience is an issue for them since they're so busy and focused on their studies."
Dunedin (Fla.) Public Library provided ballot drop-off for the first time during this year's primary elections in August. Director Phyllis Gorshe says a line of people waited to drop off their ballots the first day the drop box was in place. "We received lots of calls in appreciation, so I'm expecting the next election to be a busy time," she adds.
Working with elections boards
Weible worked with the Oregon Library Association to prepare a tip sheet for libraries in the state interested in serving as ballot drop sites. But there is no one-size-fits-all template for all libraries to follow because elections are administered by states and must be conducted in accordance with state and local policies. Some jurisdictions may not allow it at all: A Cuyahoga County (Ohio) Board of Elections plan to have ballot drop-off at six county libraries was overruled September 14 by Ohio Secretary of State Frank LaRose, who had ordered each county to offer only a single drop box, although lawsuits challenging the order are under way.
In general, most of the work related to collecting ballots is done by election staff, but libraries that wish to offer the service frequently need to prepare. Washoe County (Nev.) Library System is hosting ballot drop boxes at seven of its 12 locations, even though the system is currently closed apart from hold pickups. Director Jeff Scott says the fact that many of the county's libraries have meeting rooms with exterior access has made the partnership easier. "We installed RFID readers so election staff with the necessary tags can access those rooms without putting an undue burden on library staff," he says. The library worked closely with elections staff generally, inviting them to tour their libraries to figure out options at sites that don't have meeting rooms with exterior access.
Gorshe says working with the county Supervisor of Elections office was critical for her library as well. "One of their administrative outreach people did a presentation for the staff to learn what they do and their process," she says. The supervisor of elections provided the drop box as well as the staff who monitored it and delivered ballots to the election office each day. But library staff needed to know how to respond if a voter attempts to hand a ballot to them, or how to direct voters on Election Day itself, when voters must cast their ballot at a polling place or the Supervisor of Elections office. The library also had to carefully locate the ballot boxes to make them accessible throughout the day, even though the library currently closes twice a day for cleaning and disinfecting.
"People have the tendency to think they can drop ballots in our book drops, so we have a lot of signage there," Gorshe notes. The county permits ballots left in the book drop to be counted, if they are properly sealed and signed to prevent tampering and if election staff approve. But the practice is discouraged.
Again, policies in different jurisdictions will vary: Multnomah County, Oregon, designated library book drops as ballot drop boxes as well because of the pandemic, deputizing librarians to separate ballots from books.