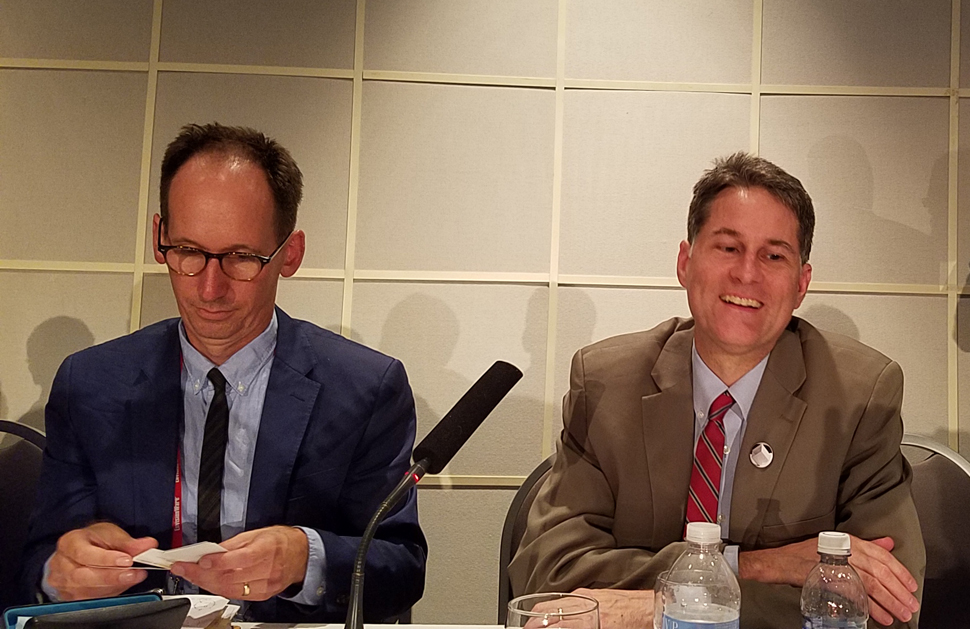 The August 16 session on theft in libraries, sponsored by both the IFLA Strategic Programme on Preservation and Conservation and its Rare Books and Special Collections Section, was well-attended by curators of rare materials from around the world. Bringing together librarians, booksellers, and a law enforcement specialist, the panel offered many recommendations on how to curtail theft and what to do when it is discovered.
Michael Zubal, a manager of Zubal Books in Cleveland, Ohio, related two instances when his store was involved with stolen books. The first took place in 1995 when he purchased a first edition of Tarzan and the Lost Empire (1929) by Edgar Rice Burroughs from an individual who came into the store. Shortly afterwards he discovered a freshly erased dealers' annotation on the endpaper. This raised his suspicions and he began calling other bookstores in the area. Within a few hours he found the book was stolen from a suburban bookstore, which had noted a suspicious visitor matching the description of the seller. Zubal returned the book and lost his investment.
The Catholic University case
The second instance took place in 2006 when Zubal Books received a consignment of about three dozen rare books on exploration, history, and theology. Upon evaluating them, Zubal soon found erased or partially erased library markings, which led him to suspect that some had been stolen from the Catholic University of America (CUA). Working with CUA Curator Lenore Rouse, he identified traces of bookplates that confirmed the university's ownership. The consigner was not the thief and cooperated fully in the investigation, which resulted in the books' eventual return.
Zubal presented a series of slides provided by CUA that demonstrated the methods used to identify books taken from their collections decades earlier, prior to the use of modern security systems.
The accession number was only partially erased
The oval CUA handstamp shape was incompletely bleached away
The ownership mark had been only lightly applied, making the book a target for theft
Backlighting brought out traces of a handstamp that had been removed by sandpaper
Glue residue from removed bookplates and dealer ads matched the positioning of other books in the collection
Accession books or card catalog files contained a description of unique features
Zubal then made some recommendations that libraries should take to make recovery of stolen books easier:
The Burius case
Also on the program was Greger Bergvall, map and manuscripts librarian of the National Library of Sweden, who described the theft and resale of at least 62 rare books by Anders Burius, the chief of the library's manuscript department, between 1995 and 2004. Bergvall said the theft was discovered in October 2003, when a German researcher asked for information about the library's copy of a German edition of The Illustrated Mississippi by Henry Lewis. When it was found missing, "a secret inventory was ordered by a group of managers that a year later unveiled systematic inside thefts at the library." Burius then confessed his involvement to the inventory group, turned himself in to Swedish police in November 2004, and was released prior to trial, but he committed suicide a month later by blowing up his apartment.
"After that shock," Bergvall said, "neither the police nor the library made any serious effort to restitute the stolen books. However, in 2005 German and Swedish police investigating a German auction house revealed that Burius had consigned at least 43 stolen books from other Swedish libraries even before he was hired by the National Library. The case turned cold in 2007, dropped by both the police and the library, but the missing books were still bought and sold by booksellers all over the world."
In 2011, there was a breakthrough when the National Library discovered that a 1597 atlas by Cornelius Wytfliet was on sale by the Arader Galleries in New York City. A close look at the markings revealed that it was the library's copy and the atlas was repatriated, the first of only seven of the stolen books to be returned so far. Fifteen others have been identified elsewhere, but legal complications prevent their immediate return. "If the library had sent out a list of the stolen books in 2005," Bergvall said, "we are confident that a majority of the books would have been returned."
Bergvall added that stolen books often make their way to Germany, where auction houses are allowed to transfer a valid title to stolen goods if they are offered at a public auction. "Booksellers and auction houses must begin to ask more questions," he said. "Libraries must act to break the chain of buyers and stay involved in the police investigation. Police are not the book experts."
Theft deterrence
Garrett Scott, an antiquarian bookseller in Ann Arbor, Michigan, who appeared on the follow-up panel to the two previous talks, agreed. "You must make it clear to law enforcement that there can be more than one copy of a rare book. A bookseller in Denmark was falsely arrested because he had some of the same titles that had been stolen from the Girolamini Library in Naples."
Scott added that booksellers can be very useful to libraries in locating missing titles. "As a group, booksellers know intuitively what a book is worth, both financially and culturally, and we know how the market works," he said. "It is a difficult and time-consuming task to share lists of missing books with the book trade, but most of our members are good actors and an excellent resource."
Federal Bureau of Investigation Special Agent Luigi Mondini emphasized that thefts of rare materials from academic libraries are severely underreported. "This is both due to embarrassment and because some thefts are never discovered until the items are recovered," he said. One thief had stolen maps from the well-inventoried Penn State University collections by requesting some 4,000 items over a period of three days and only returning about 3,200 to the desk. Among those he returned were some maps he had stolen from the University of Chicago Libraries. "When Penn State alerted Chicago that they might be missing some maps, Chicago thought they might have lost 300 items," Mondini said. "In fact, the thief had stolen some 1,300. He was arrested by the FBI and charged with thefts from Penn State, but a lack of proper inventory at the University of Chicago prevented him from being charged with the Chicago thefts."
Mondini said he joined the FBI Art Crime Unit 10 years ago and has been involved in many cases involving stolen books, coins, antiquities, and even wine. The unit only has 17 agents throughout the US, he said, "compared to some 300 Carabinieri in Italy specializing in cultural thefts, but we are dedicated, and have many overseas contacts." He said the unit can offer the resources of the FBI in resolving thefts from libraries. "Be wary of your own staffs," he cautioned. "Some 80% of all thefts are by insiders."
Edwin C. Schroeder, director of the Beinecke Rare Book and Manuscript Library at Yale University, said that reducing the risk of theft should be the goal of all special collections managers. "Sometimes the university's risk management unit can help the library secure funding for needed security measures by advising the administration," he said.
Schroeder emphasized that "prevention is crucial. Know how your materials can leave the building. Know the ways in which new materials arrive in the building. Conduct inventories to let staff members know you are concerned. Find out who has access to the closed stacks. Document who comes and goes," he said. "Constantly ask if you can do a better job at preventing theft."
In response to an audience question about suspicious behavior, Mondini recommended that it should be "addressed before it is too late. Security guards and cameras should all be visible as a deterrent. If someone behaves oddly, ask them what their purpose is. If the answer is insufficient, see them to the door."
Schroeder added that most scholars are so intent on their research that they won't look up even if there is a fire in the room. On the other hand, notorious American map thief Forbes Smiley (whose accidental dropping of an X-Acto blade in a reading room at the Beinecke led to his arrest in 2005) was a "swivelhead," Schroeder said. "We had a camera on him and his head would dart around the room nonstop to see who might be able to observe him."
Mondini said that it is absolutely worth reporting to law enforcement any items that are missing, even those that may have disappeared decades ago. "We've had items turn up that were stolen in the 1930s and 1940s," he said. "Your best bet to recovering an item is to report it. If it's only misplaced, that's no big deal."