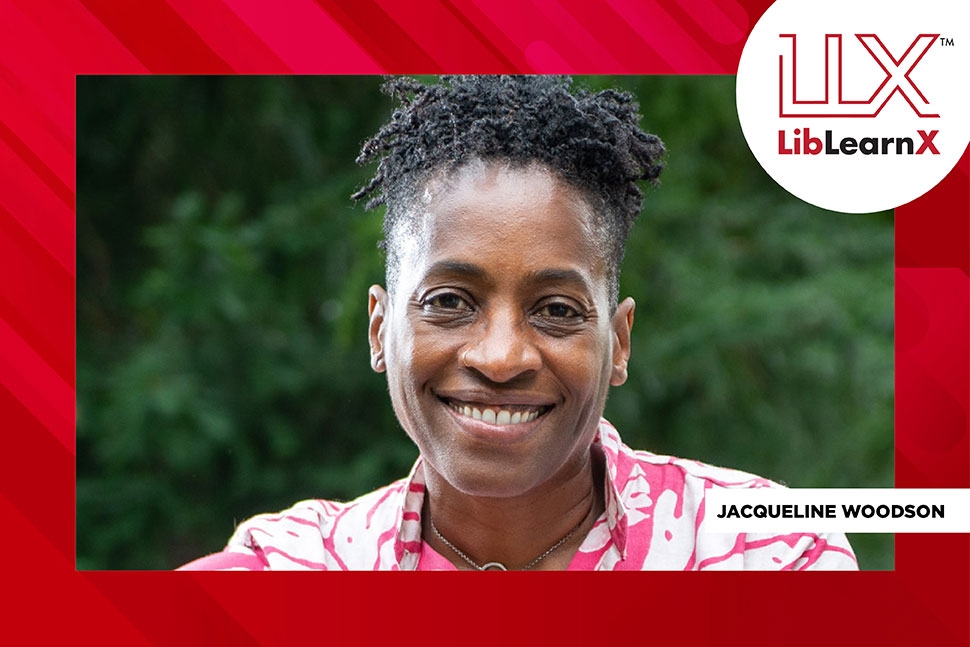 What is it like living inside a moment? That's what bestselling author Jacqueline Woodson asked herself during the pandemic—and, in turn, asked attendees of ALA's LibLearnX virtual conference on January 23 from her home in Brooklyn.
"None of us saw this coming," said Woodson. "One day we walked into our classrooms, we walked into our libraries, we walked into our jobs, and the next day we didn't."
This abrupt and significant change exposed what we've taken for granted. "We had just expected the next day to be there—just as the previous day had been—and it wasn't. And suddenly our world changed forever."
Woodson read from her 2018 middle-grade title Harbor Me (Nancy Paulsen Books), which tells the story of six students who, every week, were allowed to talk among themselves about the pains and struggles they had to hide from the rest of the world.
She chose that book, she said, because the young characters also get a sudden change that awakens them, and it "is a moment where they are asked to reimagine a world where their voices are heard, where their stories matter." They were a part of a greater good.
From a personal perspective, Woodson said it was "heartbreaking" for her when her children—and hundreds of thousands of other kids—found themselves in a room, staring at a screen and "having to figure out a different way to learn to engage in the world." And with that came the loss of big moments in their lives—proms, birthdays, graduations, first and last days of school, celebrations.
And it made her think: "What kind of gift is this?"
On the one hand, she said, "it's a total tragedy," yet on the other hand, "it is this moment in which we were forced to pause" and think about the impact of our actions on a community.
Woodson also read from her new book, The Year We Learned to Fly (Nancy Paulsen Books, 2022), citing inspiration from author Virginia Hamilton's 1985 collection of African-American folktales, The People Could Fly. She said Hamilton and other writers like James Baldwin, Eloise Greenfield, Toni Morrison, Walter Dean Myers, and Mildred Taylor have had a profound impact on her and so many other authors.
"I stay eternally grateful to the writers who came before me," she said, "and to the ancestors who have allowed us to keep on going."
Woodson also addressed the book challenges in Texas and other places around the country. Her books are among those being challenged. She thanked library workers, whom she said, "are fighting this battle alongside [writers], and I'm grateful to you for your work…. This is not easy."
But Woodson said she writes because she loves writing and she loves kids. "I want a book to be there that wasn't there when I was a young person," she said. "I never want young people to have a gap in their experiences" when they walk into a library, bookstore, or their classroom.
She concluded her talk by reading two poems about her grandfather, who died when she was a kid. Woodson said that after a year of loss for so many people, what is important to remember are the memories and spirit that remain: "Those who leave us always leave something behind."