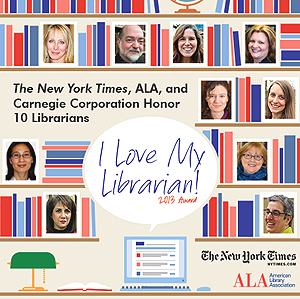 Ten exemplary librarians are the 2013 winners of the prestigious Carnegie Corporation/New York Times I Love My Librarian Award, announced earlier today. The recipients were nominated by 1,100 grateful patrons from among the more than 166,300 certified librarians and 200,000 library workers who provide dedicated service in US public and school libraries, as well as institutions of higher education. They will be attending an award ceremony in New York City tonight at which they will each receive $5,000 and a commemorative plaque in addition to a $500 travel stipend to attend the ceremony. Richard Ford, winner of the 2013 Andrew Carnegie Medal for Excellence in Fiction for his novel Canada, will be the keynote speaker at the event.
I Love My Librarian Award has honored 60 librarians since its 2008 launch. It is administered by ALA's Campaign for America's Libraries.
The 2013 receipients are:
Julia Allegrini
Covington branch manager
Kenton County (Ky.) Public Library
Shahla Bahavar
director, Public Services Division
University of Southern California Libraries Los Angeles
Holly Camino
Buckeye branch manager
Medina County (Ohio) District Library
Kathy Meulen Ellison
teacher librarian
Sonoji Sakai Intermediate School
Bainbridge Island, Washington
Harold M. Forbes
curator
West Virginia and Regional History Center
West Virginia University Libraries
Morgantown, West Virginia
Caroline "Xiaofang" Han
senior librarian
Cleveland (Ohio) Public Library
Jennifer J. Jamison
school library media specialist
Atlantic City (N.J.) High School
Julie Kane
director of digital teaching and learning/digital pedagogies
Sweet Briar (Va.) College
Molly Ledermann
reference librarian
Missoula (Mont.) Public Library
Charlotte Carr Vlasis
librarian
Chattanooga (Tenn.) School for the Liberal Arts
Click here to find links to their nominations, which detail their contributions.