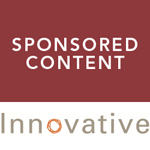 One of my priorities over the last year has been to seek out Innovative customers and members of the broader library community to listen to their ideas about the technology challenges and opportunities facing libraries today. I've been encouraging staff at all levels of Innovative to be doing the same.
But it's obviously not all about listening. The leadership team at Innovative has also been spending a lot of time considering how best to translate what we're hearing about the technology needs of the library community into action. With that in mind we've been refocusing on our core strengths and working to clearly articulate the essential elements of the services and solutions we provide our customers.
In other words, we've been considering how we can best tell the Innovative story and let members of the community know that we understand their concerns and are addressing them through the solutions that we offer with Sierra and our other products.
Along with members of our senior management and sales team, I've been telling this story personally through individual meetings, conferences, and Innovative user groups. I'm happy to say that I will now have some new tools to help me get our message across – a series of short videos that distill the essence of what we're seeing in the technology landscape and how Innovative is responding to those challenges.
[video:https://www.youtube.com/watch?v=56u-arwklz0 width:420 height:315 align:center]
The first video in the series, "The Innovative Story," gives a two minute video overview of what we're all about. It's been fun to see the video develop and I encourage you to take a look.