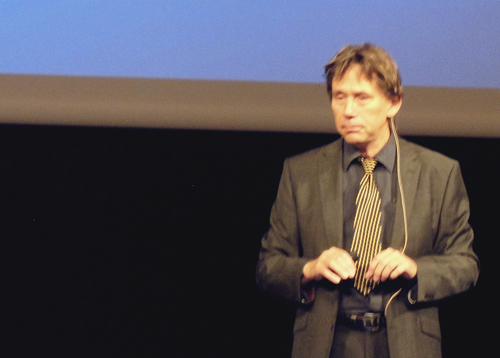 Pierre Dillenbourg, the academic director of the École polytechnique fédérale de Lausanne (EPFL), spoke on his expertise, massive open online courses (MOOCs), during the August 20 plenary session at the 2014 World Library and Information Congress (WLIC) in Lyon, France. Dillenbourg organized the first European summit on MOOCs in 2013, and spoke both passionately and humorously.
He said MOOCs can expand a university's reach and student base, as students are no longer required to attend in person. "Even a small university can reach a wide audience," he said. "It's changing the ecosystem of education."
Dillenbourg
encouraged a number of his university faculty to create a MOOC, including a day to record the class and six days to prepare the homework, which is automatically graded. He estimated that it takes about seven days to create a MOOC, which, on average, runs about seven weeks. The drawback is the Monday morning emails—with a class of 50,000, for instance, the number could easily total 700.
"The future of MOOCs is not written," he said. "Just do them."
In a breakout session called "Hot Topics in Academic and Research Libraries," Samantha Adams Becker of the New Media Consortium discussed the just-released New Media Consortium (NMC) Horizon Report: 2014 Library Edition (PDF file). This is the first library trends that the Horizon Report has covered. A panel of 47 library experts representing 16 countries and five continents identified the most important topics that will affect libraries in the near, mid, and long range.
The key areas of concern included trends accelerating and impeding technology adoption in academic and research libraries, as well as important developments in technology for academic and research libraries. Some of the significant challenges identified for 2014 included a few solvable challenges, such as embedding academic and research libraries in the curriculum and rethinking the roles and skills of the librarian, as well as more difficult challenges, such as capturing the digital outputs of research as collection material, and competition from alternative avenues of discovery. The most difficult challenges, Becker said, included embracing the need for radical
change while still maintaining integration, interoperability, and collaborative projects.
Other speakers at the Hot Topics session included James G. Neal of Columbia University in New York, and former ALA treasurer, on radical collaboration; Madeleine Lefebvre of Ryerson University in Toronto, on one-stop course-readings service; Hildegard Schäffler of Bavarian State Library in Munich, Germany, on open-access monographs; and Louise Jones, Chinese University of Hong Kong, on change management.