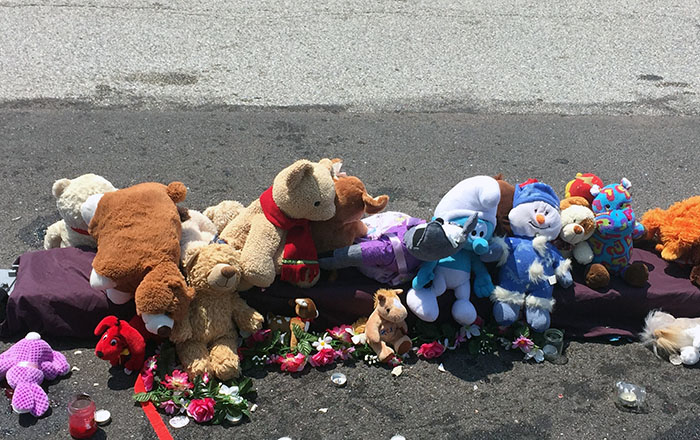 Led by St. Louis native and regional history expert Dr. John A. Wright, a group of librarians toured the city on Wednesday, August 5, ending at the site of Michael Brown's shooting in Ferguson, Missouri.
The tour, which was offered before the opening session of the 9th Annual National Conference of African American Librarians (NCAAL), gave librarians insight into the city's history and culture.
The tour started at the "Black Diamonds Walk of Fame," an alternative to the more widely known St. Louis Walk of Fame on Delmar Boulevard. This two-block walkway in Downtown St. Louis pays homage to the African American people of St. Louis who broke down barriers and created new opportunities for people of color. It is striking how many of these extraordinary trailblazers held jobs that sound ordinary by today standards. These forerunners were teachers, businesspeople, clergy, and administrators. Dianne White Clatto, who became the country's first African American weathercaster in 1962, is one of the people honored on the Black Diamonds Walk of Fame.
Wright, coauthor of Extraordinary Black Missourians: Pioneers, Leaders, Performers, Athletes, and Other Notables Who've Made History (2013), gave librarians a sense of the historical forces that have shaped St. Louis, placing an emphasis on local laws, education policy, and housing discrimination.
Wright shared stories about St. Louis during the half-day tour, like that of Cardinal Joseph E. Ritter, fourth archbishop of St. Louis, who planned the desegregation of all Catholic schools in the city in 1946, nearly ten years before the Supreme Court's decision in Brown v. Board of Education. According to Wright, hundreds of angry white Catholics threatened to sue Ritter in favor of segregation. Ritter responded by announcing another plan—a plan to excommunicate any congregant to pursue legal action.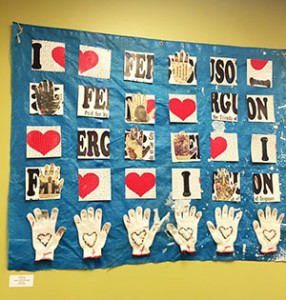 Ferguson Municipal Public Library (FMPL) Director Scott Bonner greeted the tour group once they arrived at FMPL. Bonner described many of the ways FMPL had responded to needs of the community after former police officer Darren Wilson fatally shot unarmed African American teenager Michael Brown. Since the tragedy, FMPL has served as a school when local schools were closed, an office for local businesses, and a meeting space for almost anyone who has needed it. Bonner discussed modifying library policies to account for the changing needs of the area. The library even acted as an art gallery, being one of 14 venues that participated in the Alliance of Black Art Galleries' "Hands Up, Don't Shoot: Artists Respond," an art exhibition that featured more than 100 artists and ran from October 17–December 20, 2014.
Stopping at the site of Brown's shooting, librarians spoke with locals about Ferguson today. A member of a local organization, Copwatch, criticized local leaders for attempting to remove Brown's memorial, which was placed in the street where Brown's body laid for hours before police allowed it to be removed. The tour ended at the site of the tree the Black Caucus of the American Library Association (BCALA) planted in honor of Brown in April 2015.
With acknowledgement to the work of libraries, the importance of cultural competency, and value of diversity, NCAAL began in earnest.